Last week, Collingwood acquired two historic pieces of club memorabilia.
The first item was a silver tray presented to Bill Proudfoot, one of Collingwood's greatest champions, on 29 March 1900 upon his retirement from the game.
The second was an original ANZAC biscuit sent as a gesture of good luck to the Collingwood players in 1915 from Collingwood footballer Doc Seddon who was stationed in Egypt at the time
ANZAC Collection
An original ANZAC biscuit sent as a gesture of good luck to the Collingwood players in 1915 from Doc Seddon who was at the time stationed in Egypt.
The biscuit has a drawing of a Collingwood footballer and the text "What I am Training On. Egypt Xmas 1915, Greetings from Doc."
Seddon was a veteran of World War I, where he fought in Europe and spent time in the Middle East from 1915 to 1919. Seddon survived the war and returned to play for Collingwood in 1919.
Controversially, Seddon's drill sergeant, a Carlton supporter, put Seddon and Collingwood teammate, Paddy Rowan, through a 10-mile route march on the morning of the 1915 Grand Final, which Collingwood just lost after tiring in the last quarter.
Whilst overseas, Seddon sent back another biscuit and also a horseshoe made from a German bomb along with the remnants of a German aircraft shot down by Australian soldiers at the Battle of the Somme. Seddon sent them to the club as a gesture of good luck to the Magpies. In Seddon's absence, Collingwood won the 1917 Premiership.
In Seddon's first season back after the war, he was a part of the 1919 Collingwood premiership team that defeated Richmond.
Items sent back from Seddon during the war can be seen on display at the Westpac Centre.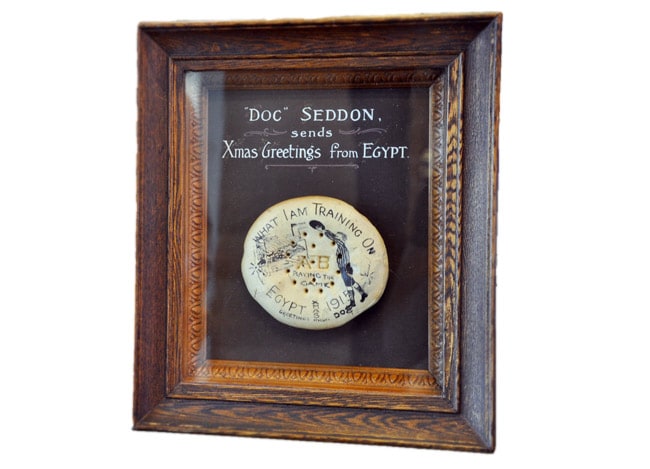 The ANZAC biscuit sent to Victoria Park from Egypt by Doc Seddon, a member of the 1919 premiership team.
WILLIAM PROUDFOOT
Proudfoot's item is a silver plated tray engraved at centre that reads:
"Presented to W. Proudfoot Esq, By the Collingwood Football Club, on his retirement from the Game, & in Recognition of his Valuable Services rendered both as Player & Captain to the Club. March 29th 1900".
Bill Proudfoot was one of the giants of Collingwood's early history, playing in the club's first historic game against Carlton in 1892. He was one of Collingwood's first great champions and also one of its most colourful characters, becoming the first Collingwood player to register 15 years of service.
He played over 180 games, was club Captain on two occasions and became the first Magpie to gain selection for an inter-colonial side in 1894 against South Australia.
Proudfoot was one of the biggest men to play VFL football at the time. A powerful, vigorous full back who "scattered his opponents like chaff before the wind."
He was also a policeman and respected throughout the league as a brave and generous man.
In 1896 he saved an umpire who was being attacked by an angry mob at North Melbourne and was savagely beaten. The assailant received three months in jail. On another occasion Proudfoot picked up an on-field intruder by the scruff of his neck and seat of the pants and deposited him over the fence.
In 1903 the police commissioner said that police could not play football. Proudfoot retried but kept playing under an alias (the mysterious Mr Wilson!) and was part of Collingwood's famous 1903 Premiership side. He had played in the flag team a year earlier and in the 1901 Grand Final when his injury in the game was catastrophic for Collingwood. He only played a handful of games in 1905, but was still recalled for the grand final.
In 1918 he won a Royal Humane Society for bravery in stopping a pair of bolting horses in Swanston Street.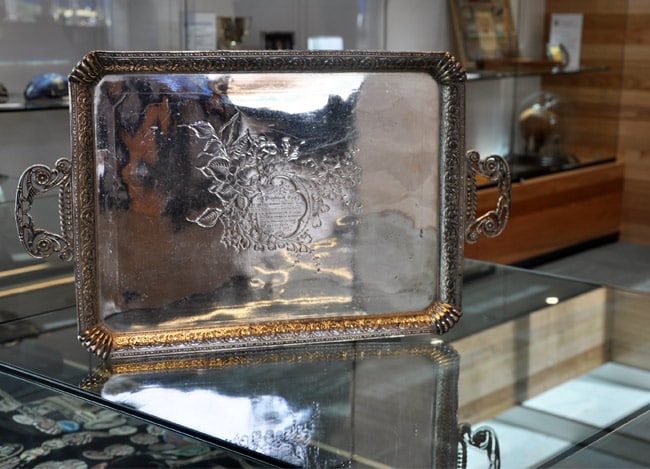 The silver plated tray presented to Proudfoot by the Magpies after his retirement in 1900.