Up to 8000 of the Collingwood faithful got 2013 off to a flying start at the club's annual Family Day at Victoria Park on Saturday.
The revamped format was a huge hit with the fans who filed through the old turnstiles to watch the team go through a full scale training session that lasted more than two hours before mingling with their Magpie heroes as they walked the hallowed turf.
Were you at Victoria Park on Saturday? Find out if you feature in our Magpie Army photo gallery on Facebook. Tag yourself now!
As they do each year, President Eddie McGuire and 1990 premiership legend Michael Christian worked the Magpie Army into full voice as they welcomed each player onto the stage before christening the season with a rendition of Good Old Collingwood Forever.
Fans enjoyed the opportunity to see several of the club's new faces for the first time. For many, Saturday was their first glimpse of Quinten Lynch, Clinton Young, Jordan Russell and Ben Hudson in Collingwood colours after crossing from opposition clubs at the end of 2012.
The day should also prove beneficial for the club's new draftees who would rarely have performed in front of such a large crowd, and certainly never in front of one so passionate.
Another feature of the day was the Collingwood Archives Committee's exhibition of club memorabilia in the Bob Rose Stand. From footy boots warn by Peter Daicos and Tony Shaw to the four premiership cups claimed by the famous Machine Team of the 1920s, the Archives Committee had every corner of the club's rich history covered.
With less than a fortnight remaining until Collingwood's first NAB Cup fixture against the Western Bulldogs and Essendon, the mood of players, coaches and fans couldn't be more upbeat.
Collingwoodfc.com.au
has published a photo gallery below that summises the day's action. Photos are courtesy of Collingwood members and photographers Steve Hamilton and Shane Barrie.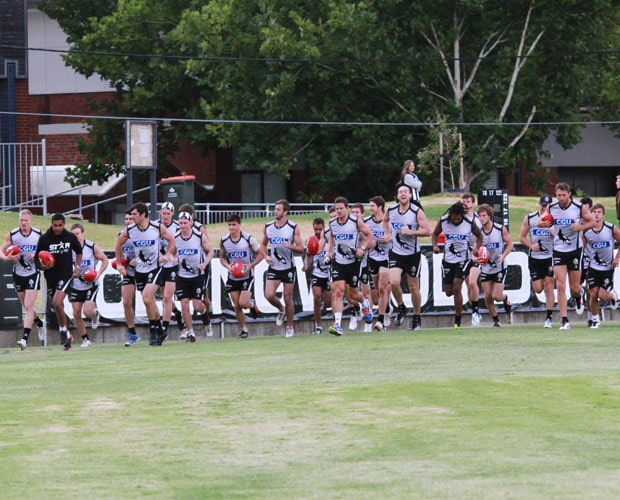 The Magpies of 2013 begin the day with a lap of Victoria Park. Many pundits commented that they look remarkably similar to the premiership team of 1990 in their new Star Athletic training jumpers that feature a Magpie on the front.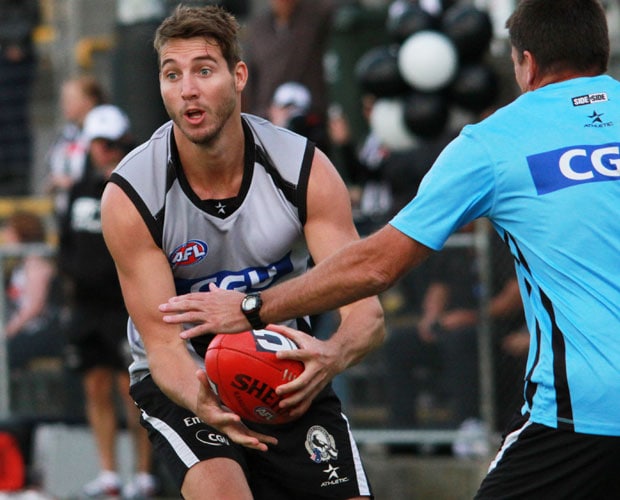 Much has been made of Dale Thomas' ankle injury in recent days, but there was no denying his enthusiasm and intensity during Saturday's session.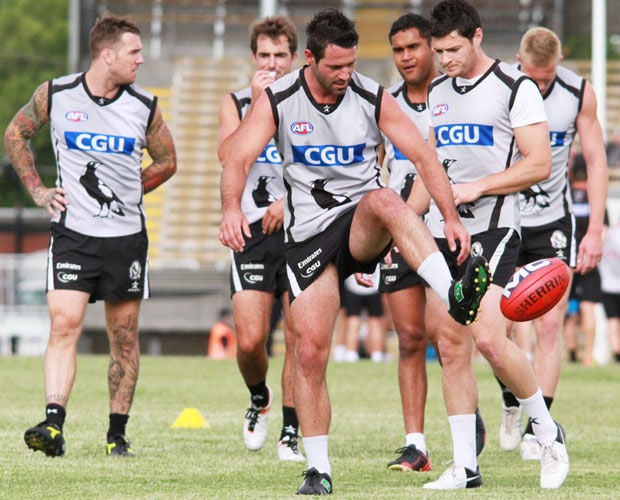 Football is never dull when Alan Didak is around.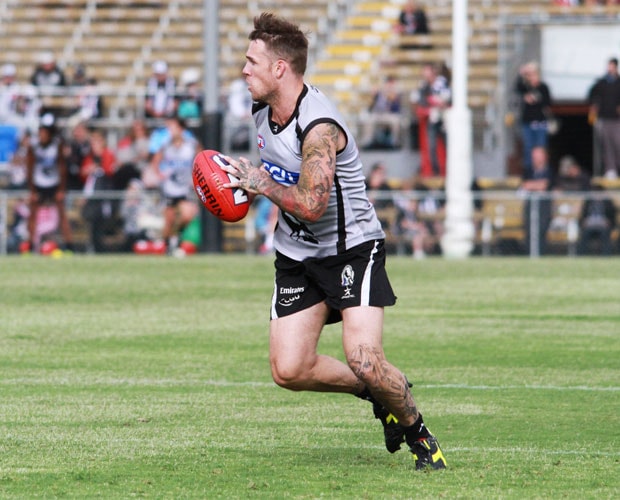 The 2011 Brownlow Medallist is looking primed for another big year.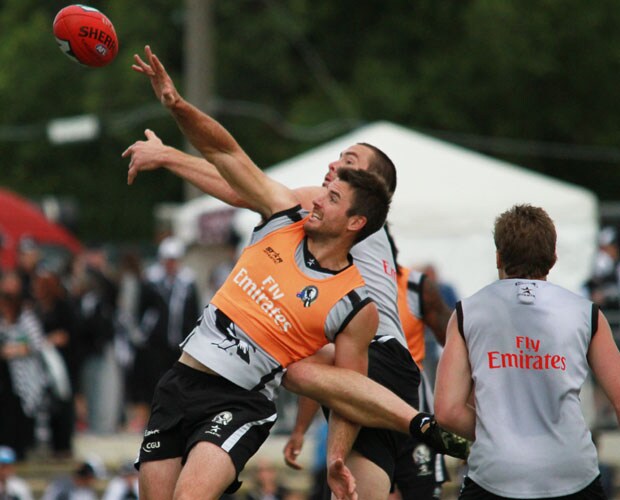 Our experienced ruck duo go head-to-head in the centre square.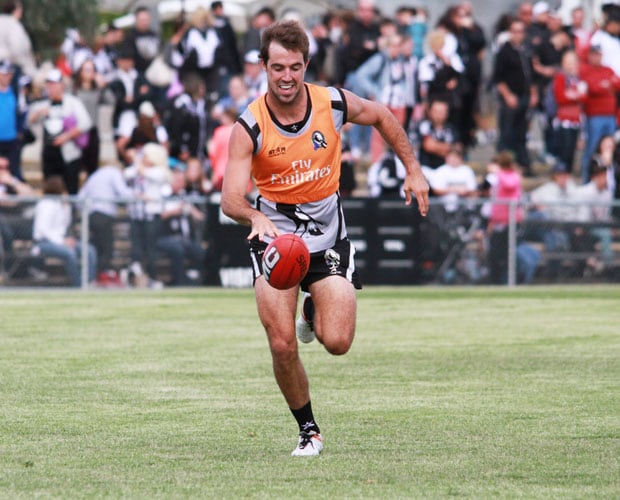 There's always the hint of a smile on Steele Sidebottom's face.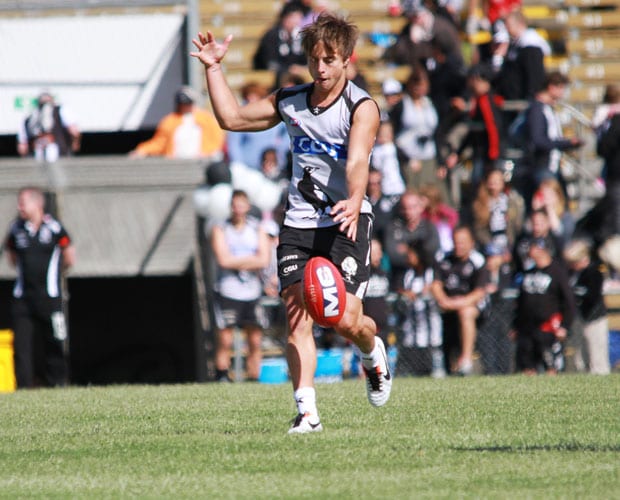 Ben Kennedy perfects his left foot.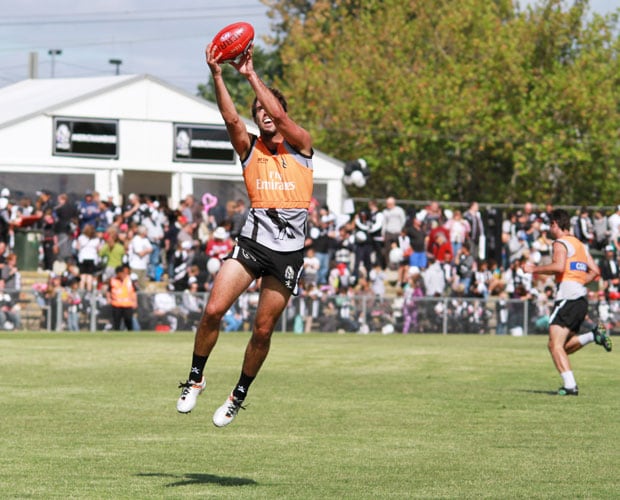 Steele Sidebottom grows some wings.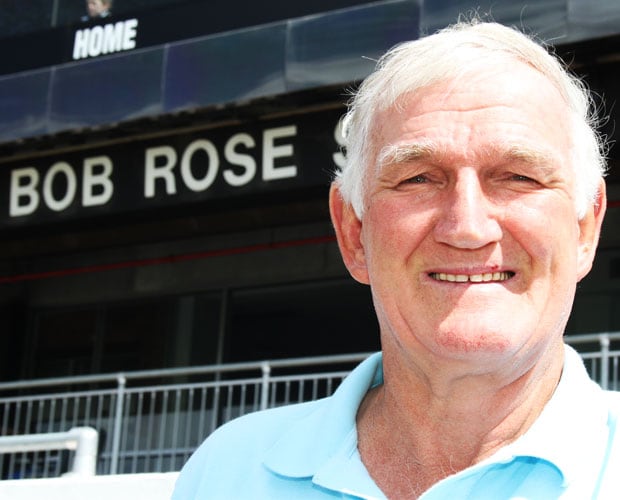 There was Collingwood royalty everywhere you looked. They come no grander than Kevin Rose, who was photographed standing in front of the Social Club building that is named in his brother's honour.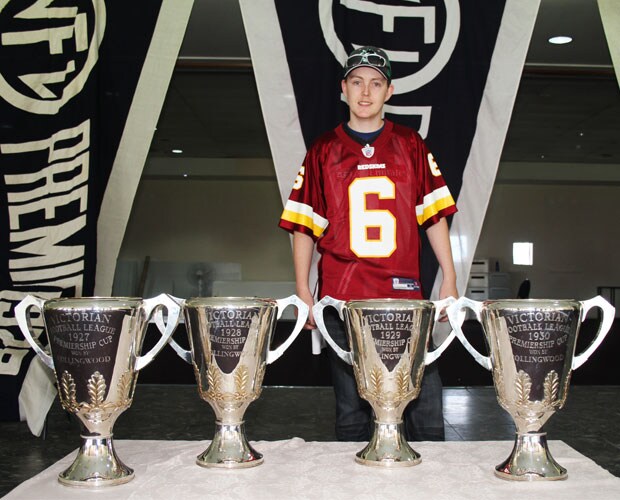 Collingwood fans were in footballing heaven on level two of the Bob Rose Stand as they got their hands on some of the club's most prized possessions including the premiership cups from 1927-1930.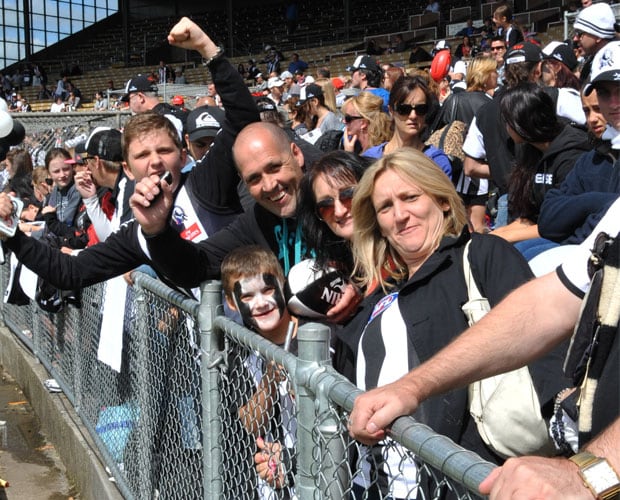 It wouldn't be a successful Family Day without thousands of passionate Collingwood fans filling the ground.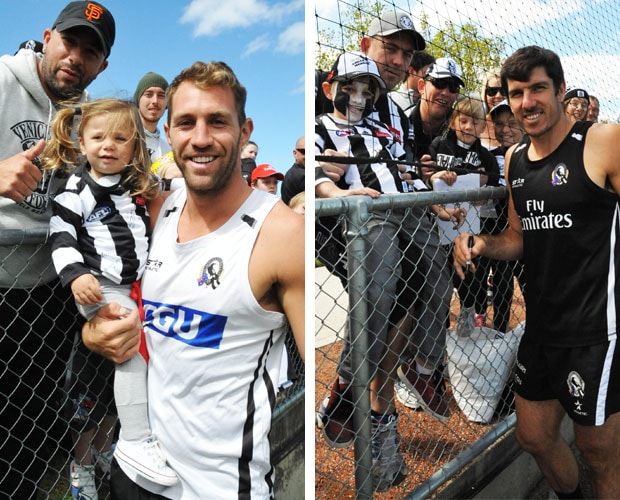 Everyone wanted a piece of Travis Cloke and Quinten Lynch's time, and why not? Afterall, they represent our new key forward combination.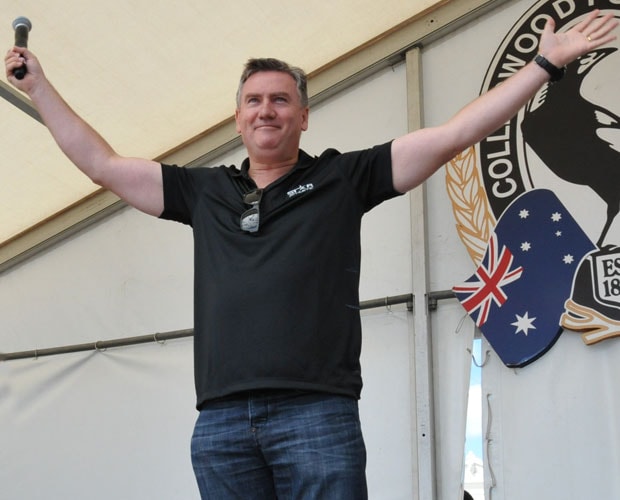 Eddie's passion for the club continues to rub off on each member of the Magpie Army.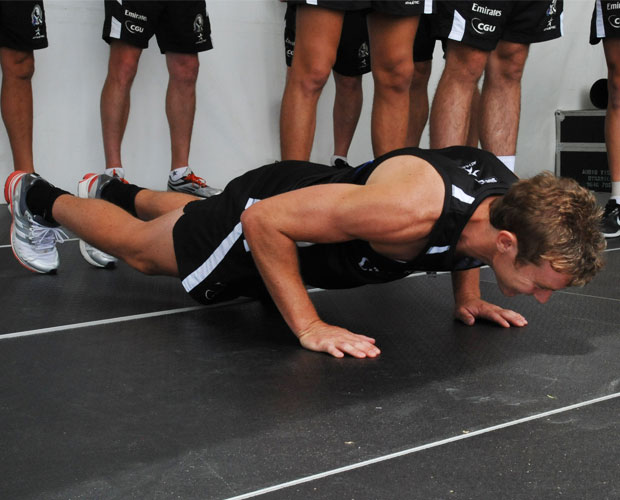 Sam Dywer didn't turn up to Family Day expecting to show off his muscles to thousands of supporters, but you can't refuse the President's wishes.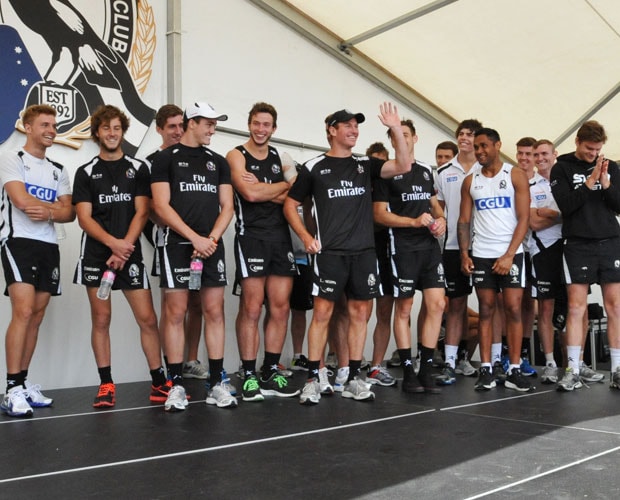 Ben Johnson's not usually one to hog the limelight, but Eddie thought it was time that the No. 26 took centre stage in front of the fans.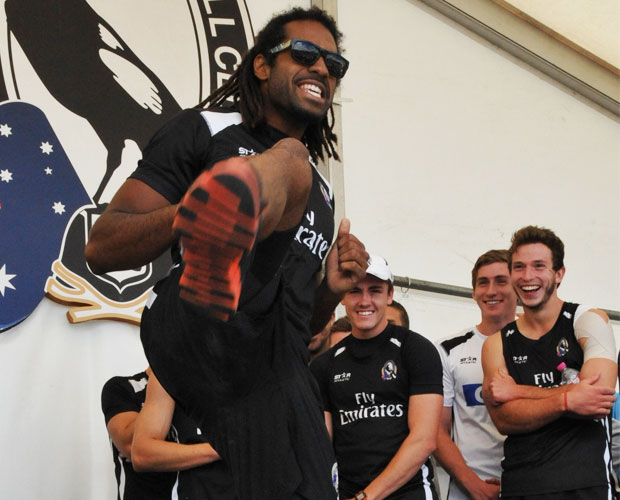 The crowd was expecting Harry to produce his traditional dance routine and he didn't disappoint.


Another wonderful effort by the thousands of Collingwood supporters who came from all over the country to see their heroes up close at the club's spiritual home.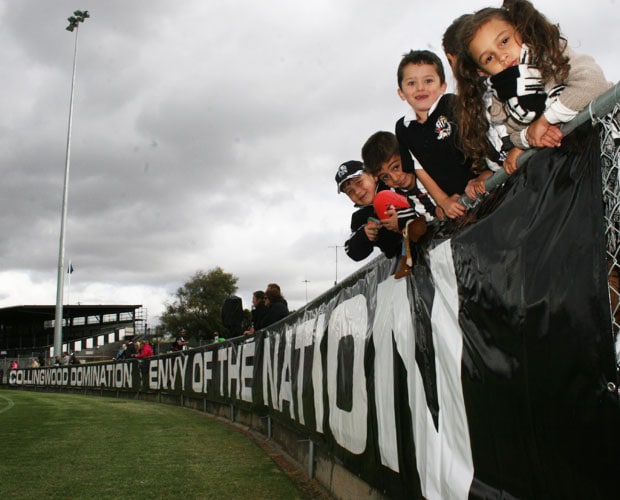 The banner says it all. Side By Side we march towards the 2013 season, beginning with our first NAB Cup fixture on 15 February. We cannot wait. Floreat Pica.