When he woke up on Friday morning, Josh Smith was a childcare worker. He rose early for a before-school care class and completed a morning of supervision, unaware that it would be his last shift in the job.

As he drove home to his house in Brisbane, his phone started ringing and didn't stop. He was now a Collingwood footballer.

"I started getting messages constantly and that was how I found out. I had no indication of what was going on today," Smith told Collingwood Media after the Rookie Draft.

"I'd spoken to Collingwood before the draft. That was a couple of months ago now and I hadn't heard anything since.

"I'm supposed to be working this afternoon but I might have to give them a call and work out what to do from here."

While he may not have heard from Collingwood's recruiting team in the lead-up to the draft, they had certainly been paying attention to him.

Speaking to Collingwood Media after the draft, General Manager of list management Derek Hine had glowing reports of the Queenslander.

"If you're looking for the profile of that rookie athlete who will come in and leave no stone unturned, he ticks all of those boxes," Hine said.

"It was really evident to us early on when we spoke to Josh that he will be a boy that will come in and really enhance our program with his professionalism and the way he goes about it."

In addition to his childcare work and an education degree, Smith has spent the past two years starring on the field for Redland in the NEAFL.

He was a prolific ball-winner for the Bombers in 2015, averaging 28.7 disposals, with nine of his 15 performances accumulating 30 or more possessions.

At 21, he is a midfielder with the ability to use the ball cleanly and run all day.

"My disposal efficiency would probably be my biggest strength," Smith said.

"And I've got a good running capacity. I like to run and carry the footy as much as possible."

While he has been forced to look elsewhere in recent years, a football career has always been a dream for Smith.

After spending his youth in Toowoomba, he relocated two hours east to Brisbane to pursue greater challenges on the field.

The 181cm midfielder received his first taste of senior football at then-NEAFL club Morningside before crossing to Redland in 2014.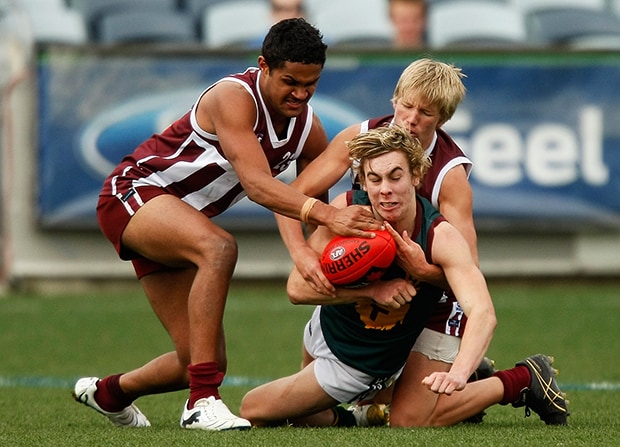 Smith combines with former Magpie Peter Yagmoor while playing for Queensland in 2011.

He spent two years at the side which produced Adam Oxley and Josh Thomas, before being taken with Collingwood's second overall selection in the Rookie Draft.

"Redlands had a big turnover of players at the end of last year. I guess I got the opportunity to go to that next level," he said.

"I obviously had a pretty consistent year this year, and now I've been rewarded with this."

While Smith will maintain a passion for teaching, it appears as though his days in childcare are over.

"It's hard when you play semi-professional and you've got that combination of uni, work and footy," he reflected.

"I just can't wait to devote all my attention to developing my game and hopefully representing this club one day at a senior level.

"Just being part of this professional environment where there's 44 other blokes that are just as passionate as you is something that I'm really looking forward to."