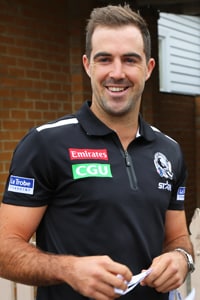 I'm fairly confident [the contract] will sort itself out in the next couple of weeks
Steele Sidebottom
Out-of-contract Collingwood midfielder Steele Sidebottom is hopeful of finalising a new deal with the club before the start of the season.

Sidebottom, who this week was confirmed as a member of the Magpies' leadership group for 2016, said he was not considering a move elsewhere.

"I'm fairly confident (the contract) will sort itself out in the next couple of weeks and I'll get it out of the way before the season starts and just worry about footy," Sidebottom told AFL Media on Thursday.

"I can concentrate on my footy the whole year and don't have to worry about contracts and that kind of thing so I'm pretty confident it will sort itself out before the start of the season, no doubt."

The 25-year-old is set to become a restricted free agent at the end of this season and is one of the most attractive prospects on the market.

But Sidebottom is prepared to put that aside, saying he has aspirations to one day lead Collingwood in his own right.

"Anyone in the leadership group would want that role. This is my eighth year at the club and if one day I could captain the club, well that's something you dream of," Sidebottom said.

"It would be something I would love to do and hopefully one day it might happen."

Sidebottom, who was first elected to the leadership group in 2014, said directing others and getting the best out of his teammates was something he relished now.

"I was a bit shy and didn't really want to be in it at the start but the time I've spent in there I've grown and I'm loving being part of it now," Sidebottom said.

"When I was first voted in I was umming and ahhing about whether I wanted to be in, but for my footy it's really helped.

"Even off-field seeing guys do well who you might have helped through something gives you a bit of a kick as well."
VIDEO - https://t.co/hfrzqqDa3y Hear from @sp_10 as the Magpies' leaders took to the streets of Collingwood #gopies pic.twitter.com/zFPOE0e7nf

— Collingwood FC (@CollingwoodFC) February 4, 2016