From Bendigo to the Holden Centre, the newest owner of Collingwood's number five jumper Emma Grant has travelled a long road to reach the heights of women's football.

It's a journey the 27-year-old is reminded of every time she hops in the car for the two-hour drive to and from her new club.

Growing up in Gisborne, an eight-year-old, sport-loving Grant became the first ever girl to don her local team's colours, before being told at age 12 she had to stop playing football due to league rules.

She would later switch to netball, before returning to her first love of football to play with the Bendigo Thunder in 2011, after moving to the regional city to pursue her university studies.

And after a career-best 2016 in which the 166cm utility represented Melbourne in two exhibition games, captained the Thunder (who were undefeated until the very last game of the season) and won the VWFL Premier Division League Best and Fairest (Helen Lambert Medal), Grant then joined the Magpies via pick 91 in the AFLW Draft.

And with only days until she wears the Black and Whites stripes for the very first AFLW match, she says it's been a whirlwind experience.

"For me, it's a dream come true," Grant told Collingwood Media this week.

"Growing up and being told I couldn't play anymore… that's been the one wish that I've always had – that one day girls would be able to continue to play the game that they love.

"And for all of those little girls who are starting off their footy careers… to know they are never going to be turned away because of their gender is truly awesome."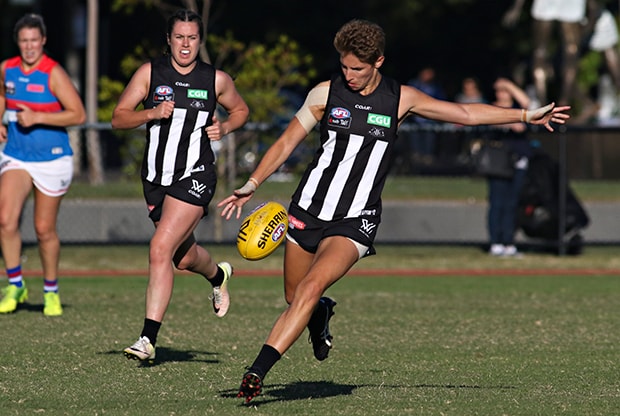 Grant gets used to life in the Black and White stripes during a practice match against the Western Bulldogs. Photo: Robert Keeley

Outside of football, Grant is a full-time PE and Grade 1 & 2 teacher at Bendigo Violet Primary School. Three nights a week, after a full day of teaching, she makes the long trip down the Calder Freeway to train with her Collingwood teammates.

"The travel has its ups and downs. It can be long and tough," Grant said.

"But there is nowhere else I'd rather be than working as a teacher in Bendigo where I absolutely love my job. And then being able to play at the highest level of football for the Collingwood Football Club is amazing.

"To remain a country girl and keep travelling and bringing the footy back to Bendigo is really rewarding. I wouldn't be where I am today without Bendigo and the Thunder. Women's footy is growing here, and the girls coming through look up to us.

"I want to show the young girls here to not let the barriers of living in a country town stop you from fulfilling your dreams."

Inspiring young kids outside of Bendigo and her classroom is something Grant is still coming to terms with.

"I want to do as much as I can to help promote the game through both of my professions.

"There are little girls running around here at school even getting their hair cut like me so that puts a big smile on my face and I think I must be doing something right to be a role model for these young girls.

"School has just started this week, and the kids are already asking about Friday night's game. Parents and students are telling me they are going to drive or catch the train down to watch it. Some kids have even mentioned they are allowed to stay up late just to see me on TV."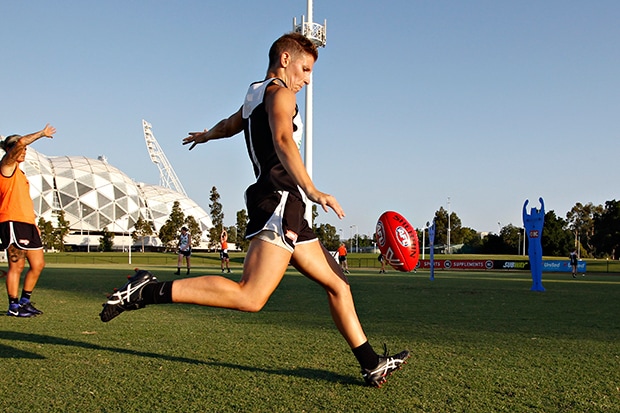 A two-hour drive after a long day in the classroom greets Grant to make it to Collingwood training at the Holden Centre. Photo: Robert Keeley.

When Collingwood face Carlton for the AFLW historic clash at IKON Park on Friday night, the former Thunder captain could face off against four of her 2016 Bendigo teammates who now play for the Blues.

The dream is about to become a reality.

"It's phenomenal to be a part of that very first game – which will go down in history," Grant said.

"And then to come up against the Blues and my former teammates and some of my really good friends, I don't know what to expect really.

"I'm a little bit speechless… but I'm honoured and it's something I'll treasure for a long time to come."

And although she may be outnumbered when it comes to the Bendigo Thunder's presence at Carlton, Grant says starting a fresh at the Pies has been a fantastic experience.

"I pinch myself when I walk through the doors at the Holden Centre. I just think – I'm here, and I'm a player, and I'm about to train in these amazing facilities and these amazing people.

"The professionalism, the staff, my teammates – it's been incredible to meet 27 new girls.

"Coming from the country and having not played in the VFL competition, I didn't know most of the girls very well. But to develop these friendships has been amazing."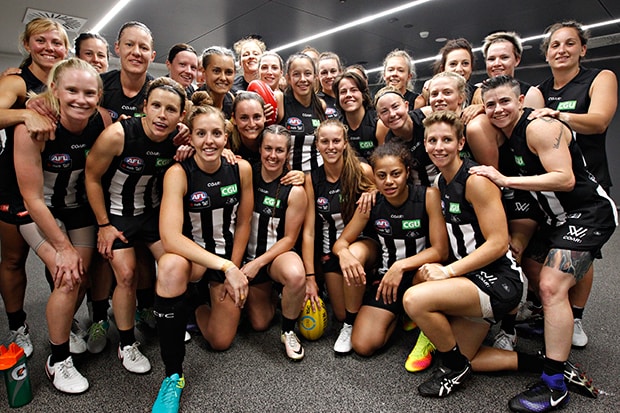 Grant has 27 new teammates and friends to tackle the inaugural AFL Women's season alongside. Photo: Robert Keeley.

For the upcoming AFLW competition, Grant's focus remains solely on performing whatever role the coaches ask her to play.

A self-professed "little fish in a big ocean", Grant says she is learning all the time, and just wants to contribute to the team.

It's a team aiming to play not seven, but eight games in the inaugural AFL Women's season. That means qualifying for the Grand Final, scheduled to take place before the AFL's season opener at the MCG on Thursday 23 March.

"We have a really good list," Grant said.

"And the bond we are making and our improvement is just phenomenal. I'm really looking forward to playing such a big stage."

The stage arguably won't come bigger than at IKON Park on Friday night. Emma Grant is about to go from Bendigo schoolyard hero to being watched by a national audience.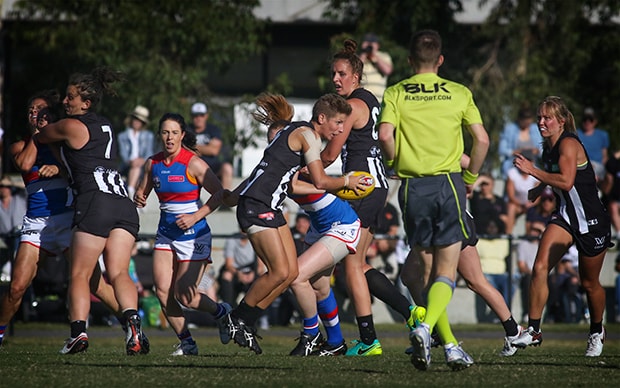 A midfielder who can play forward, Emma Grant is in line to meet as many as four former Bendigo teammates on Friday night. Photo: Robert Keeley.