Lou Richards always attracted a crowd in life, and he has done it again in death, with hundreds of mourners flocking to Melbourne's rainy CBD to farewell the football legend.
The much-loved Collingwood and media figure has been honoured with a state funeral service at St Paul's Cathedral on Wednesday.
A who's who of football, media and government representatives have assembled to pay their respects, including AFL CEO Gillon McLachlan, football Legend Ron Barassi and greats Kevin Sheedy and Neil Roberts.
The Collingwood contingent was led by President Eddie McGuire and included coach Nathan Buckley, previous coach Mick Malthouse, past president Allan McAlister and greats Kevin Rose, Peter McKenna and Des Tuddenham, and also in attendance were luminaries such as Victoria Police chief commissioner Graham Ashton, federal Health Minister Greg Hunt, Victoria's Emergency Services Minister James Merlino and former Victorian Premier John Brumby.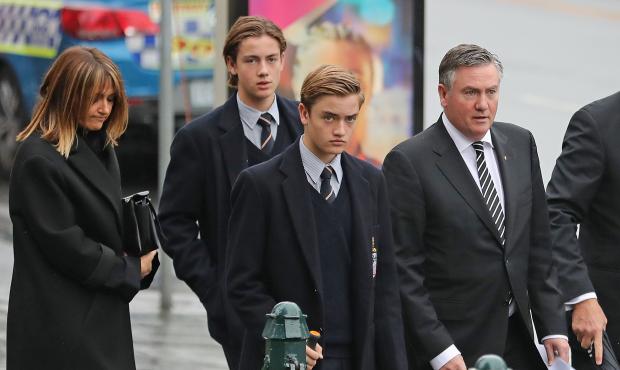 The McGuire family outside St Paul's. Photo: AFL Photos.
Richards died peacefully on Monday 8 May, aged 94, prompting an outpouring of both sadness and celebration for a unique man who lived an extraordinary life.
As expected, Richards' funeral service was more joyous than sombre.
Richards' daughter Nicole Morrison gave the gathering an insight into Richards the father: "He loved us, and he spoilt us, he supported us, and most of all, gave us the most wonderful life. There was fun and laughter and never a dull moment.
"He challenged you and nurtured you. He was firm but fair when we were young, and became our best friend once he knew we were ready to make good life choices."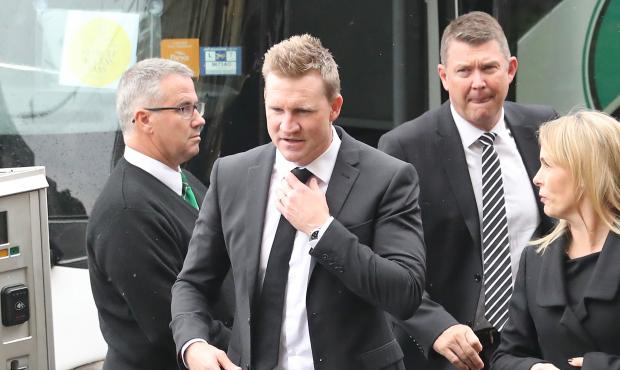 Nathan Buckley and Collingwood CEO Gary Pert. Photo: AFL Photos.
McGuire said that when he reflected on Richards "and his amazing journey from the Depression-era backstreets of Collingwood to the premiership captain on the MCG, the King of Moomba, and the greatest star in the biggest game in town, the media", he was reminded of the last stanza of Rudyard Kipling's poem If, which reads:
If you can talk with crowds and keep your virtue,
Or walk with Kings—nor lose the common touch,
If neither foes nor loving friends can hurt you,
If all men count with you, but none too much;
If you can fill the unforgiving minute
With 60 seconds' worth of distance run,
Yours is the Earth and everything that's in it,
And—which is more—you'll be a Man, my son!
"And what a man," McGuire declared. "What a family."
A feisty rover, Richards followed a long line of family members to represent his beloved Magpies, playing 250 games and kicking 423 goals from 1941-55, and captaining the club to the 1953 premiership.
But it was his ubiquitous presence in the media – on television, radio and in print – that lifted Richards to true superstardom.
Former North Melbourne administrator and friend Ron Joseph alluded to Richards' healthy ego when he said: "Lou was right. He said his funeral would be bigger than Texas."
A guard of honour from the Magpies of today, + a warm round of applause from those lining the streets. A fitting goodbye to #LouieTheLip ❤️ pic.twitter.com/GU9pfynspq

— Collingwood FC (@CollingwoodFC) May 17, 2017
On Richards not being an official Legend in the Australian Football Hall of Fame, Joseph summed up the feelings of many when he asserted: "Lou is a legend. In fact, he is bigger than a legend."
Former Channel Nine colleague and close friend Tony Jones said: "We as a city, a state and a nation, are all the better for knowing him."
After the service, Collingwood players and coaches formed a guard of honour outside the cathedral for the motorcade, which passed by the Lou Richards statue at the Holden Centre.
A champ forever indeed. #LouieTheLip, never forgotten ❤️ pic.twitter.com/ocWIwzQPE0

— Collingwood FC (@CollingwoodFC) May 17, 2017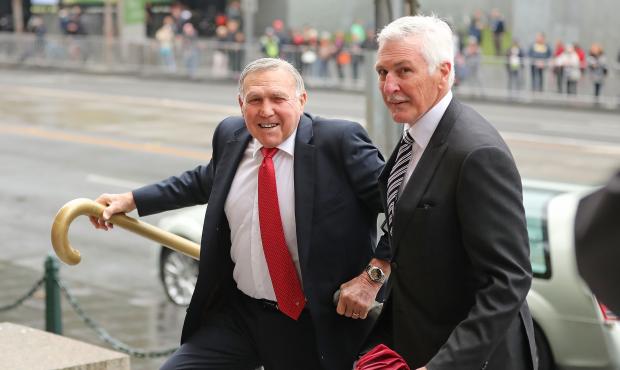 AFL/ VFL greats Bob Skilton and Michael Malthouse. Photo: AFL Photos.