A lack of conversation inside 50 hurt Collingwood's VFL side as a dominant final term from undefeated Box Hill has resigned the Magpies to a fifth-straight VFL loss.

The visiting Hawks took the lead for the first time late in the third quarter and kicked five goals to one in the remaining 30 minutes to win by 26 points.

Both sides entered their attacking 50 on 13 occasions in the final term. Box Hill scored from 61 per cent of their entries, while Collingwood converted on just two of its 13 attempts.

"That probably sums it up in a nutshell," Academy coach Brad Gotch told Collingwood Media post-game.

"It's the efficiency and the opportunities that we did have going forward, we didn't take."

Memories of a strong Collingwood first quarter remained just that as Box Hill took control at the Holden Centre in the second half.

The visitors kicked 15 goals to six after quarter time to secure a 26-point victory and register a sixth victory of the season.

"They are the top side," Gotch said of Box Hill.

"They're well organised and structured and have a strong belief, even though they had a few changes from the previous week."

Signs appeared positive for the Magpies prior to the first bounce even taking place. Box Hill submitted a team sheet with AFL-listed James Sicily, Kade Stewart and Kurt Heatherley all held over for the evening's AFL game at the MCG.

Perhaps buoyed by the news, the game was played on the VFL Magpies' terms in the early stages of the game. Jared Rivers' side kicked five first-quarter goals to take a 28-point lead into the first break.

Kayle Kirby kicked two goals, fellow first-year Magpie Mitch McCarthy had one and 23rd player and debutant Matthew LaFontaine kicked his first in Black and White before the quarter time huddle.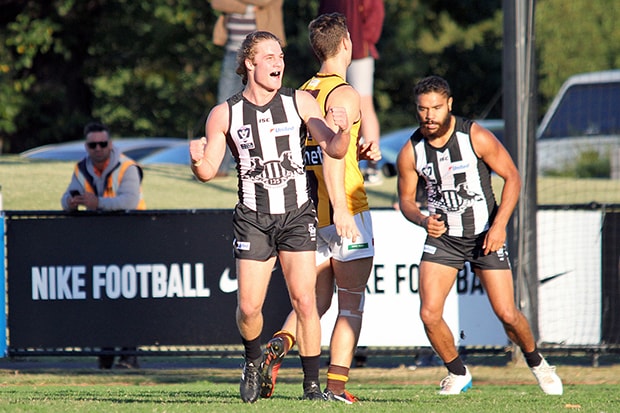 Matt LaFontaine celebrates his first goal as a Magpie. Photo: Shane Barrie.

Optimism was levelled by recollections of last Saturday's VFL game against Werribee, when a 41-point quarter time lead quickly disappeared.

Unfortunately a similar pattern followed. Action stayed at the Yarra River end of the Holden Centre in the second term as Box Hill edged its way back into the contest.

"We're just having that problem of not finishing games off, or having a poor quarter," Gotch said.

"That's the most frustrating thing for the players and the coaches. Our best is good enough, but we're just not sustaining it long enough."

Despite confident defending from Matthew Scharenberg, Jackson Ramsay and acting captain Jordan Kelly, the Hawks proved too dangerous for the remainder of the contest.

Josh Thomas, Tim Broomhead and Gus Borthwick were midfielders named among Collingwood's best players, while ruckman Lachlan Howe impressed in his first game of the season.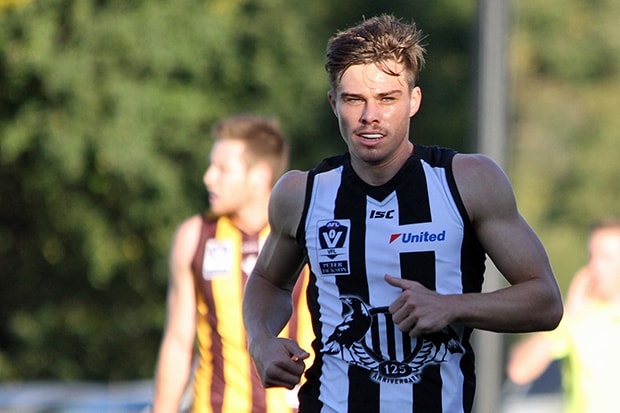 Josh Thomas impressed once again after two consecutive games in Collingwood's best VFL players. Photo: Shane Barrie.

Despite starting on the field, Josh Daicos sat out majority of the game after receiving a knock to the head in the first quarter.

Collingwood won't play next weekend, with a number of VFL teams having a week off due to a State game between Victoria and Western Australia on Saturday.

It leaves the VFL Magpies to plan an attempt to find form and consistency in the middle stages of the season.

"We just need that breakthrough to come," Gotch said.

"When that does happen we might be able to get on a roll and win some games."
Watching @CollingwoodFC VFL side and Callum Brown is ready to go at senior level. Clean and been at the bottom of nearly every pack. #PJVFL

— Ben Waterworth (@bjwaterworth) May 20, 2017

FULL TIME

Collingwood 5.5 6.6 9.10 11.10 (76)
Box Hill Hawks 1.1 5.4 9.5 16. 6 (102)

GOALS
Collingwood: Kirby 3, Crocker 2, Thomas 2, Borthwick, McCarthy, La Fontaine, Ramsay
Box Hill: Murphy 3, Jones 2, Evans 2, Lewis 2, Walker, Switkowski Brolic, Willsmore, Lewis, Dimasi, Moore

BEST
Collingwood: Ramsay, Thomas, Scharenberg, Broomhead, Borthwick, Howe
Box Hill: Cousins, Warren, Murphy, Willsmore, Lewis, Switkowski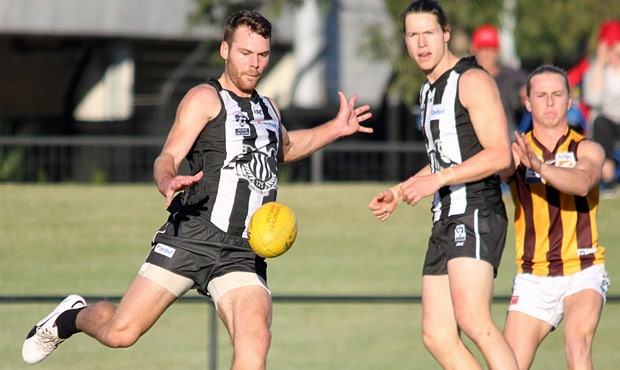 Matthew Scharenberg sends the ball inside 50. Photo: Shane Barrie.