A host of AFL-listed players returned to fine form on the weekend despite the VFL Magpies going down to Casey by 19 points at Casey Fields.

Jarryd Blair, Lachlan Keeffe, Chris Mayne, Jackson Ramsay and Mason Cox exhibited their senior experience with best afield performances, while VFL midfielder Matt Smith recorded a league-high 17 tackles on the day.

And despite a spirited final quarter resurgence, coach Jared Rivers was left to lament his side's poor third term, in which the Magpies conceded five goals and a game changing momentum swing to their opposition.

"There was ten minutes in that third quarter where we gave away some silly free kicks and some indiscipline acts which costs us two or three goals."

"At the end of the day, we only lost by 19 points, so that lapse really hurt us today," he told Collingwood Media post-game.

You can view all the individual player statistics in the article below. All numbers are courtesy of Champion Data.

MATCH REPORT: Rivers remains positive

VFL Round Eight
Collingwood v Casey
Saturday 10 June, 2017
Casey Fields

Collingwood 3.1 5.4 8.5 13.5 (83)
Casey 4.4 8.8 13.11 15.12 (102)

GOALS
Collingwood: Mayne 4, Cox 2, Kirby 2, Lane, Daicos, Sier, Keeffe, Hellier
Casey: Fritsch 3, Stretch 2, Weideman 2, Maynard, Lewis-Smith, Kent, Smith, Johnstone, Trengrove, Wagner, Hulett

BEST
Collingwood: Blair, Keeffe, Ramsay, Hellier, Mayne, Cox
Casey: Wagner, Kennedy, Stretch, White, Weideman, Munro

THE BEST

11. Jarryd Blair
Statistics:8 kicks, 0 marks, 31 handballs, 39 disposals, 10 clearances, 4 inside 50s, 4 rebound 50s, 10 tackles,
Notes: On a day where the game was played at a frantic pace by both sides, Collingwood's 149-gamer was a class above. With a game-high 39 touches and double figures in clearances and tackles, Blair continued with impressive vein of form at the VFL-level. The Demons applied extreme pressure to the Magpies' midfield, and Blair was one who beared the brunt. As is indicative of the Premiership Pie's career to date, Blair was quick with his hands and precise with his vision and ball use, often setting up his teammates in open space. If the result had gone the way of the Black and White, it would have been a near perfect day for Blair.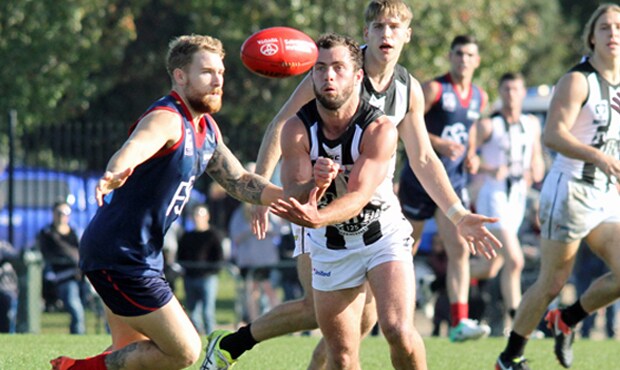 Jarryd Blair starred for the VFL Magpies with 39 possessions. Photo: Shane Barrie.

23. Lachlan Keeffe
Statistics: 11 kicks, 8 marks, 8 handballs, 19 disposals, 0 clearances, 4 inside 50s, 0 rebound 50, 3 tackles, 6 hitouts, 1 goal
Notes: Having played in every VFL game this season, Saturday's performance by Collingwood's No.23 may have been his most impressive. The defender-turned-forward spent time in the ruck, and was a reliable target in the Magpies' forward 50. After Cox was pulled from the game to be used as a potential carry over for the Queen's Birthday clash, Keeffe shouldered the majority of the forward load, competing for every contest and pushing up as a target out of defence for his teammates. And his work rate didn't go unnoticed. 19 possessions, eight marks and one goal marked a successful day out in Casey.

31. Jackson Ramsay
Statistics: 15 kicks, 7 marks, 13 handballs, 28 disposals, 3 clearances, 3 inside 50s, 7 rebound 50s, 5 tackles
Notes: The Western Australian was one of the Magpies' most impressive players on the weekend, highlighted by his complete performance at halfback. 28 possessions (including 11 contested), seven marks, seven rebound 50s and five tackles exemplified Ramsay's work rate and important run and carry out of defence. With only 16 career senior games – no thanks to a horrid run at injury – Ramsay was the general of the defensive group, leading the likes of youngsters Henry Schade and Sam McLarty in an inexperienced VFL Magpies defence.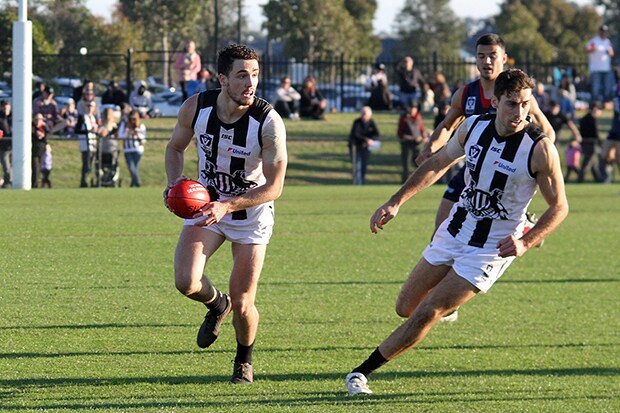 Ramsay with one of his seven rebound 50s for the Magpies in defence. Photo: Shane Barrie.

53. Jack Hellier
Statistics: 7 kicks, 4 marks, 7 handballs, 14 disposals, 1 clearance, 1 inside 50, 2 rebound 50s, 7 tackles, 1 goal
Notes: In just his second game back since returning from a serious knee injury, captain Jack led from the front with a hard-fought midfield performance. He did a little bit of everything as he tried to stem the flow of the Demons in the second-half. His coach highlighted the importance of his return and his leadership post-game: "Those guys that have come back in (Hellier and Smith) are the real leaders of this VFL program…having them back in the team definitely helps," Rivers said. A goal in the final quarter from a beautiful set shot capped off an impressive performance form the skipper.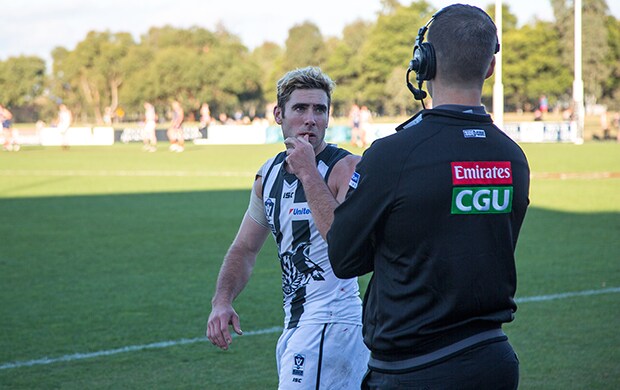 Jack Hellier chats to his coach Jared Rivers before returning to the field. Photo: Sam Gastin.

16. Chris Mayne
Statistics: 7 kicks, 5 marks, 6 handballs, 13 disposals, 0 clearances, 1 inside 50, 0 rebound 50s, 5 tackles, 4 goals
Notes: His form has been building in the VFL for a few weeks, and on Saturday afternoon, Chris Mayne was able to piece together the performance he's been working towards. Four goals – including two in the final term that sparked the Magpies' fight back – a specky and 13 disposals flagged what could be a return to the senior side for the 175-gamer. Mayne's characteristic forward pressure – which he was known for at the Dockers during their Grand Final year – was back at its best against Casey as the forward worked tirelessly for his five tackles.

46. Mason Cox
Statistics: 8 kicks, 5 marks, 1 handball, 9 disposals, 0 clearances, 2 inside 50s, 0 rebound 50s, 0 tackles, 2 hitouts, 2 goals
Notes: Two goals, nine touches and five marks - not a bad day's work for the American. It's even more impressive knowing Cox only played one half of the game. Following the major break, Cox was spotted on the bench in a hoodie after being withdrawn from the game as a potential carry over player for Monday's Queen's Birthday clash. And after slotting two goals from set shots in the first 15 minutes of the game, it seemed the game might have been set for a starring performance from the 7ft footballer. Cox is another who has been playing himself into impressive form in the VFL; and an AFL recall may be on the horizon.

THE REST

26. Josh Daicos
Statistics: 6 kicks, 1 mark, 13 handballs, 19 disposals, 1 clearance, 1 inside 50, 1 rebound 50, 7 tackles, 1 goal

27. Kayle Kirby
Statistics: 4 kicks, 1 mark, 5 handballs, 9 disposals, 1 clearance, 2 inside 50s, 0 rebound 50s, 3 tackles, 2 goals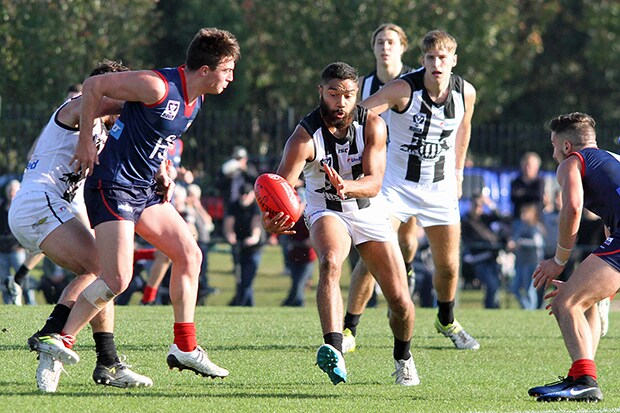 Kirby made an impact in the second half kicking two goals. Photo: Shane Barrie.
34. Mitch McCarthy
Statistics: 3 kicks, 2 marks, 4 handballs, 7 disposals, 1 clearance, 0 inside 50s, 1 rebound 50, 1 tackle, 14 hitouts

35. Sam McLarty
Statistics: 6 kicks, 2 marks, 7 handballs, 13 kicks, 0 clearances, 0 inside 50s, 2 rebound 50s, 2 tackles,

36. Brayden Sier
Statistics: 2 kicks, 3 marks, 13 handballs, 15 disposals, 2 clearances, 0 inside 50s, 1 rebound 50, 3 tackles, 1 goal

41. Henry Schade
Statistics: 10 kicks, 5 marks, 7 handballs, 17 disposals, 0 clearances, 0 inside 50s, 3 rebound 50s, 1 tackle

44. Liam Mackie
Statistics: 6 kicks, 2 marks, 8 handballs, 14 disposals, 0 clearances, 1 inside 50, 1 rebound 50, 1 tackle

45. Max Lynch
Statistics: 2 kicks, 2 marks, 3 handballs, 5 disposals, 0 clearances, 1 inside 50, 1 rebound 50, 1 tackle, 23 hitouts

47. Gus Borthwick
Statistics: 8 kicks, 1 mark, 9 handballs, 17 disposals, 2 clearances, 3 inside 50s, 2 rebound 50s, 10 tackles

48. Lachie Tardrew
Statistics: 5 kicks, 1 mark, 12 handballs, 17 disposals, 4 clearances, 0 inside 50s, 1 rebound 50, 1 tackle

49. Michael Chippendale
Statistics: 4 kicks, 2 marks, 2 handballs, 6 disposals, 0 clearances, 1 inside 50, 0 rebound 50s, 2 tackles

56. Stephen Tahana
Statistics: 11 kicks, 4 marks, 12 handballs, 23 disposals, 0 clearances, 0 inside 50s, 1 rebound 50, 3 tackles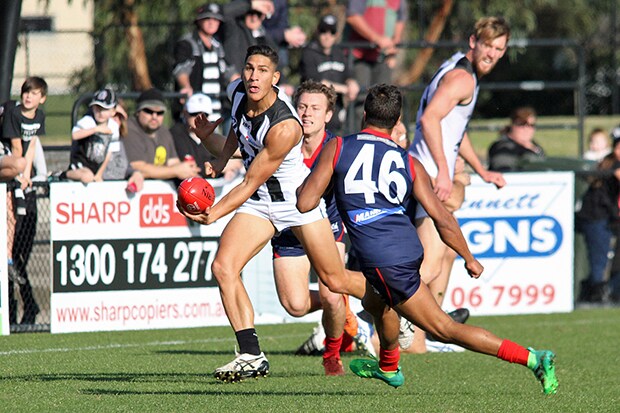 Tahana has impressed in defence since joining the Magpies. Photo: Shane Barrie.

61. Nick Gray
Statistics: 7 kicks, 4 marks, 11 handballs, 18 disposals, 1 clearance, 0 inside 50s, 2 rebound 50s, 7 tackles

62. Adrian Indovino
Statistics: 8 kicks, 2 marks, 3 handballs, 11 disposals, 0 clearance, 3 inside 50s, 1 rebound 50, 4 tackles

63. Marty Hore
Statistics: 16 kicks, 5 marks, 3 handballs, 19 disposals, 1 clearance, 1 inside 50, 6 rebound 50s, 4 tackles

64. Campbell Lane
Statistics: 10 kicks, 3 marks, 15 handballs, 25 disposals, 3 clearances, 3 inside 50s, 2 rebound 50s, 2 tackles, 1 goal

67. Matthew Smith
Statistics: 12 kicks, 1 mark, 11 handballs, 23 disposals, 5 clearances, 5 inside 50s, 0 rebound 50, 17 tackles