With two wins and six losses at the half waypoint of the season, this week's bye round is a good chance for the VFL Magpies to take a breath and refresh.

It's been a challenging start to the year for first-year coach Jared Rivers with his side sitting 12th on the ladder, but the former Melbourne and Geelong defender knows patience is key as he tries to develop an inexperienced squad.

"We want to focus on that four-quarter that we've been lacking," he said.

"We've been in almost every game – barring the Essendon one – which is disappointing, but it shows you that we're close. We need to build that consistency and hopefully the wins will come off the back of that."

"It's going to take time, but hopefully after the bye we can get a bit of a run on and get more consistency with how we play."

The Magpies have trialled 45 players throughout the first eight games of the season, with a host of AFL-listed names rotating in and out of the squad.

Of those, defender Matthew Scharenberg was one of the main beneficiaries, as he played himself into a rich vein form ahead of his long-awaited return to senior football.

In each of six games, the South Australian recorded more than 20 possessions for the VFL Pies, with his most commanding performance coming against the Box Hill Hawks where he amassed 41 disposals (at 83 per cent efficiency), 11 marks, four inside 50s and five rebound 50s. He was recalled to the senior team up the following week.

First-year players Kayle Kirby, Sam McLarty and Josh Daicos have all been developing nicely in the seconds, with fellow draftee Callum Brown the first to make his mark in the AFL, having made his debut on Queen's Birthday after six matches in the VFL.

Kirby has emerged as one of the fan favourites after showing glimpses that he could be provide the x-factor to Collingwood's forward line in the future.

The Magpies' pick 50 in last year's national draft is tied equal-second for most goals in the competition, with his most exciting performance coming against the Sandringham Zebras where he kicked six goals in a victorious day for the Magpies.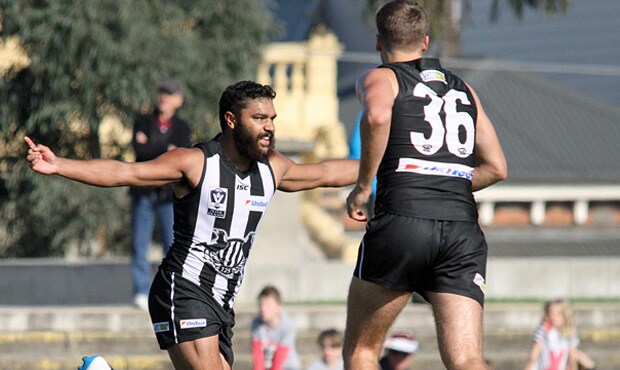 Kirby celebrates one of his six goals against the Zebras in round seven of VFL action. Photo: Shane Barrie.

Of the VFL-listed Magpies, vice-captain Nick Gray, Marty Hore and new recruit Stephen Tahana have been solid contributors, while captain Jack Hellier and Matt Smith have also made impressive returns from their respective injuries.

VFL Statistics after round 9
Games played in brackets

Kicks
117 – Matthew Scharenberg (6)
81 – Marty Hore (5)
78 – Jordan Kelly (6)
72 – Josh Thomas (6)
68 – Lachlan Keeffe (8)

Handballs
99 – Lachlan Tardrew (8)
98 – Jarryd Blair (5)
90 – Callum Brown (6)
66 – Josh Thomas (6), Stephen Tahana (7)
57 – Matthew Scharenberg (6)

Disposals
174 – Matthew Scharenberg (6)
162 – Lachlan Tardrew (8)
144 – Jarryd Blair (5)
138 – Josh Thomas (6)
135 – Callum Brown (6)

Marks
52 – Matthew Scharenberg (6)
46 – Jordan Kelly (6)
42 – Lachlan Keeffe (8)
38 – Marty Hore (5)
32 – Chris Mayne (7)

Tackles
38 – Gus Borthwick (6)
31 – Chris Mayne (7), Rupert Wills (3)
26 – Kayle Kirby (7), Callum Brown (6)
25 – Stephen Tahana (7)
24 – Nick Gray (6)

Hitouts
88 – Max Lynch (8)
58 – Jesse White (4)
53 – Mitch McCarthy (5)
48 – Mason Cox (4)
25 – Lachlan Howe (1)

Goals
18 – Kayle Kirby (7)
10 – Mason Cox (4)
9 – Chris Mayne (7)
7 – Ben Crocker (5)
6 – Jordan De Goey (3)