Paul Robinson is one of the men behind the cult social media channels 'The Carlton Draft' and 'The Ressies Footballer'.

His Black and White passion is unquestionable, and the views represented in this article are solely his own and not representative of the Collingwood Football Club.

It has been (probably) scientifically proven Collingwood has the most comprehensive list of cult heroes of any team in the history of the AFL.

The Cultpies isn't for the Nathan Buckley's, Bob Rose's or Scott Pendlebury's of the world. It's a 'NO SUPERSTARS ALLOWED' set-up here.

The types catered for are more along the lines of the Mark 'Angry Dad' Orval type, and the 'Mighty' Rupe Betheras mould.

You're about to read that last name again, because without further ado, I present to you the midfield of the Cultpies.

The guts. The engine room, the difference.

Call this what you will, one thing is clear – When it comes to the popularity stakes, this midfield is stacked with talent.

Ronnie Wearmouth and Darren Millane would be at home parked at the front bar of the Cultpies social events, while Julian Rowe will be forgiven for not waking up in time for training. The midfield reads:

R: Steve McKee Rov: Mark McGough RR: Ron Wearmouth
C: Rupert Betheras, Julian Rowe, Darren Millane

The backline - Recap the six players who make up the Cultpies defence.

Steve McKee:
Steve McKee went beyond the realms of regular ruckman in the 2002 Grand Final when he decided to casually lay nine tackles. Unbelievable effort against the September behemoth in Brisbane's Clark Keating.

McKee was a player who, oddly enough at his size, often ended up playing a defensive role.

Impressive 'tagging' efforts against Matthew Primus and Scott Lucas early in his career proved he was always able to do the team thing. However in 2003, a rule change to the ruck that meant opponents had to stand more toe-to-toe, effectively killing his ability to leap and use his 104kg frame.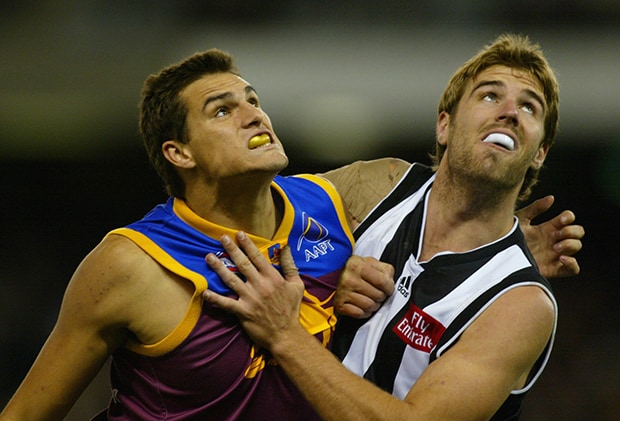 McKee engages in one of his many clashes with Brisbane's Clark Keating. Picture: AFL Photos.
Mark 'Possum' McGough:
When he traded his homework for a 22-possession, two goal debut against Hawthorn, you didn't think this Year 12 student's life could get any better.

It soon did.

An ANZAC Day medal before you're 18 years old… The wet weather specialist would have enjoyed a few lemonades that night.

A man who will always come up when it rains, the perfect midfielder for the Cultpies.

Ronnie Wearmouth:
B.O.G at the bar and on the ground. A cheeky rover with a good goal sense and a big mop of a birds nest on his head, Wearmouth was the Dale Thomas of the 70s (minus the whole disgraceful Carlton thing…).

The Collingwood hot head marched to the beat of his own drum. Des Tuddenham told him many times that it's a 'bloke's game, cut your hair' but he stuck to his guns.

The great news is that Ronnie has still got it. With a Crownie in hand, he delivered one of the all-time great speeches at the club's 125th anniversary dinner this year, recalling hilarious stories from his playing days and his new life in far-north Queensland.

Wearmouth is one of the many stars of the 70s who was so close, yet so far, from premiership success. Not only does he make the Cultpies starting 22, but he has also been given the official role of head of the social committee.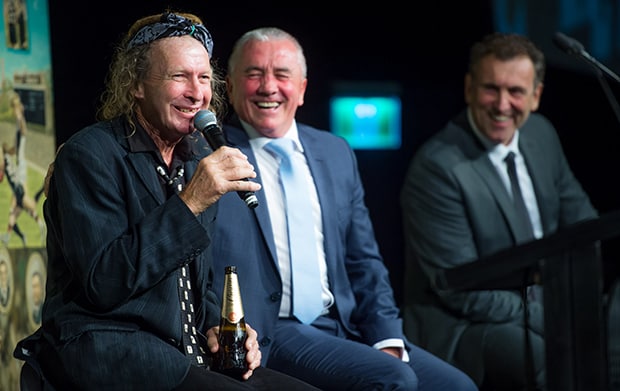 Ronnie Wearmouth alongside Tony Shaw and Peter Daicos at Collingwood's 125th anniversary gala ball in May, 2017. Photo: SDP Media.

The Rupe:
He wore #49 and his name was Rupert… This man was born to be a Collingwood cult hero.

When he won the Joseph Wren Memorial Trophy in 1998, he ended his speech by screaming into the mic 'Go the Pies!' That alone earns him a spot in the side.

On the field, Betheras was electrifying when he was up and about and the noise from the crowd was enormous.

His goal from 50m halfway through the third quarter in our preliminary final win in 2002 left the great Peter Daicos speechless in the commentary box. Let that sink in.

The Rupe, the Rupe, the Rupe is on fire.
I hope Rupert Wills is making Rupert Betheras proud. He's making some first impression for @CollingwoodFC. #AFLPiesEagles

— Adam White (@White_Adam) July 30, 2016
Julian Rowe:
He looked like he could become a ball magnet in his 26 games, before a potentially unfair delisting put a stop to his Collingwood career.

Dane Swan wrote it best in his book. When he and Rowe had a night on the town before a very early morning training session, they thought as long as there was an alarm set they'd wake up on time.

Swan recalls waking up one morning and running into Rowe's room to see an alarm clock next to his head blaring… but he was still sound asleep.

By all reports, Rowe allowed himself to cop more of a whack than Swan and was delisted at years end. The quiet achiever of the rat-pack it seems, and if he's willing to lose his spot on the official list, we're more than happy to have him at the Cultpies.

Darren 'Pants' Millane:
I said no superstars allowed, but I'll be damned if there's a Collingwood 'best of' side that doesn't make an exception for this man.

Millane was a larger than life wingman who attacked packs like a bull in front of a red flag. Millane was incredibly strong overhead, and would defend his teammates or those he cared about fiercely, on or off the field.

The 147-game champion earned the nickname 'Pants' for his bizarre fashion choices, usually consisting of home-made track pants with colourful designs knitted onto them.

When Tony Shaw abruptly questioned his choice in clothing at one of Millane's first training sessions, he responded with a 'yeah? What's it to you?' And Shaw instantly knew he had a mate he'd love to play alongside.

One of the toughest of all-time – welcome to the Cultpies.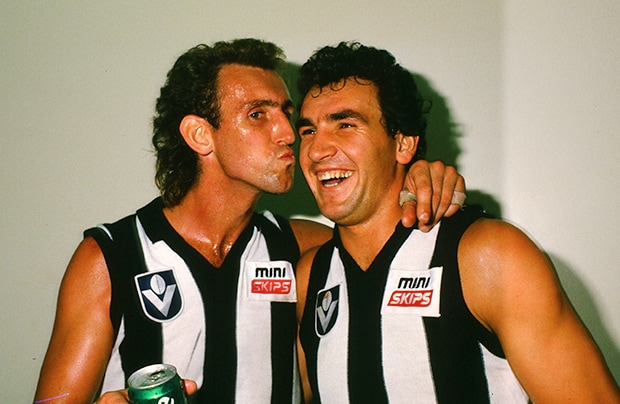 Peter Daicos and Darren Millane share a laugh in the changerooms in 1989. Picture: AFL Photos.

MORE:

'Everything in my life is Collingwood'

'Our stereotypical snot-nosed brother'

'Magpies or Mighty Ducks? Our Sydney mission'

'The man robbed of the 2010 Norm Smith'

'The ANZAC Day that started in tears'

'Nickelback barracks for Carlton'

'Heaven FC gains a new star player'

'You're in our world now, Hawthorn'

'A backline full of cult heroes'