The VFL Magpies' 2017 campaign came to an end on Saturday, but they didn't go down without a fight.

Led by some of Collingwood's most experienced players, the Pies came so close to pulling off a big second-half comeback, but ultimately fell to Richmond in the cutthroat Elimination Final.

Down by 24 points midway through the final quarter, Collingwood willed its way back into the contest, with Gus Borthwick, Jesse White and Jarryd Blair working tirelessly in the middle.

Up forward, it was the dangerous duo of Chris Mayne and Mason Cox who kept the scoreboard ticking over for the Pies.

But when the final siren sounded, Richmond were two goals ahead, with the result reflecting the Tigers' stronger four-quarter performance on the day.

Key Magpies stepped up in the second half, with Callum Brown as one of the shining lights in the disappointment of a finals elimination.

You can view the individual stat line of every player in the article below. All numbers are courtesy of Champion Data.

VFL ELIMINATION FINAL
Richmond v Collingwood
Saturday 2 September, 2.40pm
North Port Oval, Port Melbourne

Collingwood: 0.1 1.3 6.5 11.7 (73)
Richmond: 3.6 5.8 7.10 12.13 (85)

GOALS
Collingwood: Cox 3, Mayne 2, White, Blair, Blair, Thomas, Daicos, Kirby
Richmond: Moore 3, Bolton 2, Ellis, Hunt, Griffiths, Miles, Lennon, Lloyd, Batchelor

BEST
Collingwood: Borthwick, Cox, Blair, Brown, White, Mayne
Richmond: Miles, Ellis, Lloyd, Batchelor, Moore, Beasley

MATCH REPORT – EMOTIONAL END TO VFL PIES SEASON

THE BEST

47. Gus Borthwick
Statistics: 9 kicks, 3 marks, 10 handballs, 19 disposals, 6 clearances, 3 inside 50s, 2 rebound 50s, 6 tackles
Notes: After serving his one-game suspension against Port Melbourne last week, Borthwick wasted no time settling back into Collingwood's VFL midfield mix against Richmond. The 20-year-old was ferocious at the contest, recording 19 touches – including eight contested possessions – six clearances and six tackles. In the final quarter, Borthwick provided the spark Collingwood so desperately needed, and almost single-handedly willed the Magpies to victory from the midfield.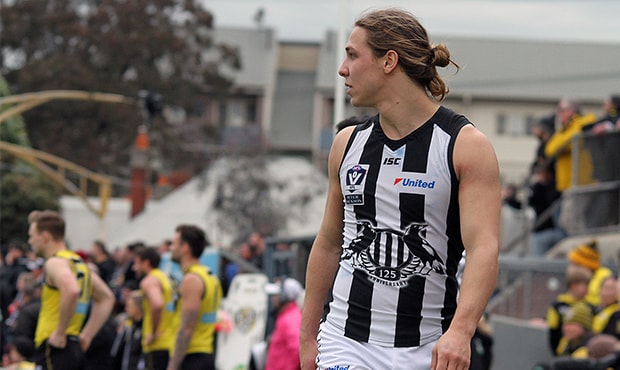 Borthwick was crucial to Collingwood's second-half comeback against Richmond. Photo: Shane Barrie.

46. Mason Cox
Statistics: 7 kicks, 6 marks, 6 handballs, 13 disposals, 2 clearances, 1 inside 50, 0 rebound 50s, 12 hit outs, 3 tackles, 3 goals
Notes: When Mason Cox played at North Port Oval earlier in the 2017 VFL season, he kicked six goals and was the dominant player on the ground. On Saturday against the Tigers, the American was once again Collingwood's most dangerous player. After kicking the Pies' first goal late in the first half, Cox came out in the third quarter and changed the entire game. He kicked a further two goals, and clunked six contested marks in a dominant 30-minute period.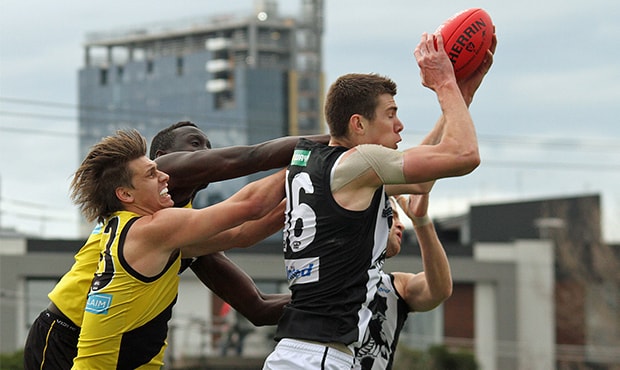 Cox takes one of his six contested marks against Richmond. Photo: Shane Barrie.

11. Jarryd Blair
Statistics: 5 kicks, 0 marks, 15 handballs, 20 disposals, 6 clearances, 2 inside 50s, 1 rebound 50, 9 tackles, 1 goal
Notes: Always willing to get his hands dirty in the contest, Blair produced another of his trademark performances against Richmond in the elimination final. Battling a robust Richmond midfield, Blair threw himself into every contest, and was often at the bottom of the pack when the umpire called for the ball. 17 of his 20 possessions were contested, while his six clearances and nine tackles showcased his elite work rate.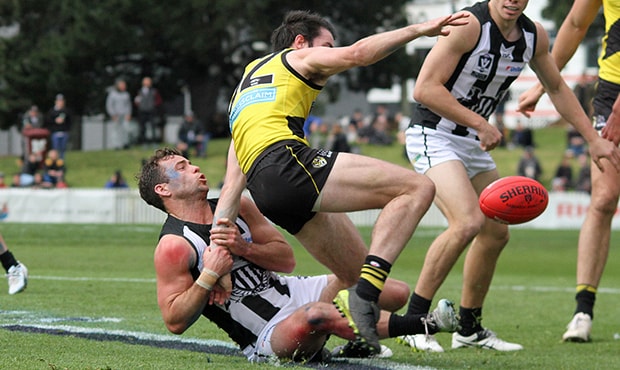 Blair with one of his nine tackles in Saturday's Elimination Final with Richmond. Photo: Shaneb Barrie.

17. Callum Brown
Statistics: 10 kicks, 4 marks, 22 handballs, 32 disposals, 7 clearances, 2 inside 50s, 1 rebound 50s, 4 tackles
Notes: There are some players who thrive on the big stage, and first-year player Callum Brown is proving to be one of those players for the Pies. In his first career final, the 19-year-old did not disappoint. His 32 disposals were a team high, and his 14 contested possessions showed that the young midfielder wasn't afraid to attack the contest. After a quiet first half, Brown was instrumental in swinging the momentum back into Collingwood's favour in the final term.

9. Jesse White
Statistics: 7 kicks, 5 marks, 3 handballs, 10 disposals, 2 clearances, 2 inside 50s, 1 rebound 50, 4 hit outs, 1 tackle, 1 goal
Notes: In what would turn out to be his final game of professional football, Jesse White capped off his 11-year career with an impressive performance for the VFL Pies. Along with Cox, White was the catalyst behind Collingwood's second-half comeback against the Tigers. His goal in the third quarter kicked off a string of Magpie goals, and his five marks – including three contested grabs up forward – were crucial to continuing Collingwood's momentum in the attacking half. In the fourth quarter, White pushed up into the ruck, and made a difference in the middle with his strong build, quick hands and elite field kicking.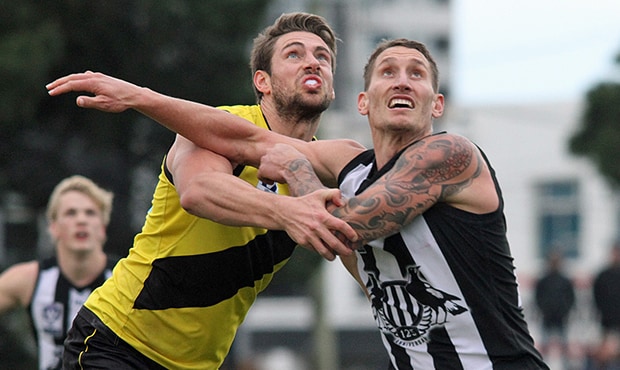 White battles with Shaun Hampson in the ruck late in the game. Photo: Shane Barrie.

16. Chris Mayne
Statistics: 12 kicks, 9 marks, 9 handballs, 21 disposals, 0 clearances, 2 inside 50s, 2 rebound 50s, 1 tackle, 2 goals
Notes: If Cox was the dominant player on the ground in the third quarter, Mayne would be putting his hand up for the same role in the fourth term. With 2.2 in front of goals, the 28-year-old was almost the match-winner for the VFL Pies as they fought back from a 24-point deficit midway through the final term. After snapping his first goal from a tight angle to get the Pies back into the game, Mayne sent North Port Oval into a frenzy when he put the Magpies ahead by one point with five minutes remaining. With 21 disposals and nine marks, Mayne was one of the best Magpies on the ground when the final siren sounded.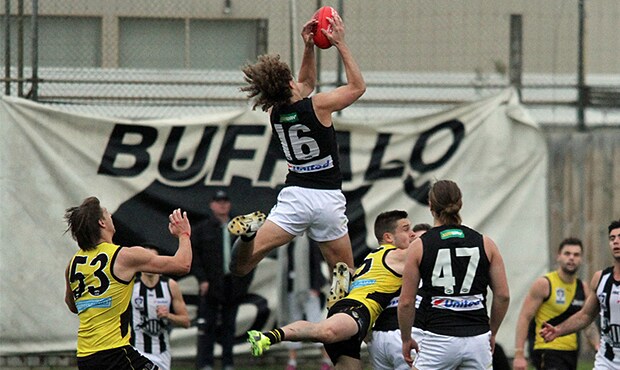 Mayne flies for one of his contested marks in the fourth quarter. Photo: Shane Barrie.

THE REST

14. James Aish
Statistics: 5 kicks, 2 marks, 2 handballs, 7 disposals, 0 clearances, 1 inside 50, 0 rebound 50s, 3 tackles
Notes: Aish didn't take part in the fourth quarter after suffering a head knock.

23. Lachlan Keeffe
Statistics: 3 kicks, 3 marks, 4 handballs, 7 disposals, 0 clearances, 2 inside 50s, 0 rebound 50s, 0 tackles

24. Josh Thomas
Statistics: 9 kicks, 1 mark, 8 handballs, 17 disposals, 0 clearances, 2 inside 50s, 1 rebound 50, 6 tackles, 1 goal

26. Josh Daicos
Statistics: 7 kicks, 2 marks, 5 handballs, 12 disposals, 2 clearances, 2 inside 50s, 1 rebound 50, 4 tackles, 1 goal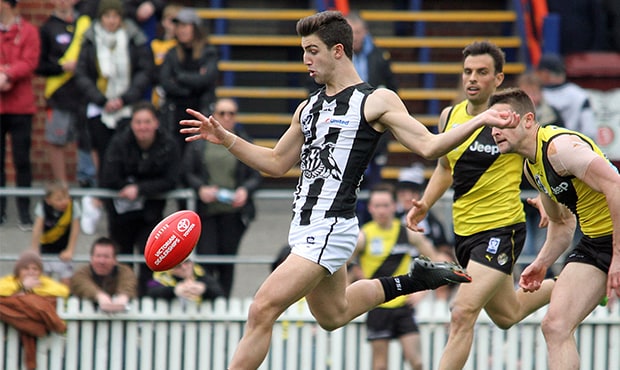 Daicos found the ball 12 times and kicked a crucial goal in the fourth quarter. Photo: Shane Barrie.

27. Kayle Kirby
Statistics: 4 kicks, 2 marks, 3 handballs, 7 disposals, 0 clearances, 2 inside 50s, 0 rebound 50s, 2 tackles, 1 goal

31. Jackson Ramsay
Statistics: 8 kicks, 2 marks, 10 handballs, 18 disposals, 3 clearances, 4 inside 50s, 2 rebound 50s, 3 tackles

35. Sam McLarty
Statistics: 6 kicks, 6 marks, 4 handballs, 10 disposals, 0 inside 50s, 1 rebound 50, 2 tackles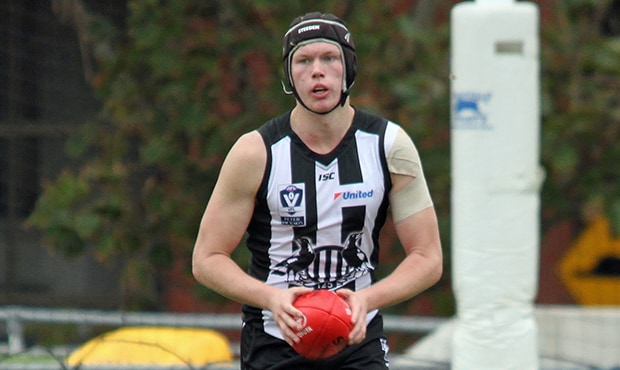 The defender played an important role in defence, recording 10 touches and six marks. Photo: Shane Barrie.

41. Henry Schade
Statistics: 9 kicks, 4 marks, 3 handballs, 12 disposals, 0 clearances, 3 inside 50s, 5 rebound 50s, 0 tackles

48. Lachlan Tardrew
Statistics: 5 kicks, 4 marks, 9 kicks, 14 disposals, 0 clearances, 3 inside 50s, 1 rebound 50, 2 tackles

53. Jack Hellier
Statistics: 8 kicks, 4 marks, 3 handballs, 11 disposals, 1 clearance, 2 inside 50s, 1 rebound 50, 3 tackles

55. Ryan Pendlebury
Statistics: 8 kicks, 3 marks, 13 handballs, 21 disposals, 0 clearances, 2 inside 50s, 4 rebound 50s, 1 tackle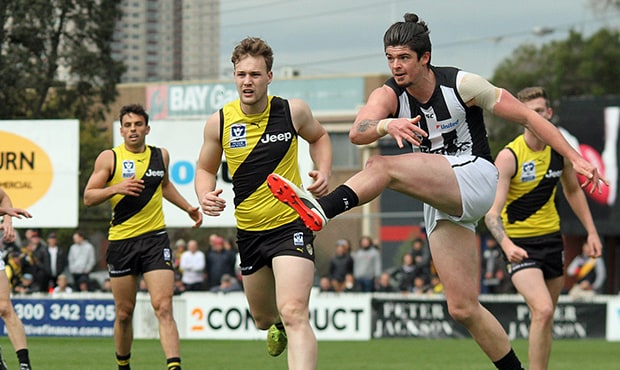 Ryan Pendlebury clears the ball out of the Magpies' defensive half. Photo: Shane Barrie.

60. Jordan Kelly
Statistics: 5 kicks, 3 marks, 6 handballs, 11 disposals, 0 clearances, 1 inside 50, 1 rebound 50, 3 tackles

63. Marty Hore
Statistics: 21 kicks, 3 marks, 0 handballs, 21 disposals, 2 clearances, 0 inside 50s, 11 rebound 50s, 0 tackles

64. Campbell Lane
Statistics: 12 kicks, 4 marks, 6 handballs, 18 disposals, 0 clearances, 3 inside 50s, 2 rebound 50s, 3 tackles

65. Lachlan Howe
Statistics: 8 kicks, 3 marks, 1 handball, 9 disposals, 1 clearance, 4 inside 50s, 1 rebound 50, 5 hit outs, 3 tackles

67. Matt Smith
Statistics: 2 kicks, 1 mark, 4 handballs, 6 disposals, 0 clearances, 0 inside 50s, 0 rebound 50s, 6 tackles

69. Jack Blair
Statistics: 6 kicks, 2 marks, 11 handballs, 17 disposals, 4 clearances, 2 inside 50s, 0 rebound 50s, 7 tackles, 1 goal
Clutch goals, big marks + one thrilling finish - https://t.co/ZBo1PA2Ce1 Watch the highlights + key moments from our match against Richmond pic.twitter.com/74qexPrPgT

— Collingwood FC (@CollingwoodFC) September 3, 2017