The season has now concluded for every player on Collingwood's list, after a VFL Elimination Final loss to Richmond at North Port Oval on Saturday.

That includes 31 members of the VFL Magpies, who helped lead the reserves side to their fifth consecutive finals series in 2017.

The season was one of ups and downs, with eight wins, 10 losses and 55 total players used throughout the year.

A number of storylines emerged from the 2017 VFL campaign. Recap the moments and stats that mattered with the ultimate season summary below.

RIVERS' ROOKIE YEAR
The Collingwood VFL coaching ranks changed dramatically prior to the commencement of the 2017 VFL season. Jared Rivers took the reins from previous leader Dale Tapping, while Brad Gotch, Ryan Power and Jamie Cassidy-McNamara all assumed new roles as assistant coaches.

The Magpies started slow, winning just two of the first eight home and away games. However they found their grove under Rivers after the first bye and won six more games in the back half of the season to finish with a spot in the top eight.

Ash Close was successful switched from playing as a key forward to a lock-down defender, James Aish became an inside midfielder and a number of other players were tested in new roles as Rivers found a winning formula.

His connection to the playing group was also strong. "Out of all the footy years I've played, Riv has got the best connection with every single player he coaches for," first-year star Kayle Kirby said in late August.

There were coaching cameos as the season progressed. A devastating fourth knee reconstruction to star recruit Alex Woodward saw the former Hawk add knowledge in the coaches box, while Scott Pendlebury helped lead the midfield in the final month of the season after having surgery on his injured finger.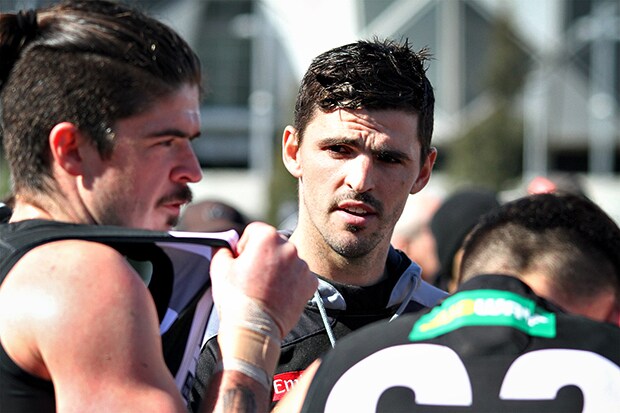 Scott Pendlebury joined the VFL coaching staff in the late rounds, where he was able to lend advice to younger brother Ryan (pictured). Image: Shane Barrie.
DRAFT ME!
Bendigo Pioneers product Marty Hore was rewarded for a terrific season in August when he received an invitation to October's state draft combine.

The tall defender with a strong left foot and innate ability to read the game was a key pillar of Collingwood's defence in 2017. However, after receiving attention from AFL recruiters, he may not be playing VFL in years to come.

"I was pretty happy with my year," Hore told Collingwood Media after the VFL Magpies' Elimination Final loss to Richmond.

"I've just got to keep fit for the combine in a couple of weeks' time. Hopefully I can get on a list in the near future."

Hore may not be alone in drawing the attention of the wider football world. Former Bendigo teammate Lachlan Tardrew was excellent early in the season, while an outstanding 19-possesion game from Gus Borthwick in the final game of the season also caught the eye of interested onlookers.

Good to hear Collingwood VFL midfielder Gus Borthwick is getting attention from AFL clubs. He's a good player and as tough as all heck.

— Paul Amy (@PaulAmy375) September 3, 2017
A SEASON OF NAIL-BITERS
If you felt your heart racing watching the VFL Magpies' in 2017, you weren't alone. The side played out a number of close finishes throughout the home and away season.

From a two-point victory over Coburg in round one to a six-point loss to Port Melbourne in the final game of the season, five of 18 games were decided by a goal or less. Collingwood won three and lost two, while also losing another two games by two goals or less.

A two-point thriller against Richmond was arguably the highlight of the bunch, with Lachlan Tardrew scoring his first goal in Collingwood colours with minutes remaining to give the Magpies a 104-102 advantage.

LACHIE TARDREW! Can you believe it! The #vflmagpies are back in front. What a snap from the youngster! We lead 104-102 #gopies

— Collingwood FC (@CollingwoodFC) July 23, 2017
LEAGUE LEADERS
Marty Hore ranked seventh in the VFL for total kicks in 2017. The young defender had the fourth most 'long kicks' in the competition, while also having the fourth highest kicking efficiency (of players ranked in the top 10.
Ben Reid's one game in the VFL left him as the fourth best user of the football in the competition in 2017. The swingman had 20 disposals at 90 per cent efficiency against Footscray in round 11. Ryan Pendlebury's 132 disposals at 85.6 per cent is perhaps a more impressive efficiency tally. The youngest Pendlebury was the best user in the VFL of all players with 100 touches or more.
It's hard to defend against an opponent standing at 211cm. Mason Cox proved that in his 10 VFL games in 2017. Cox held on to 34 contested marks – the fourth most in the competition over the course of the season.
Gus Borthwick the umpires pet? Our midfielder may have copped a one-game suspension for a dangerous tackle late in the season, but was on the receiving end of plenty of free kicks throughout the year. Borthwick was awarded the third most frees (32) of any player in the VFL. He might need to have a word to Kayle Kirby. The ever-exciting forward was penalised 35 times in 2017 – the second most of any player.
By now, you may have heard about the fight for the Frosty Miller Medal between Kirby and Port Melbourne's Jordan Lisle. While an AFL debut in round 23 prevented Kirby from winning the VFL's goal kicking award, he still kicked an impressive 43 majors in his rookie season. Lisle finished with 47, while Richmond's Ben Lennon is placed in third with 40 goals.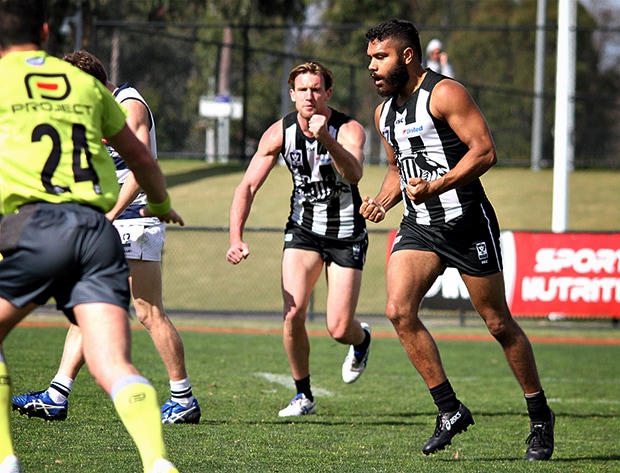 Kayle Kirby celebrates one of his 43 goals during his first season in Black and White. Image: Shane Barrie.

BY THE NUMBERS
Games
19 – Lachlan Keeffe
18 – Chris Mayne
18 – Lachlan Tardrew
17 – Max Lynch
17 – Kayle Kirby

Goals
43 – Kayle Kirby
25 – Mason Cox
20 – Chris Mayne
16 – Jesse White
15 – Lachlan Keeffe

Kicks
254 – Marty Hore
162 – Campbell Lane
153 – Lachlan Keeffe
151 – Matthew Scharenberg
150 – Gus Borthwick

Marks
103 – Marty Hore
103 – Lachlan Keeffe
89 – Chris Mayne
74 – Mason Cox
70 – Jesse White

Handballs
195 – Lachlan Tardrew
172 – Callum Brown
159 – Jarryd Blair
152 – Jackson Ramsay
145 – Chris Mayne

Disposals
339 – Lachlan Tardrew
336 – Marty Hore
299 – Jackson Ramsay
294 – Campbell Lane
293 – Gus Borthwick

Clearances
69 – Gus Borthwick
55 – Jarryd Blair
49 – Callum Brown
49 – Matthew Smith
43 – Rupert Wills

Tackles
100 – Gus Borthwick
83 – Chris Mayne
79 – Matthew Smith
61 – Jack Hellier
57 – Rupert Wills

Hit outs
240 – Max Lynch
216 – Mason Cox
160 – Jesse White
120 – Lachlan Howe
53 – Lachlan Keeffe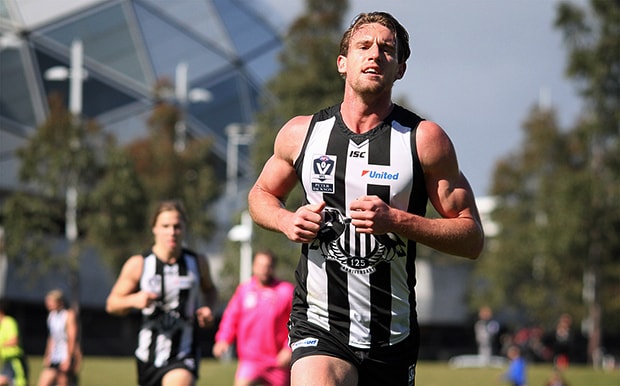 Lachlan Keeffe delivered impressive VFL numbers as he returned to Collingwood in 2017. Image: Shane Barrie.