Top ten draft picks are a highly coveted commodity.

Not since Jordan De Goey (pick five, 2014) and Darcy Moore (pick nine, 2014) has Collingwood seen its newest draftees up on the AFL National Draft stage.

The club is expected to hang on to its first selection in the 2017 National Draft, as confirmed by Collingwood's GM of Football Geoff Walsh.

"We certainly think pick six is going to be valuable in the draft," Walsh told Collingwood Media on Tuesday.

"One of the few upsides of finishing where we did is that you get a prime first round draft pick, and we think that pick six will develop into a good player, whoever that is.

"We'll be making sure we hang onto that (pick)."

In another update on the club's off-season plans, Walsh said the Pies would remain "relatively quiet" in the two-week trade period, which began on Monday.

"I don't think we're going to be too aggressive in this trade period."

"We've had a couple of discussions with players…there's a couple we're looking at, and as the week unfolds, they may materialize.

"In a relative sense, or in a comparative sense to previous years, we'll be relatively quiet."

Furthermore, the club says it will prioritise the development of some of its younger players as it looks towards the 2018 season.

"We do have a relatively young list. We'd like to give those guys maximum opportunities to develop," Walsh said.

"We would prefer to see some of those second and third year players who haven't had great opportunities to get a year where we show some faith and some confidence in them.

"As a list overall, I think we're reasonably placed. The potential is there."

As it currently stands, the Magpies hold picks 6, 36, 54, 59 and 78 ahead of the 2017 National Draft.

Collingwood's top-ten draft picks since 2000:

2000: Alan Didak (pick 3)
2004: Chris Egan (pick 10)
2005: Dale Thomas (pick 2), Scott Pendlebury (pick 5)
2006: Ben Reid (pick 8), Nathan Brown (pick 10)
2013: Matthew Scharenberg (pick 6), Nathan Freeman (pick 10)
2014: Jordan De Goey (pick 5), Darcy Moore (pick 9)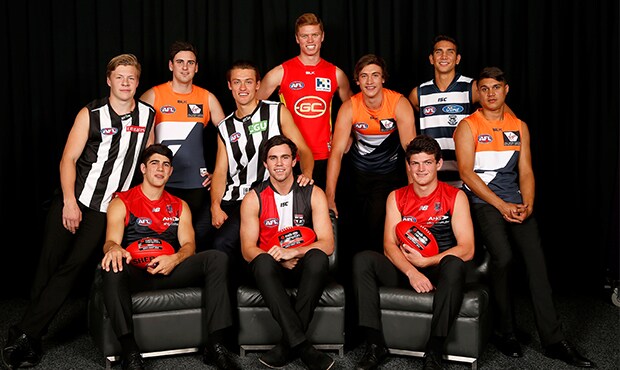 The top ten of the 2014 draft class, including Magpies Jordan De Goey and Darcy Moore. Image: AFL Photos.