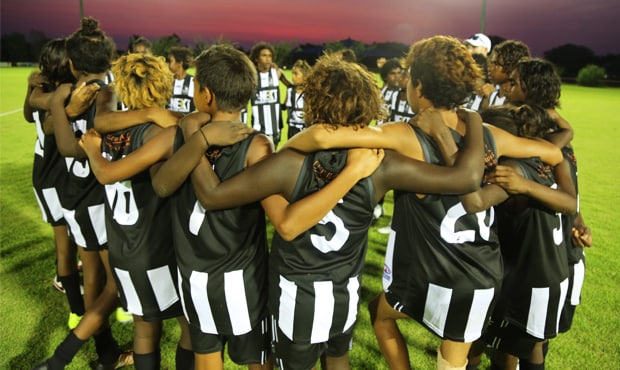 On Wednesday, the Barkly Magpies, the members of Collingwood's Next Generation Academy, were an assortment of 25 teenagers from seven rural communities in the outback of the Northern Territory.

By Saturday evening, they had become a team, have learned each other's personalities, quirks and styles, gelling rapidly to reach the Grand Final of the Michael Long Cup.

While they ultimately fell just short against Essendon's Tiwi Island-based Academy, the Magpies handled themselves with class from start to finish, and will return home on Sunday optimistic about their football futures.

"It's something they can take away and make them better people," Collingwood's Next Generation Academy coach Wayne Siekman told Collingwood Media.

"That's the most important thing about these programs.



The Barkly Magpies assemble before their first game of the Michael Long Cup. Photo: Collingwood Media.

"In football, they're talented, which is a part of why they get picked in these programs. But for them to come away as better people is the outcome we're after.

"Their place in Academy is a real carrot for those players now. If they can go to school and keep their attendance up above 80 per cent, they will get rewarded, both through Collingwood's Next Generation Academy and through the Northern Territory football programs."

The Magpies, many of whom had never been to Darwin, played five games in the space of 24 hours in hot and humid conditions at Palmerston Oval.

They came from behind to beat Geelong's Next Generation Academy outfit and easily accounted for local side Nightcliff under lights on Friday night.



Having a laugh pre-game. Photo: Collingwood Media.

Big wins over the Buffaloes and St Mary's followed the next morning, setting up a Grand Final against Essendon in the early afternoon.

The Bombers shot out of the blocks, kicking three goals before Collingwood had entered their attacking fifty. But the Magpies dug deep, edging their way to within four points before a thunderstorm rolled in and heavy rain turned the final term into a slog.

"A lot of our players had never played in the rain before and it was a really good experience for them," Siekman continued.

"We played really well in the last four or five minutes of the game and were only five points down, needing a goal to win it.

"At one point, we got out the back, but the breeze had swung the other way only moments beforehand, and we had a kick that landed only three or four metres short. Essendon marked it, and we pushed numbers up to the contest to roll the dice with only a minute to go, but they kicked it out the back and off they went and kicked a goal after the siren to sew up the win."



The rain tumbles down. Photo: Collingwood Media.

While disappointed, the young Magpies have plenty to be proud of. They had been beaten in a practice match against Alice Springs in Tennant Creek on Wednesday night, but quickly came together to play cohesive, team-first football.

Several players stood out, including Anthony Raymond, who earned the club's internal MVP Award as Collingwood's best player across the carnival, and Cy Smith, who received the equivalent honour from the AFL Northern Territory officials.

"Anthony's very talented, and kicks so well on both feet that, as a coach, I honestly couldn't tell you which is his preferred foot, because he is so natural on both sides of the body," Siekman enthused. "For a 14-year-old, that's very impressive."

"Cy has heaps of talent. He's a left footer who's really strong in the air, good on the ground and has an amazing leap.

"The most pleasing thing for me was his leadership, which shone through all week. He helped out at breakfast and dinner times, made sure his teammates had food, held doors open and helped pack up.



Next Generation Academy coach Wayne Siekman speaks to his players. Photo: Collingwood Media.

"Because we had so many different communities come together to play for us, we saw players we had never seen before. It was good to see them put their abilities on show so the whole of the Northern Territory could see them, which could mean so much for their football futures."

The players will return home to their communities in the Barkly Region, driving with AFL NT official Wayne Green and Josh Johnny, from the Clontaff Academy, for 13 hours from Darwin to Tennant Creek.

With dreams in their head and stories to tell, Siekman hopes the week in Darwin will inspire the young Magpies to continue to apply themselves to their education, their communities and their football to ensure they return to the Top End with Collingwood next year.

"The next month will be pivotal for our Barkly Region. These young fellas will go back into their own communities where there will be so much talk about their experience, and everyone will see them wearing their Collingwood Next Generation Academy outfits.



The Barkly Magpies charge into attack. Photo: Collingwood Media.

"Hopefully that message goes through to the other youngsters coming through the ranks, to keep working hard at your studies, to keep looking after your community and keep playing good football, then you may get picked in these squads.

"It's a carrot for when next year's Michael Long Cup comes around, where it would be great to have 40 or so kids vying for a place in the 25-man squad. It's something I'm really looking forward to."



The final coin toss. Photo: Collingwood Media.

For Siekman, and the nine Collingwood staff members who travelled with the team, the experience is one that will be held dear and retold through the club's work in the Barkly Region in the years to come.

"It was a pretty proud moment for me to have an opportunity like this to be the head coach of the club's Next Generation Academy and to come up here with some of our staff on the Wednesday and experience the bus trip, heading all the way up here to coach the team for the first time," the coach reflected.



Cooling off in the Grand Final. Photo: Collingwood Media.

"Liz Ryan (Collingwood's Next Generation Academy Manager) and Wayne Green have done so well to organise this program and made my job as coach so much easier.

"These are things you would never get to do if you weren't working at a football club like Collingwood, and it is an honour and a privilege to have done it.

"It's something that will live with me forever.



All in together. Photo: Collingwood Media.