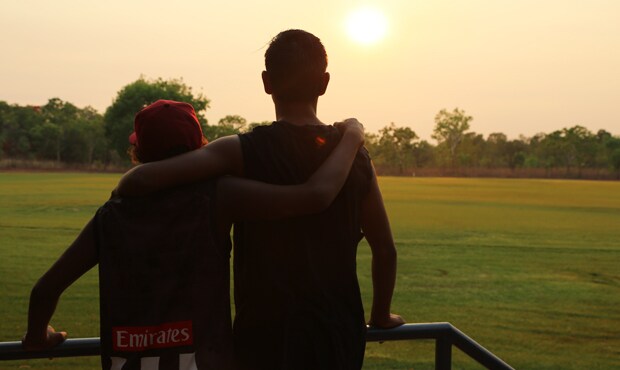 Last week, Collingwood coaches and staff spent four days unlike any other in their working lives.

They travelled to the Northern Territory in separate groups to meet in Darwin to support a group of 25 12-to-14-year-old members of the club's Next Generation Academy in the Michael Long Cup.

The team is known as the Barkly Magpies, named after the Region zoned to Collingwood under the AFL's new program that helps develop Indigenous and multicultural youngsters on their footballing journey.

Each night, a different member of the travelling party logged their experiences and reflections. Some travelled by plane, others by bus. All returned to the Holden Centre with memories that will last a lifetime, and a hunger to see the club's Next Generation Academy and its players grow from strength to strength in the years to come.

All photos below were captured by the Collingwood Media cameras.

Day One – Wednesday 1 November, 11pm
Wayne Siekman
Wayne is the coach of Collingwood's Next Generation Academy, and the senior coach of the club's AFL Women's team.

We boarded a plane to head to Alice Springs and enjoyed some lunch with the media team as we waited for our shorter flight to Tennant Creek.

That flight was a different experience – very different.

It was quite small and compact, and my head was nearly touching the roof, so I had to bend over. You could see the propellers start up, which you don't normally see. You feel every bump and movement, and coming into Tennant Creek it was quite windy. My guts were tumbling, but that was all part of the journey.



Arrival. Photo: Collingwood Media.

Once we landed at Tennant Creek Airport, we were picked up by Wayne Green, who looks after our Barkly Region on behalf of the AFL Northern Territory. He took us back to our hotel room in Tennant Creek, where we checked in and I went for a quick run to stretch the legs.

After that, we met the first group of fellas who came in from other parts of our region. I got the call, and Wayne came and picked us up. We headed down to the local school where we mingled with some of our players and got to know them and learn more about their stories.

We stayed at the school for more than three hours, before heading over to the local Tennant Creek football ground where we played a practice game against Melbourne's Next Generation Academy team, which is heading up to Darwin, too.



Anything for a game. Photo: Collingwood Media.

It was a great opportunity for the players from both sides, but also for myself, because it meant I was able to see them play up close. Wayne has given me a good insight into most of them, but to actually see them with my own eyes puts us in good stead for the games to come.

The game was really competitive. The Alice Springs team was quite tall compared to ours; we're a much smaller side. We had a couple of really dominant players, one in the midfield and one up forward who could probably kick it fifty metres off one step.



Coach Wayne Siekman introduces himself. Photo: Collingwood Media.

We did really well given it was the first time our group has come together. The Alice Springs team had spent the day together on the bus, so for the first three quarters we did a great job. We were only three points down at three quarter time, but in the last quarter they kicked three goals to none and won by 21 points. It gave us some optimism for what we can produce over the next couple of days.

Our fellas need to do a bit of work on our defence – we were very much see ball, get ball, and would leave two or three of their opposition on their own inside forward 50. If we improve on that, we could get some really competitive results and, hopefully for the team, a couple of wins to celebrate together on the bus trip home.



Listen up. Photo: Collingwood Media.

Individually, too, it is important for the kids who want to take their football further. These players are competing for one of the 50 spots in the Northern Territory's under-15 team for 2018, so it's a great chance for these youngsters to press their claims.



Thirsty work. Photo: Collingwood Media.

I was up here in June, and the ground was in really good order, but to see it tonight, with the lights on and the bright green grass in the middle of the desert, it's such a unique spectacle. It's extremely hot up here, pushing 40 degrees, but it began to cool down a little by the time the game began at around 8pm.

After the game finished, we jumped on the barbeque with Wayne in the canteen and helped Wayne Green cook 150 sausages and hamburgers for both teams. It was a good bit of fun, feeding everyone and cleaning up before heading back home. Hopefully we can get a quick five or six hours sleep before getting up at the crack of dawn to start our trip up to Katherine.



Game on. Photo: Collingwood Media.

Day Two – Thursday 2 November, 10.10pm
Wayne Green
Wayne is the AFL Northern Territory's Regional Development Manager for the Barkly Region (Tennant Creek).

It's been a big day. We started in Tennant Creek and finished here in a room at the Clontaff Academy at Katherine High School. It's fair to say we've covered a lot of ground.

We left the footy oval at about 10pm last night, maybe a little bit after that. We had some kids staying at the Tennant Creek high school in the gym, and we had to drop some kids off back home. I also had to check on my own kids (editor's note: Wayne has four sons, aged between 17 and six), because my wife is away, so it was a late night. I got to bed at midnight.



Pride of the Barkly Region. Photo: Collingwood Media.

I was up at 6am this morning because the Alice Springs group was camping at the high school as well. We had to help get the kids up and out to training with the Clontarf Academy, and I had to go and swap the car for the bus and get some morning tea ready for the youngsters. They had breakfast with Clontarf at the school. We loaded up the two buses, driven by Clontarf's Josh Johnny and myself, and we left at about 10.30am.

In total, it's at 670-kilometre trip from Tennant Creek to Darwin, so we broke it down across two days with several different pit stops at townships along the way.



Lunch time in Elliott. Photo: Collingwood Media.

After starting at Tennant, we went through Three Ways for our first stop. Then it was off to Elliott to pick up a few players and enjoy a barbeque lunch at the local school. Further on, we went through Newcastle Waters, Dunmarra and stopped at the Highway Inn for fuel. We stopped for a quick look at the freshwater crocodiles at the Larrimah Hotel, then at Mataranka and then onto Katherine. In total, the first leg of the trip took us eight and a half hours.

In the past, we may have driven to Elliott and camped the night there, to break the trip up. It's much better breaking the trip up if you're heading to Darwin. We won't be doing that on Sunday, though. We'll be driving the full 12 and a half hours back home on the bus. I've done that a few times, I can tell you.



A team photo as the sunsets in Larrimah. Photo: Collingwood Media.

Once we arrived in Katherine, we ate dinner and set up in the Clontarf Academy rooms at the local High School. The kids showered and got ready for bed, rolling out their swags and preparing for a well-earned rest. As I write, we have almost 30 people in swags spread across two rooms. Thank goodness for the air conditioning!

I'm really looking forward to getting to Darwin and getting the games underway. It will be such a great experience for the kids. We've got six from Ali Curung who regularly travel to Tennant Creek to play footy, and a total of about 18 kids from Tennant Creek in this squad who play together semi-regularly.



Fun and games at the Clontarf Academy in Katherine. Photo: Collingwood Media.

There are three players from the Queensland border, and they all play competition footy there and they've got on well with the other kids so far, especially after their practice match last night. They will be playing five games of footy over two days, so they will really be looking forward to it.

A couple of the kids in the team have never been to Darwin. Most have, but some only as babies, so they won't remember it. One thing we're keen to do in Darwin is show them the ocean. They might have been to Darwin but they haven't seen the ocean. I'm not sure if we'll have time, but I'd love to squeeze that in.

Wayne's story
It's all well and good to create a program such as the Next Generation Academies. And to send a group of 25 12-to-14-year-olds from rural Northern Territory up to Darwin for a football carnival is a great idea.

But it doesn't happen without a hell of a lot of hard work, long hours and longer car trips.

Wayne Green, 'Greeny' or 'Mr. Green' to his peers and players, is the beating heart of football in the Barkly Region.

He is the Region's Development Manager for the AFL's Northern Territory governing body, and works to ensure players and teams are available and ready to play and train each week.



The indefatigable Wayne Green. Photo: Collingwood Media.

Born in Sydney, he moved to Tennant Creek when he was 19. He's remained there ever since.

"Before I started with footy, I had involvement with cricket, little athletics, and all those sorts of things," he said before turning in on Thursday night.

"The opportunity to be paid to do something you love and help the kids along the way on their journey – the satisfaction you get from the smiles on the kids' faces from being able to play footy on trips like this are icing on the cake.

"When you get a kid into an academy or a state team, there's a sense of pride that you had something to do with it."

Wayne has four sons, the eldest of whom is a potential AFL draftee in November 2018. Keep an eye out for Matthew Green's name next year.

His work in football is tightly aligned to the local schools, and serves as a tool to improve education and strengthen communities; all the while playing the game the people love.



Rise and shine. Katherine at 7am. Photo: Collingwood Media.

"We use school attendance and behaviour when engaging the kids. This time we're here with Collingwood's support, so it's awesome.

"When I think about where we can take this program, it's unlimited.

"We started with the Community Camp when players and coaches from Collingwood visited back in February, which was awesome. Tennant Creek really embraced it.

"The club also visited mid-year; every region has been doing things differently with their Academy, but after our first year, there are so many places we can go and I'm looking forward to what the future brings.

"It's not just about the footy, there's a social side to it, too. It helps give people from AFL clubs an insight into how people live up here, and to some of the challenges they face from day-to-day.

"We just have to keep putting our heads together to see what we can do to help."

Day Three – Friday 3 November, 11.50pm
Luke Attard
Luke is a Membership Services Officer at the Collingwood Football Club. He is one of 10 Collingwood staff members to help support the team.

Myself and eight other staff members from the club got into the hotel at 1.30am this morning and probably fell asleep at about 2.30am. It was a big trip, heading to the airport from the Holden Centre after work, so we all went straight to bed.

We got up for breakfast at 6.30am because we had to head to the supermarket to stock up on all the goodies for the game. We needed to get all the things that would help the kids keep going during the day, especially given it was so hot.



Saving energy en route to Darwin. Photo: Collingwood Media.

We got lots of water, sunscreen, icy poles, fruit, lollies, snacks and everything else they would need. We ended up with containers full of snacks for the kids.

After the supermarket, we went to the AFL NT headquarters at TIO Stadium, which was really good. We had a tour of the stadium, and their facilities were amazing. They've innovated really well, and it's a big credit to them. The recovery areas, the gym and all the facilities from a performance point of view were incredible. They're not only for the Northern Territory Thunder; plenty of teams use them on game days.

Once we were at the stadium, we met everyone who had driven up on the buses from Tennant Creek. We had lunch there, unpacked, handed out the uniforms and held the jumper presentations with Wayne Siekman, their coach.



Brand new and ready to play. Photo: Collingwood Media.

This, for me, was the biggest moment of the day. The looks on the players' faces when they received their jumpers were one thing, but when they were told they could keep them was another altogether.

Seeing that is completely different to what you normally see when you give something to someone, when they know that it's theirs and they get to keep it. For these kids to hear they can keep it, that it's theirs to take home, they get this huge smile on their face as they think 'Oh my gosh, this is mine'.

Once the jumpers and outfits had been presented, and the players and staff had eaten some lunch, the group headed to the ground and the Michael Long Cup got underway.



Palmerston, home of the Magpies. Photo: Collingwood Media.

Our jobs on the day were to help keep the kids hydrated and cool, so it was looking after the Gatorade, filling up the water bottles and taking care of the ice.

We all helped out during the games, too. I was the goal umpire during both games, which was a good experience. I had a bit of fun with it and tried a few techniques with the flags. I had a few struggles with the pen running out of ink, but I got through it!

It was a great way to get involved with the team, because you're so close to the action and in a position where the coaches and runners aren't. It meant I could help keep the kids involved and engaged in the game. I also helped out some other teams, too, as goal umpire. It was good to see the young talent going at it – they played some great footy as a group.

The condition of the two ovals was amazing. You drive past a lot of footy ovals up there, and the grass is in such good nick.



Shake on it, skipper. Photo: Collingwood Media.

It was good to end the day having won both games against Geelong and Nightcliff, and we're heading into tomorrow with our heads high and a lot of confidence that we can win the entire competition.

When we first met the kids, you could tell they had their individual friendship groups, but it's amazing how one game of football changes that. Football, in general, changes it.

At the start of the first game, I felt like there were still some little groups of those who knew each other within the team, but by the time the game had ended, you could see the players coming together and getting more involved in the celebrations.

Once they realised they'd won and were going to sing the song together, patting each other on the back, giving each other a high five, getting around each other, they really started to come together.



Under Darwin lights. Photo: Collingwood Media.

We saw the impact of that in the second game as they gelled as a team from the get-go. It helped us get in front straight away, and not have to come from behind as we had done against Geelong in the previous game. It's little things like that which made us improve as a culture, and as a team.

I'm pretty tired at the moment. It was a big day in the sun, so I'm looking forward to resting up. Tomorrow is a big day, but it's really exciting – we're two and two, and if we win the third game we'll be a big chance of being in the Grand Final. It would be an amazing experience for the kids.

That's what Collingwood does, I guess. Going from working at the Holden Centre in Membership Services to helping out in the Northern Territory on a game day is the best experience. There aren't many places you could work for that would provide you with this opportunity and let you enjoy the sport you love and embrace it like this.

It's been amazing to have this experience, and I can't wait until tomorrow to hopefully see the fellas win a Grand Final. The looks on their faces would be amazing, even more so than receiving their jumpers or winning their first game.



Belt it out. Photo: Collingwood Media.

Day Four – Saturday 4 November, 9.40pm
Liz Ryan
Liz is the Community and Participation Manager at the Collingwood Football Club, and manages the club's Next Generation Academy. She coordinated the week's trip through the Northern Territory along with Wayne Green.

We were up and eating breakfast nice and early, given we were scheduled to take on the Buffaloes at 9am.

Our staff group convened and drove out towards Palmerston for the second day of the carnival shortly after 7am. We called in at the supermarket to get our supplies for the day, stocking up on oranges and ten litres of water.

Upon arrival at the oval, we had to get everything ready for the day, so we mixed up fresh Gatorade and oranges, and hung out the clean jumpers ready for the guys to come in and get started for day two.

Not long after that, the kids started rolling in on the team bus via the Michael Long Learning Centre, where they had spent the night, got changed and began their warm ups.



Rising heat. Photo: Collingwood Media.

In the first game, we took on the Buffaloes, who were down a few players. We loaned them a few of ours, so we had 15 against 15. The flow of the match went completely our way, and we were able to win convincingly. We had some standout performances from several players, kicking three goals in the first half.

Our next game was against St Mary's, which was always going to be a tough game. They had won well in a few of their games, but we managed to come out on top, and it was a really good way to go into the Grand Final.

During the break between games, we had the carnival sponsor, Outback Stores, host a healthy eating discussion with the players while they ate lunch. By that stage, it was stinking hot, 38 degrees, and we all sat in the shade to watch the first final between Melbourne's Central Australia team and Geelong. The kids had a lot of fun watching those kids play together, given Central Australia is quite close to our zone, which meant a lot of our players know some of theirs from previous tournaments.



Airborne. Photo: Collingwood Media.

We took on Essendon's Next Generation Academy team in the Grand Final. We warmed up well and were ready to go, but as the players took the field, we noticed the dark storm clouds looming on the horizon. It was going to be touch-and-go as to whether we got through the game before the rain fell.

We made a slow start – Essendon was out by three goals – but we pulled back the lead, and we got within a goal. It was very hot and humid out there, but the storm clouds eventually opened and torrential rain poured down. We could barely see five metres in front of us on the bench, and play wasn't anywhere near as clean as it had been.



Any means of cover. Photo: Collingwood Media.

Unfortunately, we couldn't quite get over the line, but in many ways, we still came away with so much to be pleased about.

To reach the Grand Final was an incredible feat for these Barkly kids, because so many of them barely knew each other ahead of the tournament. You couldn't help but be ecstatic about what happened. While they were devastated, they quickly realised what an incredible thing it is that they have done and what they have brought to the club. The friendships they made were the icing on the cake.

We presented each player with medallions for taking their place in the carnival, and presented our overall MVP, which went to Anthony Raymond. Afterwards, we joined the official presentations from the AFL NT officials, where another of our players, Cy Smith, was awarded the MVP by the territory body.

Our campaign wrapped up when we headed back to the Michael Long Learning Centre and spoke with the players about the importance of their education, school attendance and what the future holds for them and how important it is that they use football as a reward for attending school and they can make sure their lives stay on track, working towards the 80 per cent attendance rate.

I think it really sunk in for a lot of the kids who were a little order and realised the potential that they have, and the fact that the Collingwood Football Club is behind them in everything they want to do.

As we closed, the kids jumped in the pool to learn a little more about post-match recovery, and we said farewell to them and headed back to the hotel to pack up and be ready to return to Melbourne on Sunday.

The entire week exceeded any expectations I had. To reach the Grand Final was an amazing feat for a team that had never played together and for many kids who had never met each other, and never met us. We had to give them instructions on the match days and they bought into it immediately.

To use football as a driver for school attendance means that we can help change these kids' lives and help them make a big impact should they be drafted or through school attendance so they have a better chance of employment after school.

At the end of the day, that's all we want: To make these kids better footballers but better people at the same time.

This weekend was a terrific step in the right direction.



FOREVER. Photo: Collingwood Media.