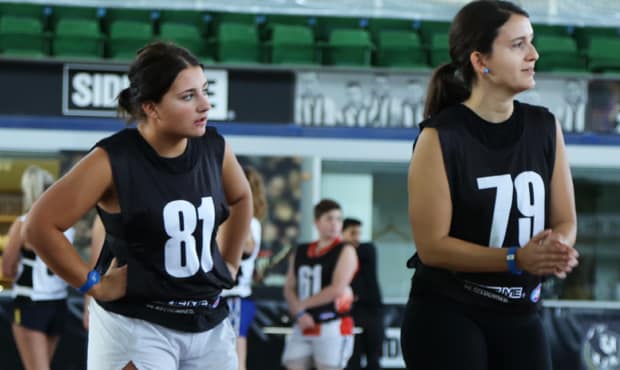 Over 100 woman ran, leapt, kicked, marked and handballed their way through a two and a half hour testing session at the Holden Centre on Saturday morning.

Their goal?

A place on Collingwood's inaugural VFL Women's list for season 2018.

With only months until the beginning of the new competition, Women's Football Operations Manager Mathew James told Collingwood Media the process of choosing between 18 and 25 new players has begun in earnest.

"With the introduction of the VFLW team, we're going to have 22 AFLW listed players who we will be allowed to retain," James explained.



New draftees Chloe Molloy (L) and Sarah Dargan (R) watch on. Photo: Collingwood Media.

"That will leave us with 18 spots to fill, so we wanted to search far and wide – we didn't want to simply look internally, we wanted to see what talent was out there that we can foster to help get them drafted in 2019.

"That's the main part of the program.

"We will be pretty close to finalising the list by mid-to-late January. We are also likely to have a supplementary list, given we have so many listed AFLW girls, which means we could have a list of 25 VFLW players in 2018."

Collingwood's women's football department, including VFLW coach Penny Cula-Reid and assisted by 16 AFLW-listed Magpies, held a series of tests, including 20 metre sprints, a two-kilometre time trial, agility runs and a skills component to help determine which players will return for the next four training sessions in the month to come.



Collingwood's AFL Women's captain Steph Chiocci was one of 16 AFLW-listed Magpies who helped run the session. Photo: Collingwood Media.

James confirmed the Magpies had up to 30 dual-sport prospects nominate for the testing session.

"We had close to 600 applicants, and it was a thorough process going through them to look at which ones were best suited.

Click here to learn more about Collingwood's VFL Women's coach Penny Cula-Reid.

"We have also continued down the path of looking for cross-code rookies, so we have about 30 cross-code prospects – girls who haven't played the game before – who are trying out, and we can have up to three of those in our VFLW squad to try and give them opportunities.



Players gave it their all in the 20 metre sprint tests. Photo: Collingwood Media.

"They're lucky to have players such as Eliza Hynes (volleyball), Georgie Parker (hockey) and Ash Brazill (netball) to look up to."

There were also several players who fell narrowly short of an AFLW playing list in last month's draft in attendance on Saturday morning.

"A number of the girls who joined us today tested at the AFLW Draft Combine in September," James continued.

"We looked at several of those, and were close to drafting some of them had selections gone another way."



Players bolt out of the blocks at the start of the two-kilometre time trial. Photo: Collingwood Media.