It's taken six years for Brody Mihocek's name to be called in an AFL draft, but he can expect a much shorter wait to make his Collingwood debut, according to his former coach Gary Ayres.

Mihocek, a 25-year-old Tasmanian defender, was picked up by the Magpies on Monday with pick No.22 in the NAB AFL Rookie Draft, after back-to-back impressive seasons at VFL club Port Melbourne.

He first nominated for the AFL drafts in 2011, following U18 All Australian selection for his performance in the national championships for the Tasmanian Mariners.

But he was overlooked, and then overlooked again, and again, and then again three more times after that before Monday.

Ayres, who has coached Mihocek at the Boroughs since 2016, said he believed the recent premiership backman had the ability to compete at AFL level straight away after a breakout two seasons.

"Once they're drafted, it's up to them to put the fine tuning on whatever they need to work on to become an AFL player," Ayres told AFL Media on Tuesday.

"The ball's in Brody's court now, but he certainly won't miss out through lack of work ethic or wanting to be the best he can be.

"I jokingly said to him, 'I've got to put my coach's hat on and work how I can bring you down now, big fella'.

"Hopefully he plays AFL when we play against Collingwood in the VFL so we don't have to worry about him."

PROFILE: Catch up on everything you need to know about new recruit Brody Mihocek.

Veteran Collingwood recruiter Derek Hine said was aware of Mihocek in his first draft year; the year the Magpies took Jackson Paine, Corey Gault and Jarrod Witts, in that order in the national draft.

Mihocek slipped through the cracks; possibly as a victim of the fact, according to Hine, the Tasmanian recruiting grounds weren't as deeply scoured or considered back then.

"I think sometimes we can over-analyse it," Hine told AFL Media.

"It's funny, I was looking at his player reports over the weekend and all the stuff he's been doing at Port Melbourne at a higher level, he was doing back then.

"His ability to cut off the incoming ball and his ability in the air … they were really prevalent skills back in '11.

"For whatever reason, he just got continually overlooked."

Mihocek came to Victoria a year after he was initially passed over, trained with Essendon's VFL team, and put in a year at Maribyrnong Park in the Essendon District Football League.

From there, he went to VFL club Werribee, but was a victim of the Tigers' previous alliance with North Melbourne and was often punted back to the development league when the Kangaroos' players were named.

Last year, he celebrated his first season at a standalone club - Port Melbourne - by winning the club's best and fairest, which nearly saw him taken by the Pies 12 months ago.

But, their need for a key defender was filled by Henry Schade, who had 20 games of AFL experience playing for Gold Coast.

Schade and Lachie Keeffe were delisted this year, which coincided with Mihocek's strong finals campaign after his recovery from a two-month knee injury.

"He spent a lot of time on [Richmond's] Ben Griffiths in the VFL Grand Final, and more than held his own," Hine said.

"I've seen him play on Travis Cloke and more than hold his own, and there's numerous other examples of what he's been able to do against AFL listed players."

Mihocek was emotional when told of his drafting on Monday, and fielded calls from coach Nathan Buckley and president Eddie McGuire after being told the news by club recruiter Dom Milesi.
We'd like to share with you the phone call which changed Brody Mihocek's life #FOREVER 📞👇 pic.twitter.com/3ggdAWlrKY

— Collingwood FC (@CollingwoodFC) November 28, 2017
Ayres spoke to him later that night, and said the entire Port Melbourne fraternity was proud and rapt for the new Pie, who is the son of former Essendon player Jack Mihocek.
His boss at the wholesale flooring warehouse he works at is also excited about Mihocek's new job, given he's a keen Collingwood fan.

But no one wants to see Mihocek succeed more than Ayres, who said the strong intercept defender had been in line for a leadership role at the Boroughs next season.

"He was a bit stiff to not get picked up last year, but it doesn't matter now," he said.

"He was disappointed, but the bigger the challenge, Brody generally steps up to the plate.

"There might have been a few people in his ear saying that if you noticed what you did last year, you've just got to set yourself on the same sort of path.

"He's been able to sustain it for two years, and now, he gets what he wants."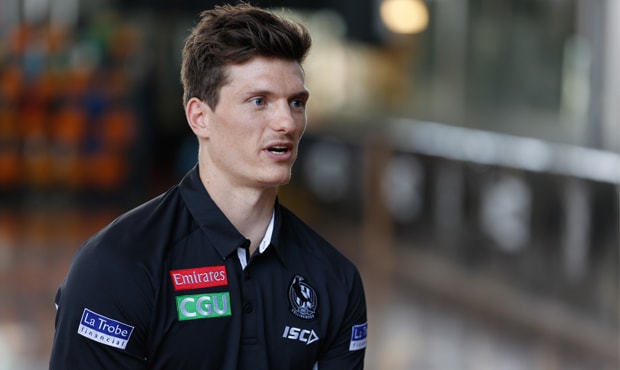 The Black and White polo fits. Brody Mihocek gets settled into his first day at the Holden Centre. Image: Collingwood Media.