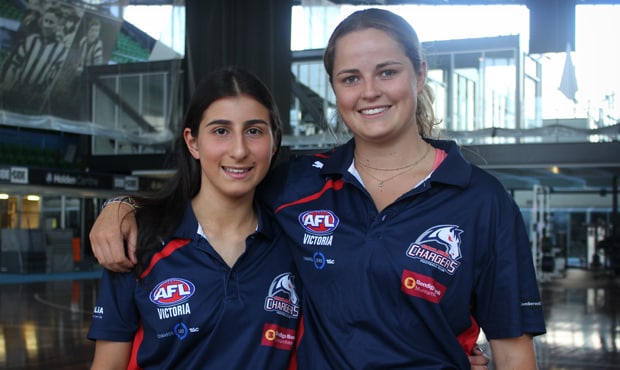 Collingwood's links to the Oakleigh Chargers have been strengthened with the signings of three new VFL Women's players from the development club.

Julia Halaseh-Russo, Sarah Cameron and Hannah McLaren have all become Magpies, effective at the beginning of the revamped VFLW competition in 2018.

It brings the total list of players to five in total, after Sophie Alexander and Jessica Edwards became Collingwood's first signings last week.

The Oakleigh trio are fresher faces, and add an element of youth to the Magpie program.

"In 2018, we're going to have an exciting mix of players wearing the famous Black and White stripes in the VFLW competition," AFL Women's coach Wayne Siekman told Collingwood Media.

"These girls have so much upside, and will learn so much by playing and training with our already established AFLW players."

The VFLW squad is still a long way from being fully developed. But in Halaseh-Russo, Cameron and McLaren inaugural coach Penny Cula-Reid has a position filled at each end of the ground.

According to Oakleigh TAC Girls coach Luke O'Shannessy, Cameron is a proven key-position threat who is known for winning one-on-one contest at either end of the ground, while McLaren is more comfortable providing "dashing run" from defence.

In Halaseh-Russo, Collingwood gains a midfielder who "oozes leadership qualities" and is a confident decision-maker around stoppages.

"She's an excellent player to have in the midfield," O'Shannessy said.

"She was voted by her teammates to be Oakleigh captain this season, and is a potential leader for the future at Collingwood."

All three players now trade their red and blue for Black and White. It's a progression which is becoming more common for both the club's men's and women's football programs at the Holden Centre.

"The girls committing to the VFL program is another great example of the expanding relationship between the Oakleigh Chargers and the Collingwood Football Clubs," Oakleigh talent manager Craig Notman said.

"It's a great pathway opportunity for girls involved in our Youth Girls Academy program."

There may be more signings to come as the VFLW Magpies search far and wide to identify talent ahead of the 2018 season.

Over 50 players trained on Tuesday as the football department look to finalise a list to kick off the VFLW campaign in May next year.
GALLERY | Our @aflwomens team conquered the Latrobe Valley last weekend - https://t.co/96C1tQqHPy Check out all the best photos in one place. #FOREVER pic.twitter.com/tg99sE8xiP

— Collingwood AFLW (@CollingwoodFCW) November 29, 2017