Jeremy Howe has predicted Darcy Moore will make a "huge impact" in his new role at centre half back, as the Magpies aspire to burst back into finals contention for the first time since 2013.

Moore has been pencilled in as a key component of the Pies' backline along with Howe, Lynden Dunn, Matt Scharenberg and Tom Langdon.

Howe has described the 22-year-old as having been a "big sponge" in learning the caper of his positional change, since being told he was shifting from one end of the ground to the other.

With Moore possessing a "super strength" to read the play, Howe believes the Pies' new defensive structure, which will also see the former Demon use his endurance to venture up the ground when match-ups allow, will help boost their scoring power.

"You want as many guys down there as possible who can intercept the ball," Howe said on Monday.

"You've only got to look at West Coast, who has multiple players who can really win the ball back in that back half.

"The way the game is going, as soon as you win the ball in the back half and as soon as you can get it forward, as quick as you can, it seems to be a really good avenue of scoring.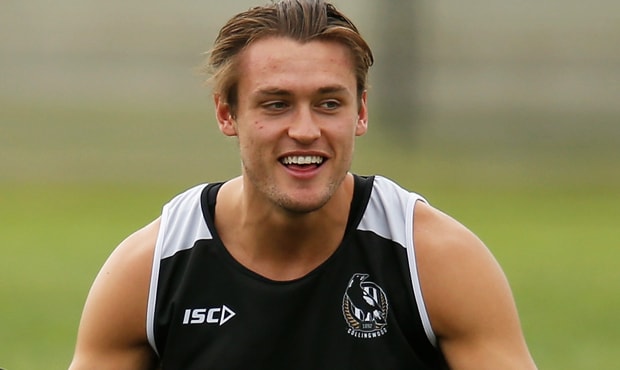 Darcy Moore is tipped to play an important role in defence in 2018.

"He'll provide that along with Scharenberg and Langdon, who are also really good intercept players as well."

Howe arrived at Collingwood at the end of 2015, expecting to replicate the wing/forward role he'd preferred to play in his five years at Melbourne.

But, he's ended up in the back line, and after placing fourth in last year's best and fairest, has accepted it's a role that clearly agrees with him.

"It wasn't the role I came here for, but I've definitely grabbed it and I feel like I've put together my most consistent 24 months of footy," he said.

"Until 'Bucks' (coach Nathan Buckley) taps me on the shoulder and asks me to go forward again, I think I'll spend the majority of the time down at half-back."

It's also been a position that's allowed for Howe to work on his leadership skills.

He's in the leadership group again this season, and with players like Moore, 14-gamer Scharenberg and young ex-Swan Sam Murray playing in defence, is in a good place to help shape their development.

"We've got a fairly young group down there, now 'Goldy' (Tyson Goldsack) has gone back into the forward line, we've got Lynden Dunn, who's quite experienced and been offering a lot to the young guys down there," he said.

"It's a good opportunity to lead by example and teach them a bit of knowledge, and a young group are always full of enthusiasm."

The Pies have been notable absentees from finals action for five years, which will no doubt prompt immediate external pressure if the season doesn't start the way they want it to.

But Howe says the last two seasons where the premiership has been claimed by unexpected victors has given everyone hope, with the Pies to enter 2018 with a refreshed mindset after a raft of internal changes.

"Richmond were just a team of role players who really got the job done when they needed to," he said.

"They were doing the basics better than anyone.

"It was a really simple but effective game-plan, and they improved it on the big stage.

"It just gives everyone hope that no matter where you think you are, you definitely have the opportunity to get it done.

"We've clearly had a few shuffles in roles and we have a few new coaches in as well.

"The energy seems to be uplifted and the boys are upbeat, everyone feels good at this time of year, but the general feel at the club is super positive."