Collingwood was left lamenting what might have been, after forgoing a fine start against Fremantle on Saturday night.

The AFLW Magpies kicked the first two goals of the match, only to kick one more, conceding six to the Dockers.

"In the first five minutes we started exceptionally well and looked damaging, but Fremantle kicked into gear, and it would have been a pretty entertaining first quarter to watch," Collingwood coach Wayne Siekman said after the match.

"After quarter time, they pressured us a lot and hunted us at the ball carrier and made us make some pretty poor decisions with ball in hand.

"We rushed and turned it over and they outworked us for the majority of the last three quarters. We had some good patches late in the third and had a few chances but we couldn't take them unfortunately."

The match was played in front of 41,975 fans at Perth's new Optus Stadium. The crowd was the largest Collingwood's AFL Women's team has played in front of, on top of the 19,852 that witnessed the opening match against Carlton last week.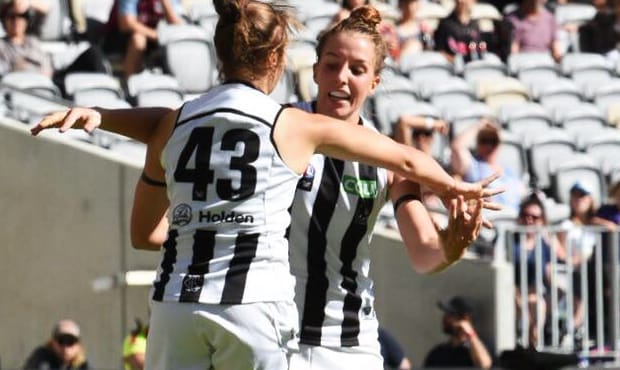 Jasmine Garner and Emma King celebrate the first goal at Perth's new Optus Stadium. Photo: Luke Henry.

"It's fantastic for our club and competition. We have a lot of fans all around the country, and to be able to play in these games and special environments is great for our club and the industry.

"Unfortunately, we haven't quite got on the end of a good result in these games."

Young draftee Chloe Molloy was again one of Collingwood's best, collecting 15 disposals and six marks across half back, while coming in for some attention from her Fremantle opponents.

"Full credit to Chloe. She's a special talent," Siekman mused.

"She got herself back up, took a few more contested marks in the first quarter. She kept getting whacked and kept getting up.

"She just kept going. She's a fighter."
FT | A hot start, but ultimately Fremantle prevail for the 4 points. #FOREVER pic.twitter.com/x0zupd1mnu

— Collingwood AFLW (@CollingwoodFCW) February 10, 2018