Collingwood began its 2018 VFL season in scintillating fashion, recording a 130-point win away to the Northern Blues at Preston City Oval.

The 31.15 (201) score was the largest ever recorded by the Magpies since they re-joined the competition as a stand-alone club in 2008.

Jordan De Goey and Jamie Elliott, returning from hamstring and ankle injuries respectively, were among the stars for the Pies in their dominant win.

Coach Jared Rivers said that his side's willingness to play selfless football was the key reason for the astonishing result.

"Everyone played extremely well off the back of being really selfless," Rivers told Collingwood Media post-match.

"That was a focus of ours and I think it showed. We had blokes running into goal and giving handballs off to get people involved and to kick them.

"When you bring that attitude and bring that mindset to a game, it's pretty impressive."

Rivers' thoughts were supported by the fact that the Pies had 14 individual goal kickers for the afternoon.

The selflessness of the team was further evidenced by how it excelled in the less glamorous parts of the game, such as tackling pressure. Rivers says that forward-50 pressure was a focus for the Pies entering the game and propelled them to their win.

"Our forward pressure was elite," he said.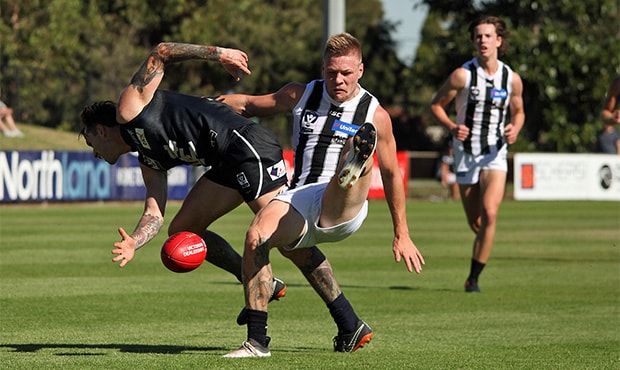 Jordan De Goey starred in his return from injury in Collingwood's massive win against the Northern Blues. Photo: Shane Barrie.

"I think we had 15 forward-50 tackles alone. I don't think we've had those sorts of numbers for a while.

"The likes of Billy (Elliott) down there, Fas (Alex Fasolo) at times, even our big boys like Chip (Matthew Chippendale) were putting pressure on."

Rivers says Collingwood's opening round win should provide a strong foundation to build upon for the remainder of the season, beginning with Port Melbourne next week.

"The last few years we started the season really poorly, so it was a great opportunity today to start the season really well and I think we did that. It puts us in good stead, Rivers said.

"We have Port Melbourne next week who are premiers from last year, so it's going to give us another good challenge."

The match against Port Melbourne has been moved from its original location at North Port Oval to the Holden Centre. The game will commence at a revised time of 12.30pm on Saturday afternoon.

Collingwood 5.5 14.9 22.14 31.15 (201)
Northern Blues 2.3 6.5 7.5 11.5 (71)

Goals - Collingwood: Elliott 5, De Goey 4, Borthwick 4, Fasolo 3, Chippendale 2, Mayne 2, Jarryd Blair 2, Daicos 2, Wellings 2, Sier, Smith, McLarty, Jack Blair, Oxley
Northern Blues: Kerr 3, LeBois 2, Johnston 2, Silvagni, Graham, Williams, Phillips

Best - Collingwood: Jarryd Blair, Smith, Mayne, De Goey, Wills, Borthwick
Northern Blues: O'Shea, Phillips, Blakey, Kerr, LeBois, Silvagni