Collingwood wasn't able to mark captain Jack Hellier's historic 100th game with a win, falling to a 68-point loss to Richmond at Victoria Park on Sunday.

The Magpies were within touching distance of the visitors until the dying minutes of the third quarter, when two late goals for Richmond effectively ended the contest. The fourth quarter dominance of Richmond made the final score line appear worse than the overall balance of play.

The result sees the Pies fall a game off the pace of the ladder-leading Tigers, with a match against fellow top-four side Casey to come next week.

Collingwood Academy Coach Tarkyn Lockyer anointed the Tigers as the team to beat in the VFL this season after their strong performance.

"Richmond are a pretty good outfit," Lockyer told Collingwood Media after the match.

"They're the number one team in the comp for a reason. It shows we've got work to do.

"We feel like we're doing some things pretty well, we just weren't able to do it for long enough."

Lockyer said the Pies wouldn't use the youth of Sunday's team as an excuse. He remains confident that the club has enough quality players on its list to cover the loss of injuries and players being called up to the senior side.

"What we love about our program is that we've got great depth. We've got great belief that anyone can come in and play a role for us," he said.

"We were confident in the side we had out on the park. We just weren't able to execute the plan."

Collingwood was left to rue a spell of dominance late in the second quarter. The Pies were inaccurate in front of goal, kicking 2.5 for the term, and crucially allowed two late Richmond goals against the run of play. That gave the visitors a comfortable half-time lead which the Pies couldn't wrestle back.

Lockyer says that this shows the Pies can compete with the best at VFL level, but the key is sustaining that level of effort for four quarters.

"The reinforcement will be that when we stick to the plan … we give ourselves a chance against any opposition."

Collingwood has another chance to claim a big scalp next week against Casey, who could join the Magpies on six wins in its match later in the day against Williamstown.

The Pies will take on Melbourne's VFL-affiliate on Saturday afternoon at Casey Fields at 2.10pm.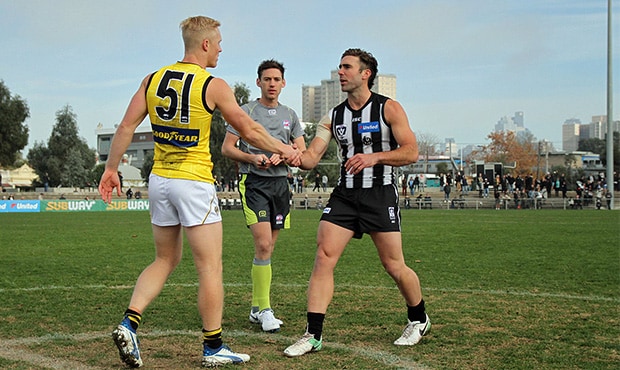 Pies skipper Jack Hellier greets his counter-part Steven Morris before the coin toss. Photo: Shane Barrie

Collingwood 2.2 4.7 5.8 6.11 (47)
Richmond 4.2 7.6 11.10 17.13 (115)

Goals – Collingwood: Gallucci 2, Hellier 2, Chippendale, Tardew
Richmond: Miles 3, Stengle 2, Baker 2, Lloyd 2, Balta, Townsend, Naish, Bolton, Drummond, Rioli, Silvestro, Coleman-Jones

Best – Collingwood: Hetherington, Jack Blair, Hore, Hellier, Murphy, Jarryd Blair
Richmond: Miles, Bolton, Drummond, Markov, Lloyd, Aarts