Collingwood will learn from its VFL losses in the last two weeks, says coach Jared Rivers.

The Magpies fell to Casey in a hard-fought clash at Casey Fields on Saturday, 8.5 (53) to 11.10 (76).

Losses to the top two sides on the VFL ladder in the last fortnight have seen the Pies fall back to the peloton as they pursue leaders Richmond.

The Pies weren't without their chances against the Demons. After a sluggish start, they scored four goals to one in the second term and it appeared momentum was with them heading into the second half.

But as Rivers told Collingwood Media post-game, the team's inability to take its chances after half-time cost it the opportunity to take the game from the hosts.

"I thought it was a game we could have won," Rivers said.

"That third quarter was frustrating, I thought we built some momentum in the second quarter and didn't play the way we should have played.

"Credit to Casey, they outworked us and their contest was far superior to ours."

The work rate from the Demons that Rivers touched on was led by former GWS duo Dom Tyson and Tomas Bugg, who were prolific all day in the middle.

Rivers said that the standard set by the two experienced AFL-players is the one his young midfield must strive to meet.

"We've got to get that balance right between attack and defence, we can't just let those blokes go," he said, referring to Tyson and Bugg.

"It's a good learning curve for our young mids to learn how hard you've got to work to get to each contest."

Collingwood's mid-season bye comes at the ideal time, according to Rivers. He said that his side can use the week to focus on returning to the form which saw it fly to a 6-1 start.

"We had a focus on starting well leading into the year and we did," he said.

"I think the bye has come at a good time. We've had a few injuries, which is no excuse.

"It's a good time to have a break and freshen up and attack the second half of the year."

After their week off, the VFL Pies return on Sunday June 24 to face the Northern Blues at the Holden Centre, who they defeated by 130 points in Round 1.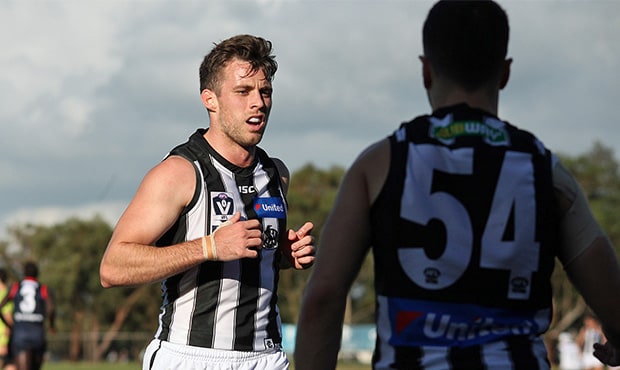 Sean Hetherington comes off for a breather. He was named the Pies' best player on Saturday. Photo: Shane Barrie

Collingwood 0.2 4.2 4.3 8.5 (53)
Casey 3.2 4.6 6.8 11.10 (76)

Goals – Collingwood: Crocker, Sier, Wellings, McLarty, Jarryd Blair, Hetherington, C. Brown, Gallucci
Casey: Bugg 2, Balic 2, Lewis, Lok, Scott, J. Wagner, Frost, Kennedy-Harris, Baker
Best – Collingwood: Hetherington, Sing, Tardew, Wellings, Hore, Jarryd Blair
Casey: Kennedy-Harris, Baker, C. Wagner, Bugg, Weideman, Kielty