Collingwood's VFL Women's team registered a 29-point victory in its history-making clash against Darebin at Victoria Park on Sunday.

Magpies' Penny Cula-Reid told of the mixed emotions as she watched her team become the first female side to represent Collingwood in an official match at the club's spiritual home.

"I was nervous, anxious, relieved and proud," Cula-Reid told Collingwood Media post-match.

"Our names are now a part of the Collingwood Football Club at the amazing Victoria Park. It's about all teams, one club, and side by side, and we can now say we share that history."

The match itself was extremely physical with both teams providing strong defensive pressure at both ends of the ground.

It didn't take Chloe Molloy long to kick off the Magpies' scoring, becoming the first Collingwood women's player to kick a goal at Victoria Park in the opening minutes of the match. This was followed at long-range by Cecilia Mcintosh, leaving it to Esther Honybun to put the Falcons on the board late in the term.

In a tight, competitive contest displayed by both sides, the second quarter ended without a goal being score. It left Cula-Reid to put the onus on her players to lead forward to the ball and to play on their terms.

"In the first half, we were a little lazy in expecting it would all just happen for us," the coach explained.

"I spoke to them about actually putting their foot down and actually doing the work which put a firecracker back in their bellies to really want the ball. It showed in that third quarter which was where they really turned it around."

As the rain fell and rainbows formed, the Pies found themselves another step closer to a pot of gold.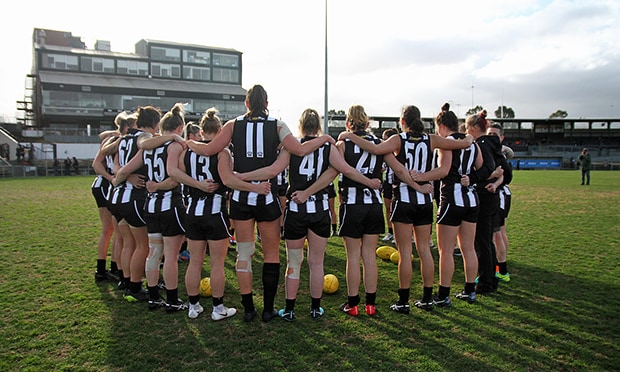 The VFLW Magpies and coach Penny Cula-Reid gather in the centre of Victoria Park. Photo: Shane Barrie.

McIntosh kicked her second, and ruck Eliza Hynes then delivered one from just inside 50.

Brisbane recruit Nicole Hildebrand starred on her club debut, helping give the Magpies to a 19-point advantage heading into the final term.

The former Lion said she will treasure her debut on such a momentous day for the club.

"Researching the ground and its history, I realised just how important Victoria Park is to Collingwood and it's obviously really significant playing my first game here," she said.

"It's a big deal."

Cula-Reid echoed Hildebrand's sentiment.

"It was a really special occasion for her, but also as a member of the team and the significance that the match held today made it extra special."

Darebin skipper Kate Tyndall attempted to challenge the Pies with a goal late in the third, but unfortunately for the Falcons, it was the last goal they would see for the day.

Collingwood put the foot down in the final term, with Gabrielle Biedenweg-Webster kicking one from a set shot. Hildebrand then added her second for the match in the dying stages, helping cap off a 29-point win.

With a bye next weekend, Collingwood will now prepare for its round 11 clash against Carlton.

Although the Pies maintain top position, Cula-Reid notes her team's concentration is solely on improving week on week.

"Teams are coming after us but we are focused on what we are and how we can get better."

Collingwood 2.0 2.0 5.2 7.2 (44)
Darebin 1.1 1.1 2.1 2.3 (15)

Goals – Collingwood: McIntosh 2, Hildebrand 2, Hynes, Molloy, Biedenweg-Webster
Darebin: Honybun, Tyndall

At Victoria Park
Very happy adding this memory to the history books. #vflwmagpies pic.twitter.com/PoLeXkYTMy

— Collingwood Women's (@CollingwoodFCW) July 8, 2018