In the days after each of the Magpies' VFL games, Collingwood Media will take a look at some of the eye-catching performers, with a focus on the players who were emergencies for the AFL team and youngsters on the rise. Here's our look at the VFL Pies' win over Werribee at Avalon Airport Oval on Saturday...
Alex Fasolo
Was among the emergencies for the AFL clash with the Lions but wasn't required to make the trip to Brisbane. Performed well in the VFL team's victory over Werribee, working up and down the ground and kicking two goals.
Stats summary: 19 disposals (68% efficiency), eight marks, seven inside-50s, two goals, two score-assists
Sam McLarty
Another player who was an emergency for the AFL match against the Lions. The big man continued to push his case for an AFL debut with a very solid performance against Werribee. Won himself a mention among Collingwood's best players.
Stats summary: 22 disposals (77% efficiency), eight marks, 19 hit-outs, one goal
Brayden Sier
The third of the AFL emergencies who didn't need to head north to Brisbane (Callum Brown was the travelling emergency). The big-bodied midfielder was once more in the thick of the action in the VFL, winning plenty of the ball, hitting the scoreboard and earning a mention among the Pies' best players.
Stats summary: 26 disposals (69% efficiency), six clearances, four tackles, one goal
Daniel Wells
The veteran midfielder continued his strong build-up towards a recall to the AFL team with a typically silky display against Werribee. Spent time in the midfield and up forward and look dangerous wherever he was posted.
Stats summary: 19 disposals (68% efficiency), three clearances, five tackles, one goal, two score-assists
Levi Greenwood
Played his first VFL game for the year after a pre-season interrupted by a knee problem. Did what was asked of him and will build his workload in the coming weeks.
Stats summary: 20 disposals (75% efficiency), five marks, two tackles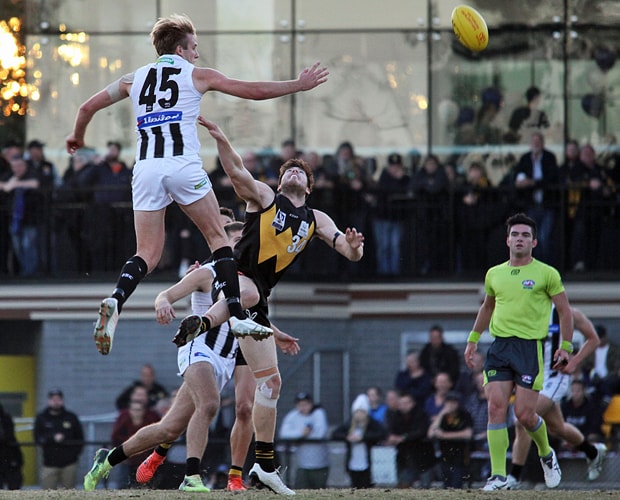 Max Lynch competes in the ruck during the win over Werribee (Photo: Shane Barrie)
Full Player Statistics
VFL Round Five v Werribee
1. Alex Fasolo
12 kicks, 8 marks, 7 handballs, 19 disposals, 1 clearances, 7 inside 50s, 1 rebound 50, 2 tackles
3. Daniel Wells
16 kicks, 4 marks, 3 handballs, 19 disposals, 3 clearances, 2 inside 50s, 1 rebound 50, 5 tackles

19. Levi Greenwood
10 kicks, 5 marks, 10 handballs, 20 disposals, 1 clearance, 0 inside 50s, 1 rebound 50, 2 tackles

23. Sam McLarty
15 kicks, 8 marks, 7 handballs, 22 disposals, 4 clearances, 2 inside 50s, 1 rebound 50, 2 tackles, 19 hitouts

26. Josh Daicos
14 kicks, 3 marks, 13 handballs, 27 disposals, 2 clearances, 5 inside 50s, 0 rebound 50s, 2 tackles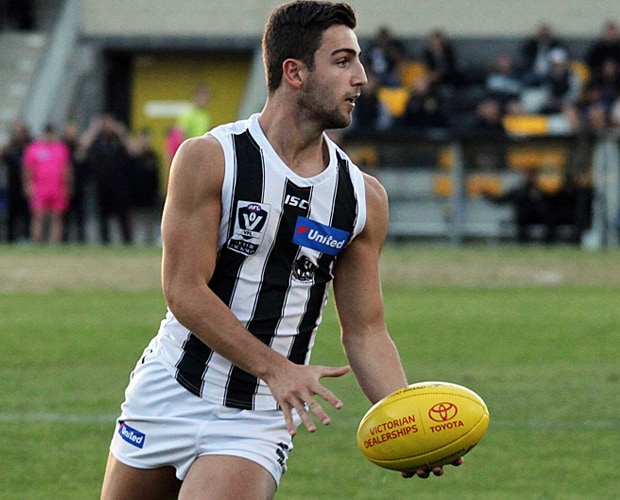 Josh Daicos won plenty of the ball against Werribee (Photo: Shane Barrie)

28. Nathan Murphy
11 kicks, 8 marks, 7 handballs, 18 disposals, 0 clearances, 3 inside 50s, 1 rebound 50, 2 tackles

34. Tyler Brown
10 kicks, 3 marks, 6 handballs, 16 disposals, 0 clearances, 1 inside 50, 1 rebound 50, 0 tackles

36. Brayden Sier
12 kicks, 4 marks, 14 handballs, 26 disposals, 6 clearances, 2 inside 50s, 3 rebound 50s, 4 tackles

40. Josh Smith
4 kicks, 1 mark, 1 handball, 5 disposals, 0 clearances, 1 inside 50, 0 rebound 50s, 3 tackles

41. Brody Mihocek
8 kicks, 6 marks, 5 handballs, 13 disposals, 0 clearances, 1 inside 50, 3 rebound 50s, 3 tackles

43. Adam Oxley
15 kicks, 7 marks, 7 handballs, 22 disposals, 3 clearances, 4 inside 50s, 0 rebound 50s, 2 tackles

44. Jack Madgen
10 kicks, 6 marks, 7 handballs, 17 disposals, 2 clearances, 2 inside 50s, 1 rebound 50, 1 tackle, 2 hitouts

45. Max Lynch
2 kicks, 1 mark, 8 handballs, 10 disposals, 4 clearances, 3 inside 50s, 0 rebound 50s, 4 tackles, 2 hitouts

47. Gus Borthwick
7 kicks, 2 marks, 9 handballs, 16 disposals, 4 clearances, 3 inside 50s, 1 rebound 50, 5 tackles

48. Lachlan Tardrew
13 kicks, 7 marks, 11 handballs, 24 disposals, 3 clearances, 3 inside 50s, 3 rebound 50s, 4 tackles

49. Michael Chippendale
6 kicks, 6 marks, 2 handballs, 8 disposals, 0 clearances, 4 inside 50s, 0 rebound 50s, 0 tackles

51. Marty Hore
11 kicks, 8 marks, 5 handballs, 16 disposals, 0 clearances, 1 inside 50, 6 rebound 50s, 3 tackles

53. Jack Hellier
10 kicks, 6 marks, 7 handballs, 17 disposals, 2 clearances, 1 inside 50, 0 rebound 50s, 3 tackles

54. Andrew Gallucci
8 kicks, 3 marks, 8 handballs, 16 disposals, 0 clearances, 2 inside 50s, 1 rebound 50, 3 tackles

57. Ash Close
4 kicks, 2 marks, 0 handballs, 4 disposals, 0 clearances, 2 inside 50s, 0 rebound 50s, 0 tackles, 2 hitouts

58. Jack Blair
6 kicks, 4 marks, 7 handballs, 13 disposals, 1 clearance, 2 inside 50s. 0 rebound 50s, 3 tackles

63. Callan Wellings
17 kicks, 3 marks, 10 handballs, 27 disposals, 3 clearances, 5 inside 50s, 0 rebound 50s, 4 tackles
67. Matthew Smith
15 kicks, 7 marks, 9 handballs, 23 disposals, 0 clearances, 1 inside 50, 2 rebound 50s, 1 tackle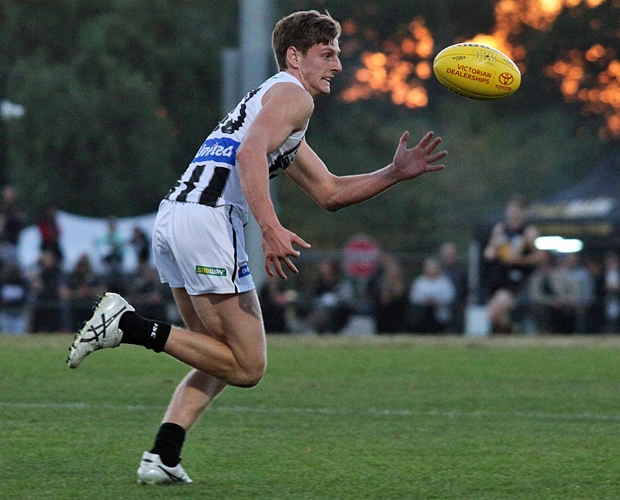 Callan Wellings in action against the Tigers (Photo: Shane Barrie)

Collingwood 5.5 8.10 14.14 16.14 (110)
Werribee 1.0 5.3 6.6 8.9 (57)

Goals – Collingwood: Wellings 3, Fasolo 2, Gallucci 2, Lynch, Smith, Daicos, Chippendale, Madgen, McLarty, Close, Sier, Wells
Werribee: Corbett 4, Gribble, Hooper, Munro, DeClasse

Best – Collingwood: Mihocek, Wellings, Sier, McLarty, Greenwood, Madgen
Werribee: Sodomaco, Collins, Gribble, McFarlane, Moloney, Corbett