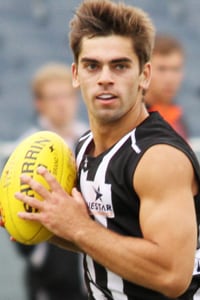 Collingwood VFL co-captain Nick Riddle has been named in the VFL State Squad ahead of the state game against the Western Australian Football League (WAFL) on 11 May.
Riddle, 21, is the only Collingwood player to be selected in the VFL's 32-man squad.
He impressed his coaches in his 15 senior games on debut in 2012 and was honoured with the co-captaincy alongside Jack Hellier when the incumbent Kris Pendlebury moved to Werribee during the off-season.
Riddle has continued his good form in 2013, playing predominantly at centre half back where he has played on players of all sizes and helped hold Collingwood's inexperienced defence together.
Click here to view Riddle's player profile.
In round two, he took on Werribee's Ben Warren and restricted him to only two goals in the Magpies' eight-point loss. His effort against the former North Melbourne forward was made noteworthy by Warren's 11-goal performance against league powerhouse Port Melbourne a fortnight earlier.
A product of Greensborough in the Northern Football League (NFL), Riddle first caught the eye when he was named in the NFL's Team of the Year alongside players such as Simon Prestigiacomo, Gary Moorcroft and Cameron Cloke in 2011.
His standout performance came against reigning premiers Port Melbourne at Victoria Park last year when he held goal kicking goliath Dean Galea to only one goal as Collingwood ended the Borough's 28 game winning streak.
View Collingwood's VFL playing list here.
VFL coach Dale Tapping praised Riddle's work ethic and pointed at his natural improvement being symbolic of the VFL team's development as the players mature.
"He started the pre-season a bit slowly because he was injured with his ankle. He had a pretty good run from about January onwards in terms of not missing many sessions and he's naturally pretty fit any way," Tapping explained to
collingwoodfc.com.au
.
"Across the board he's just improved because he played a lot last year.
"He's played on some good players. I think his effort the other week on Ben Warren was a good result and that no doubt would have helped him.
"He's still got some improvements to make but I think it's good recognition for him. He's only young, just turned 21 as co-captain so it's a credit to him that he's got in. He has done well."
Collingwood VFL Manager Luke Gatti echoed Tapping's praise for a player on the rise.
"It's great recognition for a young player and young leader at the club who has been very solid and reliable for us," Gatti said.
"He is embracing his role as co-captain and his role in defence.
"He has really grasped the opportunity that was made available by Kris Pendlebury's departure to Werribee.
"Nick's development is ongoing. There is an air of consistency about Nick in that he will play his role for the team week in, week out."
The VFL squad also contains former Magpies Sam Iles (2006-2008) and Cameron Wood (2008-2012) who have since found greener pastures at state level.
Last year's squad comprised current rookies Sam Dywer and Kyle Martin, then playing for Port Melbourne and Frankston respectively. Their rise onto AFL lists and in Dwyer's case a senior team highlights the talent on show at state league level around the country that often rises to the surface on draft day later in the year.
The WAFL squad includes only one player with direct links to Collingwood. Subiaco's Brett Mahoney arrived at Collingwood at the beginning of 2009 before crossing to the west at the end of 2010 after finishing with TAC Cup club Murray Bushrangers.
The match between the VFL and the WAFL will be played on 11 May in Northam, Western Australia.
56. Nick Riddle
Height:
190cm
Weight:
92kg
Date of Birth:
9 April 1992
Recruited From:
Greensborough
VFL Games:
19
VFL Goals:
0
VFL State Squad 2013:
Matthew Farrelly (Bendigo), Sam Iles, David Mirra (Box Hill), Evan Panozza (Casey Scorpions), Nick Riddle (Collingwood), Matthew Bate, Michael Sikora (Essendon), Lachlan Delahunty, Riley Heddles, Sam Lloyd, Michael Lourey, Scott Simpson (Frankston), Dom Gleeson, Troy Selwood, Matthew Sully (Geelong), Stephen Clifton, Myles Sewell (North Ballarat), Kane Lambert, Adam Marcon (Northern Blues), Chris Cain, Sam Pleming, Josh Sciopone, Wayde Skipper (Port Adelaide), Adam Cockie, Marcus Marigliani (Sandringham), Ben Ross, Scott Sherlock, Ben Warren, Jake Wilson (Werribee), Ben Jolley, Willie Wheeler, Cameron Wood (Williamstown)