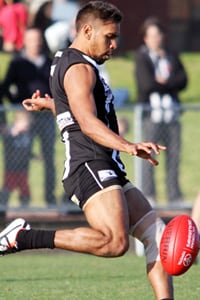 Victoria Park played host to another Saturday afternoon thriller, and once again it was Collingwood that took the home points at its home ground.
The Magpies knocked off Port Melbourne by 11 points for the second time in as many meetings. When the two teams last met in May 2012, the Pies became the first side to beat the Borough in 28 starts.
On this occasion, it was the influence of established AFL hands Andrew Krakouer (24 possessions) and Clinton Young (21 possessions) that helped get Collingwood over the line.
"'Krak' had a really big second half," VFL coach Dale Tapping told
collingwoodfc.com.au
.
Recap collingwoodfc.com.au's live coverage of Saturday's win against Port Melbourne.
"We really lifted in the third quarter and he was instrumental in getting us across the line.
"Young played a bit more game time this week and was still running really hard at the end of the game. We were really pleased with his performance and I imagine he'd be pretty close to pushing for selection."
Port Melbourne started the game well but only had four goals and 11 points to show for it by half time by which point the Magpies had worked their way back into the game in general play and had started to have an impact of their own on the scoreboard.
Collingwood held Port at arm's length for most of the second half but had to endure some nervous moments late in the final quarter as the 2011 premiers raised one final effort.
"It was a pretty tough one," Tapping admitted.
"It was a really tough contest and knew it was going to be that given where Port are at and given that they were coming off a couple of losses and where they were on the ladder and those sorts of things.
"I thought our guys started pretty well and were in the game so it was just a real battle of who could get ascendency throughout game and like in most of our games we pulled away at the end.
Great win @VFL today. Krak, Young, Keeffe all important. Mooney 12 tackles & 2 goals looked really good. #Gopies

— Craig McRae (@flybags4) June 29, 2013
Tapping said that he was able to use last season's remarkable win as a starting point when assessing the way his team would attack Saturday's match.
"It (the team's approach) was probably similar. You always want to put as much pressure on the opposition as you can.
"I had a look at the team lists from last year squad and it was different, a lot different, but the method that you use – you look at what Tarks and that used last year which was just putting the maximum amount of pressure on the ball and taking away their strengths.
"They have probably changed slightly but in principle we wanted to put that pressure on them as much as we could and deny them their strengths."
Tapping also had praise for the efforts of several key position players, most notably Lachlan Keeffe and ruckmen Brodie Grundy and Jarrod Witts.
"Lachie was good. He is starting to build his fitness and confidence so he'll take a fair bit out of that. He started to move a lot better and with a bit more freedom. He was good. Lachie got better as the game went on.
"Grundy and Witts both contributed well. I think they both like to play in ruck so it's just a matter of sharing those duties around.
"Brodie gave us good presence and Wittsy likewise. It's always challenging trying to manage the big guys but both contributed really well."
Collingwood's next task is to take on the ladder leading Box Hill Hawks at Box Hill City Oval next Saturday. The side could potentially be bolstered by the injured Dayne Beams (quad) and Tyson Goldsack (hip) should they get the all clear from the medical staff.
Collingwood
        2.1  5.4  8.5  11.9 (75)
Port Melbourne
  1.5  4.11  6.12  8.15 (63)
Goals - Collingwood:
Mooney, 2 Broomhead, Barden, Hellier, Richmond, Gault, Gray, Krakouer, Witts, Grundy
Port Melbourne:
Scipione 3, Galea 2, Cain 2, Skipper
Best – Collingwood:
Keeffe, Barden, Krakouer, Young, Gault, Grundy
Port Melbourne:
Hinkley, Cain, Baird, Pleming, Pinwill, Scipione
Disposals – Collingwood:
Krakouer 24, Oxley 22, Young 21, Wallace 19, Broomhead 18, Keeffe 18, Paine 18
Marks – Collingwood:
Young 10, Barden 7, Oxley 7, Paine 7, Broomhead 6, Gault 6, Gray 6, Krakouer 6
Clearances – Collingwood:
Krakouer 6, Hellier 5, Witts 2
Inside 50s – Collingwood:
Krakouer 6, Paine 4, Barden 3, Broomhead 3, Oxley 3
Rebound 50s – Collingwood:
Oxley 5, Heagney-Steart 4, Keeffe 4, Wallace 3, Yagmoor 3
Hitouts – Collingwood:
Witts 19, Grundy 16, Richmond 1