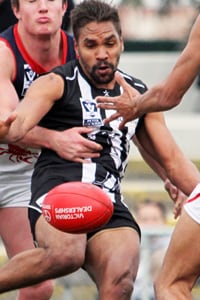 Collingwood's match committee will sleep well in the knowledge that it has three of its most experienced players in good form at VFL level.
Andrew Krakouer ended Saturday's loss to the Casey Scorpions with 28 possessions (nine kicks, 19 handballs), narrowly ahead of Alan Didak (13 kicks, 14 handballs) and Quinten Lynch (17 kicks, 10 handballs) who had 27 touches each.
Krakouer had a profound influence on the match in the second half. He started the day slowly, returning only seven possessions to half time, but was a key figure in his side's second half revival and ended the day with a total of 28.
Recap
collingwoodfc.com.au's
live coverage of Saturday's match now.
Although he couldn't prevent the defeat, his work around the stoppages and clean, fast hands in close helped set him apart from the other players on the field.
Similarly, Didak's presence of mind and ability to keep the ball flowing in the right direction helped set up several attacking forays for his teammates which nicely complemented his four inside 50s and two rebounds.
In contrast to the small forwards' finesse, Lynch played the role of the bulldozer in the ruck. He threw his frame around with reckless abandon and left the field with nothing left in the tank.
He started the match showing great intent and purpose up forward where his leading and marking helped give his younger key position teammate Jackson Paine a boost.
But an injury to VFL-listed ruckman Brendan Rinaldi saw Lynch cast into a permanent ruck role which he took to with relish. He ended the day with 24 hitouts and six marks as well as six inside 50s and five rebounds which illustrate his ability to cover the ground.
Lynch's work below his knees was particularly commendable as was his ability to rove his own hitouts (by basically tapping the ball to his own advantage at stoppages around the ground) and then kick Collingwood quickly inside 50.
Marty Clarke was typically busy at half back and ended the match with 22 possessions (11 in each half) and drove the Magpies into attack on four occasions.
Others to impress included Paine and Matthew Boland who kicked three goals each. The two have kicked bags at VFL level in the past and while Paine was consistent across the four quarters, it was Boland who threatened to win the game for his side when he began to catch fire late in the match.
At the other end of the ground, the Pies found the going tough without key defender Nick Riddle who was absent due to injury.
It allowed Melbourne-listed Jesse Hogan to get off the leash in the second quarter when he kicked three goals in almost as many minutes to help turn the game on its head.
VFL coach Dale Tapping moved Tim Allan onto Hogan after half time and he succeeded in keeping the West Australian prodigy goalless in the second half.
Collingwood          
2.2  5.5  8.7  12.10 (82)
Casey Scorpions  
 1.4  8.6  10.11  13.12 (90)
Goals - Collingwood:
Paine 3 Boland 3 Broomhead  Hellier  Brett  Lynch  Martin  Mooney
Casey Scorpions:
Hogan 3 Lang 2 Spencer 2 Best 2 Taggert 2 Scott  Gent
Best - Collingwood:
Didak Lynch Ramsay Oxley Allan Yagmoor
Casey Scorpions:
Hogan Magner Strauss Taggert Panozza Jetta
Disposals - Collingwood:
Krakouer 28, Didak 27, Lynch 27, Clarke 22, Broomhead 20
At Victoria Park.