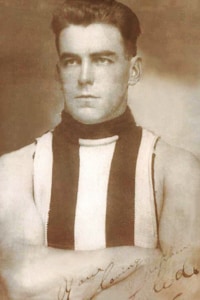 A past Magpie who died in the line of duty while serving as a police officer has been honoured 78 years after his passing.
Clyde Smith, who played six senior and seven reserve games for Collingwood in 1922, was shot and killed while on duty on 5 January 1935 and was buried in an unmarked grave at the Heidelberg Cemetery.
As his grandson-in-law Carl Bolton explains, Clyde had a young wife and five children at the time of his death which meant that the family did not have the funds to build an appropriate headstone at the grave.
Almost 80 years later, Bolton (who coincidentally is also a policeman) and the Smith clan helped ensure that Clyde's life was recognised appropriately.
"My fiancée is Clyde's granddaughter and I became interested because he was policeman and I am as well," said Bolton.
"He was accidentally shot and killed by a colleague and was buried at Heidelberg Cemetery. They had 150-odd police at the time for his funeral which was fairly big considering the amount of police around at the time.
"His colleagues got together and raised enough money to buy his widow a house in Rochester (in regional Victoria) where she came from. Clyde had three sons and two daughters, so they moved up there. All three of the boys became police officers with some of their children becoming police officers too.
"At the time obviously his poor widow didn't have money to put a headstone on as it was during the depression and as the years went by it never happened.
"There have been a couple of times since that as a family we've thought about doing something but for different reasons it hasn't happened.
"About four or five years ago when they looked into finding Ned Kelly's remains to rebury him, there was bit of an outcry at the time from Melbourne policemen who knew of other police officers killed in the line of duty buried in unmarked graves with family left behind.
"The government of the day thought that it needed to be addressed so they started up the Police Grave Committee and I made application through them to get Clyde's grave done.
"That was successful so we've had a monument and gravestone dedicated to him which all came to a head on Saturday. Because I'm marrying into the family I can be a Hawthorn supporter but the vast majority of the Smith clan are mad, passionate Collingwood supporters which is why contacted Murray Browne (President of the Collingwood Past Players Association) and he was able to give me information on Clyde's playing career."
Browne, who played 47 games for the Magpies between 1981 and 1985, represented the club at the unveiling of the headstone on Saturday. He was chuffed that the Association was able to assist with the cause of an ex-player, even though he had not played since 1922.
"He died nearly 80 years ago so it was really good. Members of the police force were there and really enjoyed it. They spoke about his life story, about how he got shot and everything that happened," said Browne.
"The bottom line is that he is one of our past players and we've been able to make a contribution that the family's very happy with."
Browne said that the Collingwood Past Players Association donated $500 towards the headstone.
Clyde Smith played only six senior games for the Magpies but represented the club during a Grand Final year.
He played his last senior game against Fitzroy at the Brunswick St Oval in round 16 but was not a member of the side's two finals, one of which was the 11-point Grand Final loss to the Roys.
Bolton said that Smith left Collingwood after his one year at the club after receiving a coaching job at Cobram in country Victoria. The following year, Smith's Cobram team travelled to Melbourne and beat a VFL club in a pre-season practice game.
He also ran in the famous Stawell Gift and was what Bolton described as a "Collingwood five and a half footer", standing at 174cm (the same height as Jarryd Blair) and weighing 77kgs (just like current day Magpies Tim Broomhead and Kyle Martin).
Bolton said that the Smith family was understandably pleased with what they were able to achieve with a substantial gathering (including several key politicians and members of the Victorian Police Force) turning out to honour a man who clearly packed more into his 34 years than most.
"There was a representative from the Chief Commissioner and a representative for the Minister of Police and Emergency Services. The footy club was represented by Murray Browne which the family was very appreciative of. It meant a lot to them.
"The Police Association was represented and the Blue Ribbon Foundation, the Police Historical Society and the Graves Committee and the Secretary of the Police Association were there too.
"We had between 60 and 70 family members. Ralph Stavely, a member of the historical society who has been to every restored grave, said that it was the biggest turnout he has seen."
The day retained its Collingwood flavour throughout with a portrait of Clyde in his Collingwood jumper placed on the grave alongside one of him in his days as a police officer.
It was even prevalent when Bolton recalled Clyde's application to join the Force.
"When Clyde had died, his wife remarried and had another three children and one of them became a police officer as well so they're all mad Collingwood supporters.
"Looking through the police records, we had a laugh because at the time they asked if the applicant 'was a member of a secret society'.
"We're not sure whether or not he named Collingwood as a secret society!"
(All images are courtesy of Carl Bolton and the Smith family).
Clyde Smith
Born:
28 January 1901
Died:
5 January 1935
Height:
174cm
Weight:
77kg
Jumper Number:
20
Games:
6
Goals:
0
Debut:
Round 1 1922 (Richmond v Collingwood at the Punt Road Oval)
Final Game:
Round 16 1922 (Fitzroy v Collingwood at the Brunswick St Oval)