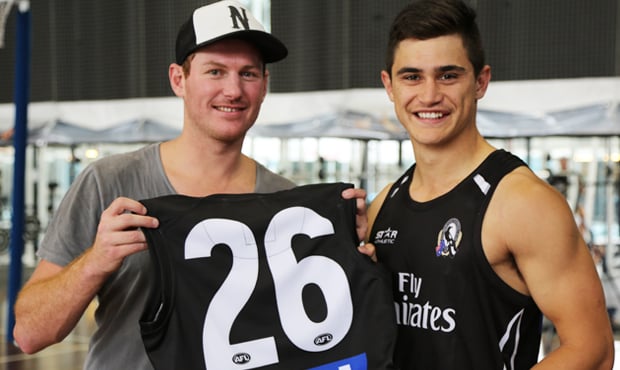 Football clubs at every level of the game have their important jumper numbers and Collingwood is no different.
For various reasons, the numbers 22, 42, 26, 5 and 1, among others, have held special meaning for several years.
In 2014, No. 26 requires a new number after 13 years.
Ben Johnson wore it with distinction in 221 games between 2001 and 2013 after receiving it from his childhood idol Gavin Brown, who had worn it in each of his 254 games between 1987 and 2000.
Johnson formally handed the number over to its current owner, Marley Williams, after training at the Westpac Centre on Friday afternoon.
Williams, who has played 22 games in his two years at the club, had originally intended to keep the No. 46 jumper until Johnson revealed his intention (via coach Nathan Buckley) to hand over the number.
"Last week Bucks called me up and he asked if I wanted to wear the No. 26 and I said, 'Oh, I have to think about it a bit', because, you know, I wanted No. 46 for as long as I could play here," Williams explained to
collingwoodfc.com.au
.
"I thought about it for a bit and I thought, well, it's a great honour to be able to wear that No. 26.
"I worked closely with Johnno when he was at the footy club so I thought it was an honour for him to give me his jumper."
Johnson originally received the number at the start of his second season at the club in 2001.
The story of how Johnson received his number from Brown is now a part of Collingwood folklore.
"Rowdy came up to me and asked me whether I would like to carry the number. I said it would be an honour," Johnson told the
Sunday Herald Sun
's Scot Palmer on 11 February 2001.
"As a kid I had two Collingwood jumpers, one was Rowdy's and the other Peter Daicos' - both fair choices I reckon. I had no hesitation giving up No. 31."
Ben Johnson receives his No. 26 jumper from his childhood hero, Gavin Brown, at Victoria Park in a photo taken by Karen Dodd, published in the Sunday Herald Sun on 11 February 2011. Brown helps Johnson ink the No. 26 into the back of his jumper.


"I hope it gives Ben as much out of football as it gave me," Brown told Palmer.
The premiership-winning Johnson could easily echo those words as he passes the batten on 13 years later.
Williams and Johnson share several similarities.
They are small in stature but big in heart. They love to carry the ball out of half back and are heavily left-sided.
Johnson also acted as something of a mentor to Williams during his first two years at the club and was a key factor in the former rookie's marked improvement.
"Johnno and I played pretty much the same position," Williams explained.
"I worked closely with him. He taught me a lot through the two years that we were together.
Ben Johnson reenacts Brown's presentation of the No. 26, complete with texta in hand, with Marley Williams out on Olympic Park Oval on 8 November 2013.
"Last year I had a pretty good season and Johnno helped me out through the whole season and gave me a lot of tips for what to do with those small forwards."
Williams told the world of his new number on Twitter after training on Wednesday evening and was swamped with goodwill from the Magpie Army.
Good first day back at training today!! Also honoured to be able to wear the number 26!! #hotday #greatnumber #cantwaitfortheseason

— marley williams (@M_williams46) November 6, 2013
He says it has only spurred him on to continue the sort of improvement that saw him finish seventh in the Copeland Trophy.
"I've had a lot of feedback on Twitter.
"I think I've got to step up another level in 2014 and take it to the next level and wear that jumper with pride."
Collingwoodfc.com.au
will announce the club's remaining jumper number changes shortly.
Johnson presents his No. 26 to Williams at the Westpac Centre on Friday.


Side By Side.


Collingwood players to have worn No. 26
1911 -
Nil
1912 -
F.Parkinson
1913 -
Nil
1914 -
M.Seddon
1915 -
A.Whitling
1916 -
Nil
1917 -
E.Lumsden
1918 -
W.Walton
1919 -
M.Seddon
1920 -
E.G. Wilson
1921 -
R.W. Webb
1922 -
E.Wilson
1923 -
H.Smith
1924 -
H.D. Wescott
1925 -
E.Wilson
1926 -
Nil
1927 -
H.D. Wescott
1928 -
G.Angus
1929 -
H.D. Wescott
1930 -
H.Rumney
1931 -
H.Rumney
1932 -
R.Grant
1933 -
Nil
1934 -
A.Street-Andrew
1935 -
A.J. Ryan
1936 -
Nil
1937 -
K.Stackpole
1938 -
R.Todd
1939 -
P.Fricker
1940 -
M.Whelan
1941 -
R.Smith
1942 -
R.Smith
1943 -
H.Mears
1944 -
D.Newman
1945 -
L.P. McLaren
1946 -
W.J. Twomey
1947 -
W.J. Twomey
1948 -
W.J. Twomey
1949 -
W.J. Twomey
1950 -
W.J. Twomey
1951 -
W.J. Twomey
1952 -
W.J. Twomey
1953 -
W.J. Twomey
1954 -
W.J. Twomey
1955 -
H.Sullivan
1956 -
H.Sullivan
1957 -
H.Sullivan
1958 -
H.Sullivan
1959 -
H.Sullivan
1960 -
H.Sullivan
1961 -
D.Norman
1962 -
D.Norman
1963 -
D.Norman
1964 -
D.Norman
1965 -
D.Norman
1966 -
D.Norman
1967 -
P.Lawrence
1968 -
S.Whelan
1969 -
S.Whelan
1970 -
R.Dean
1971 -
R.Dean
1972 -
R.Dean
1973 -
R.Dean
1974 -
R.Dean
1975 -
R.Dean
1976 -
Nil
1977 -
P.Marshall
1978 -
Nil
1979 -
R.Byrne
1980 -
R.Byrne
1981 -
R.Byrne
1982 -
R.Byrne
1983 -
R.Byrne
1984 -
S.Knight
1985 -
A.Eade
1986 -
G.Brown
1987 -
G.Brown
1988 -
G.Brown
1989 -
G.Brown 

1990 -
G.Brown
1991 -
G.Brown
1992 -
G.Brown
1993 -
G.Brown
1994 -
G.Brown
1995 -
G.Brown
1996 -
G.Brown
1997 -
G.Brown
1998 -
G.Brown
1999 -
G.Brown
2000 -
G.Brown
2001 -
B.Johnson
2002 -
B.Johnson
2003 -
B.Johnson
2004 -
B.Johnson
2005 -
B.Johnson 

2006 -
B.Johnson
2007 -
B.Johnson
2008 -
B.Johnson
2009 -
B.Johnson
2010 -
B.Johnson
2011 -
B.Johnson
2012 -
B.Johnson
2013 -
B.Johnson
2014 -
M.Williams