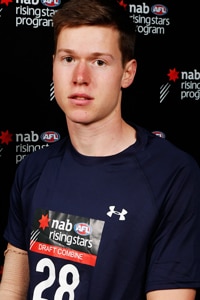 Selection No. 65 - Tom Langdon
Position:
Medium defender/midfielder
Height:
 189cm
Weight:
85kg
Born:
9/6/94
Recruited from:
Sandringham Dragons (TAC Cup)
Profile:
Medium defender/midfielder who has come of age in 2013.  His balance, game sense and ability to read the ball in flight give him a significant advantage when the ball is in the air. A strong overhead mark and fluent kick of the football on his preferred right foot, his ball use is smart and consistently finds its target.
What they say:
"Tommy came back as a 19-year-old and had an outstanding season after missing out last year as an outside tall midfielder who can really push forward and hit scoreboard. He's grown quite a bit from last year and put on a bit of size so that has helped him enormously against the bodies. He's right in the mix to get his opportunity that he missed out on last year and we couldn't be happier with what he was able to do with us this season,"
- Sandringham Region Manager Ryan O'Connor, Inside Football Magazine.


"Tall athletic type who whilst has played all over the place this year he is your half back type who could probably jump onto a wing and he can certainly go forward as has demonstrated. Improved his ball winning which I think was a big thing for recruiters but still more suited to half back or half forward I reckon," -
Snoop Dogg, respected draft watcher on
BigFooty.com
.


What he says:
"
At the end of the day, not getting drafted forces you to have a strong hard look at your desire to play football at AFL level because if your answer isn't a resounding yes, then you're wasting your own and other people's time. You have to really take that negative experience of not getting drafted and learn from it, because it is such a large disappointment in your life and if your let it get the better of you, then you really won't have the confidence to give it another crack," -
Tom Langdon in an interview with
truezebras.net
earlier in 2013.
Other Notes:
- Ranked ninth in the repeat sprints with a time of 24.45 in the AFL Draft Combine in October.

- Played in the VFL as a top-up player with Sandringham in 2013.