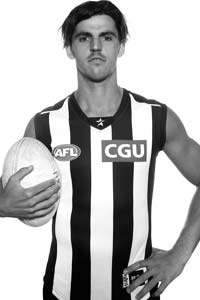 The appointment of the 46th Collingwood captain was confirmed on Wednesday night with the announcement of Scott Pendlebury as successor to one of the club's great modern leaders, Nick Maxwell.
Pendlebury will head a new look Collingwood leadership team in 2014, one that will include Maxwell and the respected Luke Ball but also feature a number of other players who have been recognised for their preparedness to lead on and off the field.
In all, the 2014 leadership group comprises eight players; Pendlebury as captain, Maxwell, Ball, Nathan Brown, Lachlan Keeffe, Steele Sidebottom, Clinton Young and Travis Cloke.
At 26 years of age, Pendlebury is just the fifth Collingwood captain to be appointed in the last two decades.
"It's a tremendous honour and obviously a privilege," said Pendlebury, who used the occasion of his elevation to acknowledge Maxwell's five seasons of leadership and the recent decision he took to relinquish the post.
"I'm following in the steps of a great Collingwood captain. 'Maxy' led the side to a premiership and will play more than 200 games in black and white but I think that when his record is judged the selfless culture he worked to create and is so passionate about will be among his finest achievements.
"As a leader he laid out a path so many of us are now following and I'm sure he will continue to guide the group this year. He is a leader, with or without a title. That's the sort of person he is. He sees this as a great opportunity for growth."
Collingwood coach Nathan Buckley also lauded Maxwell, as did Collingwood president Eddie McGuire.
"He has lived the Collingwood values, brought them to life for his team-mates in a way that few could have," Buckley said.
"The fans see it in his play on match day but his team-mates, coaches and staff see it and feel it in action every day."
McGuire added: "Just as the US president is always a president, Nick Maxwell will always be a Collingwood captain. A Collingwood premiership captain," McGuire said.
Learn more about the first 45 men to be appointed captain of the Collingwood Football Club.
"He belongs in our pantheon as one of the great figures in Collingwood's history and his decision, having given so much, to stand down and support Scott typifies his leadership. Hopefully, Scott can join him in the premiership captain's club as quickly as possible."
Maxwell congratulated his successor and said that when he realised the time for a change of leadership had arrived it was reassuring to know that Pendlebury was there to take over.
"You hope that you can step out at the appropriate time and have the right person to pass the torch on to. It is the appropriate time and 'Pendles' is the right person," said Maxwell, who is one of only 11 Collingwood premiership captains and one of just four living.
"With so much strong and new leadership emerging, and a different side with it, it's the perfect time for a new captain to take over."
Pendlebury's time has come as he moves into the sweet spot of his already decorated career.
The first round draft pick of 2005 has played 171 matches, won a Norm Smith Medal (2010 Replay), collected four All-Australian jumpers, won two Copeland trophies and figured in the top three of the Collingwood best and fairest count in six of his eight years in the game but is just entering his prime as a player.
He has been resilient and consistently brilliant on-field, an able lieutenant to Maxwell for five years and a figure in the change room who, according to Buckley, has been an outstanding professional from the day in late 2005 when he packed his bags and left Sale for the Westpac Centre.
"What 'Pendles' does on the football field is the tip of the iceberg. He is relentless in pursuit of improvement in himself and the team, has great respect for his opportunity in this game, with this club, and has built strong relationships among the playing group and staff. All qualities that ensure his continued influence as a leader" Buckley said.
"Building leadership depth and breadth is a real objective of ours. When a fresh group of leaders, viewed by their peers as most worthy, accept the responsibility and carry a real hunger to drive our preparation and performance, it's exciting to see. There is plenty of work to do but 'Pendles' certainly won't be one-out."