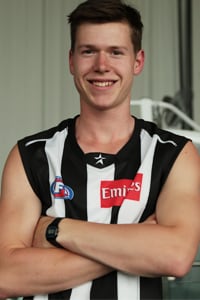 Learn more about Tom Langdon, who is set to become the 1112th player in Collingwood history when he debuts against Fremantle at Etihad Stadium on Friday night.
In profile:
A medium defender/midfielder who came of age in 2013. His balance, game sense and ability to read the ball in flight give him a significant advantage when the ball is in the air. A strong overhead mark and fluent kick of the football on his preferred right foot, his ball use is smart and consistently finds its target. Played senior football for VFL club Sandringham for much of last season after being overlooked in the 2012 National Draft.
Important details:
Position:
Medium defender/midfielder
Height:
 189cm
Weight:
85kg
Born:
9/6/94
Recruited from:
Sandringham Dragons (TAC Cup)
What they say:
"Tommy came back as a 19-year-old and had an outstanding season after missing out last year as an outside tall midfielder who can really push forward and hit scoreboard. He's grown quite a bit from last year and put on a bit of size so that has helped him enormously against the bodies. He's right in the mix to get his opportunity that he missed out on last year and we couldn't be happier with what he was able to do with us this season,"
- Sandringham Region Manager Ryan O'Connor, Inside Football Magazine.


Watch Tom Langdon speak to CollingwoodTV shortly after arriving at the Westpac Centre.
"Tall athletic type who whilst has played all over the place this year he is your half back type who could probably jump onto a wing and he can certainly go forward as has demonstrated. Improved his ball winning which I think was a big thing for recruiters but still more suited to half back or half forward I reckon," -
Snoop Dogg, respected draft watcher on
BigFooty.com
.


What he says:
"
At the end of the day, not getting drafted forces you to have a strong hard look at your desire to play football at AFL level because if your answer isn't a resounding yes, then you're wasting your own and other people's time. You have to really take that negative experience of not getting drafted and learn from it, because it is such a large disappointment in your life and if your let it get the better of you, then you really won't have the confidence to give it another crack," -
Tom Langdon in an interview with
truezebras.net
earlier in 2013.
"Last year I watched (the draft) with my family and a couple of mates. It was a pretty bad experience and I didn't really want to go through that again. It was tough last year so I thought I'd go down to the local park and just listen to it in the park by myself on the radio. When I was lucky enough to get my name called out I just went back to my house and my mates came around with my family.
"I guess I'd been through it again last year so I kind of knew what sort of emotions I was going to feel. I was pretty relaxed, as relaxed as you can be when you know in half an hour's time your life might change a lot. I was pretty relaxed but as the draft kept going higher and higher I got bit more nervous but the biggest emotion I probably felt was relief. It's a combination of two years of hard work and it's a lot of weight off my shoulders. It's good to finally be at an AFL club and have the opportunity that Derek Hine and Collingwood has given me. I'm really grateful for that opportunity and I guess 12 hours later it still hasn't really sunk in," -
Tom Langdon on collingwoodfc.com.au less than 24 hours after he had been drafted to Collingwood.
Other Notes:
- Ranked ninth in the repeat sprints with a time of 24.45 in the AFL Draft Combine in October.

- Played senior football in the VFL with Sandringham in 2013 and was named in the best on two occasions.

- Featured in all three senior games during the pre-season, averaging 15.0 disposals and 2.3 rebound 50s.