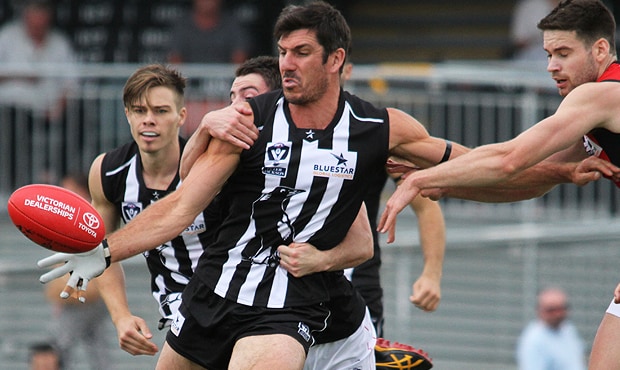 Saturday's VFL practice match against Essendon always had plenty riding on it for the nine senior listed Magpies named in the team on Thursday night.
The majority of the nine are on the comeback trail from injury or are equipping themselves with a little more game time before mounting a comeback into AFL ranks.
But the 70-point defeat at the hands of Fremantle in Friday night's season opener meant coaches and supporters turned up to Victoria Park looking for signs that these players are ready to return to the senior side.
Recap collingwoodfc.com.au's live coverage of Saturday's 20-point win over Essendon.
The good news is that several put their hands up with strong four-quarter performances in a 20-point win Tarkyn Lockyer described as 'workmanlike'.
"I thought most of those guys performed really well," said Lockyer, who took control for the day as senior VFL coach Dale Tapping watched on from the interchange bench.
"Sammy Dwyer was excellent, Quinten Lynch was good, Josh Thomas looked really sharp.
"Alex Fasolo was terrific. He looked pretty comfortable playing back.
"I think the expectation is that those guys will be to come back (to the VFL) above the level and I think they went about their business really well."
Collingwood got the jump on Essendon early in the match and was never seriously threatened.
The Bombers, who took only two AFL listed players into the match, were dogged throughout and matched the Magpies in general play during the second half.
VFL listed Magpies such as Ben Moloney and Josh Turner were excellent throughout, with Turner's ability to find space and use the ball cleverly a highlight.
On a day that suited gritty, in-close footballers, Callum Matheson and Lachie Wallace were worth their weight in gold as they burrowed in under the packs and gave the Magpies the ascendency in the clinches.
Ben Hudson rucked well with support from Lynch and Kyle Martin, playing his first game of the 2014 season, improved with each quarter.
"It was a pretty scrappy day. The wind, all the play on that (R.T. Rush Stand) side of the ground, it was hard to score," said Lockyer.
"Very workmanlike, I thought. The boys just went about their business and I suppose it's a good one to move on and learn from.
"We did a lot of things right and there's also a few errors we need to try and fix.
"All in all, not too bad."
West Australian recruit Jonathon Marsh did some eye-catching things inside 50 where he had his Essendon opponents wary of the blistering speed that contributed to his two goals.
Marsh was selected by Collingwood with selection No. 77 in last November's National Draft but has already given VFL watchers a taste of what he's capable of.
"He's got a lot of exciting attributes and I'm sure he'll give us some really good highlights over the year," said Lockyer.
"He's still got a lot to learn about the game and the way that we play. It's certainly very positive."
Collingwood
    3.2    5.4    9.6    10.10 (70)
Essendon
          1.3    2.4    5.5     7.8 (50)


Goals - Collingwood:
Marsh 2, Gray 2, Thomas, Mooney, Turner, S.Williams, Lynch, R.Pendlebury
Essendon:
Toy 2, McPhee, Dimatteo, Davidson, Kefford, McLeod
Best - Collingwood:
Lynch, Dwyer, Fasolo, Thomas, Turner, Yagmoor
Essendon:
Rayner, Duscher, McKinley, Toy


Collingwood Squad
1.
Alex Fasolo,
2.
Sam Dwyer,
11.
Jarryd Blair,
21.
Quinten Lynch,
23.
Lachlan Keeffe,
24.
Josh Thomas,
25.
Ben Hudson,
27.
Tony Armstrong,
29.
Josh Turner#,
37.
Kyle Martin*,
38.
Peter Yagmoor*,
46.
Jonathon Marsh,
48.
Caolan Mooney*,
52.
Lachlan Wallace#,
53.
Jack Hellier#,
54.
Mat Suckling#,
56.
Jake Williams#,
58.
Ben Moloney#,
61.
Nick Gray#,
62.
Lachie Ferguson#,
64.
Ryan Pendlebury#,
65.
Tom Tyquin#,
66.
Trent Cody#,
69.
Callum Matheson#,
70.
Glenn Strachan#
Essendon Squad
13.
Ben Duscher#,
32.
Chris Williams#,
33.
Dylan Van Unen,
34.
Nick Davidson#,
41.
Chris Farchione#,
42.
Anthony Tipungwuti#,
43.
Aaron Dimatteo#,
45.
Johnny Rayner*,
49.
Jacob Thompson#,
50.
Josh Toy#,
51.
Aaron Heppell#,
52.
Angus Milham#,
53.
Alex Hickey#,
54.
Josh Freezer#,
55.
Wayne Schultz#,
58.
Sam Tagliabue#,
59.
Sam Lowire#,
60.
Ben McPhee,
61.
Alex McLeod#,
63.
Tom McKinley#,
64.
Murphy Ambrose#,
66.
Alistair Kefford#,
67.
Daniel Thompson#,
68.
Brad Leggett#,
69.
Matt Huckstepp#
*Denotes AFL rookies
#Denotes VFL listed players