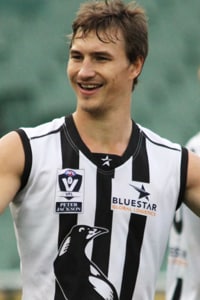 Collingwood has continued its unblemished start to the VFL season by recording a 73-point victory over the AIS-AFL Academy at the MCG on Friday evening.
After a narrow victory against North Ballarat in round one of the VFL last weekend, the Magpies quickly continued their strong run of form against the younger Academy players.
It was this strength and intensity at the contest that midfielder Kyle Martin believes allowed the side to dominate much of the game.
"We expected it to be a fast, play-on style of game," Martin told collingwoodfc.com.au after the game.
"We just had to come out and meet them hard at the ball and set the scene of how we want to play which is hard, aggressive footy."
Martin won the ball at will throughout most of the contest, leading all possession getters with 30 disposals on an overcast evening at the home of football. He also laid 10 tackles and was pivotal in creating a high number of AIS-AFL Academy turnovers.
While deflecting praise post match to focus on a strong team effort, Martin gained confidence from another impressive four-quarter performance.
"It's always good to have a run and get four quarters under my belt. I'm still getting a bit of match fitness having missed a bit of pre-season," he said.
In what was a little more than a glorified practice match, Collingwood took a squad of 27 players into the match and on occasions was seen to make five or six interchanges at the one time.
However Martin believes the significance of the match to the side's younger players was invaluable.
"It's a pretty big stage and it's not every day you get the opportunity to play on the 'G. A few of the younger boys would have got a lot out of today and hopefully in the future they'll get a chance to be out here again."
With exposure gained and another win on the board, Martin states that it will be business as usual when the Pies take on Port Melbourne when their VFL season resumes next weekend.
And he believes today's performance was a strong indicator that the side's winning form can continue.
"I don't see a reason why we can't continue our winning form. We're really gelling well together as a team and everyone knows their role and their place at the moment.
"It was a good experience today and hopefully the boys got a lot out of it heading into Port Melbourne next week."
Collingwood              
3.4     8.12     10.16     14.20 (104)
AIS-AFL Academy
   3.0     4.0        5.1          5.1 (31)
Goals - Collingwood:
Witts 2, Gray 2, Martin 2, Lynch 2, Couch, Kennedy, Allan, Wallace, Ferguson, J.Williams
AIS-AFL Academy:
Dawson, Lamb, Lim, McCartin, Wright
Best - Collingwood:
Armstrong, Kennedy, Witts, J.Williams, Ramsay, Gray
Disposals - Collingwood:
Armstrong 30, Martin 30, Kennedy 28, Thomas 23, Lynch 21, Witts 21, Strachan 21
window.cilAsyncInit = function() { cilEmbedManager.init() }; (function() { if (window.cilVwRand === undefined) { window.cilVwRand = Math.floor(Math.random()*10000000); } var e = document.createElement('script'); e.async = true; var domain = (document.location.protocol == 'http:' || document.location.protocol == 'file:' ) ? 'http://cdnsl.coveritlive.com' : 'https://cdnslssl.coveritlive.com'; e.src = domain + '/vw.js?v=' + window.cilVwRand; e.id = 'cilScript-18a55627a6'; document.getElementById('cil-root-18a55627a6').appendChild(e); }());