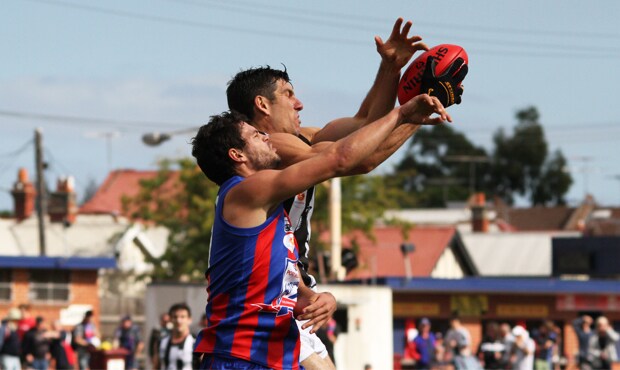 The trip to North Port Oval to take on the Borough must rank as one of the toughest in Australian football.

Port Melbourne has made the ground its fortress under Gary Ayres, winning 27 of its last 30 matches at the venue prior to the 2014 season.

While all involved expected a fierce contest, no one anticipated Collingwood would suffer its first loss of the VFL season to the tune of 53 points when the two clubs met on Saturday afternoon.

The Pies were shell-shocked by Port's nine-goal onslaught in the opening term and battled for stability there on.

The result came as a surprise to most given the Magpies' confident start to the new season, winning all four practice matches and holding out North Ballarat in the first round a fortnight ago.

"We're really disappointed with the effort (and especially) how we started," Development Coach Steve Grace told collingwoodfc.com.au.

"We had the first three shots of the game and I thought we had some good energy early but their weight of numbers, their hunt – they outnumbered us with the ball across the day – and in that first quarter I think they had seven individual goal kickers which is a good spread.

"They kicked them in a variety of ways, on hit up, on spread from stoppage, on crumb and ground ball.

"To us it was a bit of a concern that the effort early wasn't as good as what it needed to be, so the alarm bells were ringing halfway through the quarter."

Grace conceded it was hard to find winners on the day, so thorough was the Borough's triumph.

He singled out three younger Magpies for praise.

"I think Jackson Ramsay's job on Josh Scipione was admirable," Grace reflected.

"Scipione ended up kicking four goals but probably only one was on Jackson. I think we can take that out.

"Young Jake Williams' performance had a lot of heart. His work rate was exceptional and his ability to contest at ground level was very good and he brought others into the game early.

"I also think Corey Gault showed us today what he can be. Not only is he quite athletic, but he can compete.

"He used his body quite well in the contest so I think those were probably the three but there's a massive gap between the rest."

View the player profiles and jumper numbers for all 30 players on Collingwood's 2014 VFL list.

One of Port's strengths is its weekly contribution from its older and more experienced players, such as John Baird, Sam Pleming and Toby Pinwall. Their attack on the ball and the contest in general makes their teammates walk taller, but it's something the Magpies saw coming after being on the receiving end of it in last year's Elimination Final at the same venue.

"It certainly didn't surprise us," said Grace.

"They're a very proud club and they certainly play a very physical brand of footy so when we didn't bring it or meet the challenge, it didn't matter on the day that clearance numbers were in our favour.

"They spread hard as well, so it was a concern that we certainly didn't match them in that area."

Collingwood will be hungry to make amends but must wait another seven days before facing Peter German's Coburg at Victoria Park next Saturday.

Grace says the week will be an important opportunity to refine some of the things the players strayed from at North Port on Saturday.

"I don't think processes need to change, I think we're happy with how we go about it.

"As coaches we'll have to look at how they executed what we wanted them to execute and we'll look at our effort during the week, and if we've missed anything over the last month that's led to this today.

"The process will be the same. We'll review, we'll train it, we'll get better in the areas we want to get better in during the week through effort and method and then we'll roll it out again against Coburg.

"Hopefully with greater effort. You can't judge structure or judge whether they've truly executed roles if the overriding and underlying principle of effort doesn't come."

Collingwood         1.5  5.7    6.12  9.17 (71)
Port Melbourne   9.2  12.3  18.9  19.10 (124)

Goals - Collingwood: Ferguson 2, Lynch 2, J.Williams, Corr, Hudson, Gault, Clarke
Port Melbourne: Scipione 4, Connors 4, Cain 2, O'Sullivan 2, Rowe 2, Johnson 2, Wooffindin, Langford, Hogan

Best - Collingwood: J.Williams, Gault, Couch, Hudson, Riddle, Ramsay
Port Melbourne: Valenti, Wooffindin, Pinwill, Cain, Connors, O'Sullivan

Collingwood
B: Peter Yagmoor, Lachlan Howe, Jackson Ramsay
HB: Tony Armstrong, Nick Riddle, Marty Clarke
C: Caolan Mooney, Lachlan Ferguson, Jonathon Marsh
HF: Kyle Martin, Quinten Lynch, Ben Moloney
F: Corey Gault, Cathal Corr, Jake Williams*
Foll: Ben Hudson, Tom Couch, Ben Kennedy
Int: Tim Allan, Jack Hellier, Nick Gray, Tom Tyquin, Lachlan Wallace
Emg: Trent Cody, Ryan Pendlebury, Glenn Strachan

*Jake Williams was Collingwood's nominated 23rd man. The 23rd player rule is designed to enable clubs to promote young talent and provide them with a taste of VFL football to aid their development.  In 2014, the players that may be used as a 23rd player are Jake Williams, Trent Cody, Ben Kearns, Josh Turner and Callum Matheson.

Port Melbourne
B: Marcus Davies, Daniel Noonan, Marcus Marigliani
HB: Luke Tynan, Tom Langford, Sam Pleming
C: Tom O'Sullivan, Toby Pinwill, Chris Cain
HF: Daniel Connors, Alex Robinson, Josh Scipione
F: Will Johnson, Julian Rowe, Adrian Bonaddio
Foll: David Fanning, John Baird, Shane Valenti
Int: Nicholas Papaleo, James Magner, Damian Mascitti, Mitch Wooffindin, Joshua Purcell, Sam Gilmore, Chris Michaliades, Lange, Hogan*

*Hogan is Port Melbourne's nominated 23rd man.