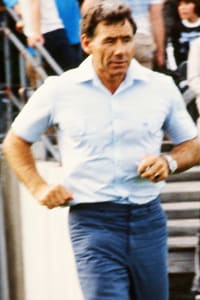 Collingwoodfc.com.au has compiled a fact file that tells the remarkable story of former Collingwood coach and football legend Tom Hafey.

The Hafey years (1977-1982)

- Tom Hafey was the first man in 85 years to coach Collingwood without having played for the club. In the years since, only three more (John Cahill, Leigh Matthews and Mick Malthouse) have coached the club despite having never pulled on the Black and White in anger.

- In his first twelve months at Victoria Park, he took Collingwood from a wooden spoon in 1976 to a Grand Final in 1977.

- Although he never quite managed to win the Holy Grail during his five years at Collingwood, Hafey led the club into five Grand Finals (including the Replay in 1977).

- During his time, he oversaw the debuts of Stan Magro, Kevin Worthington, Ricky Barham, Craig Stewart, Tony Shaw, Peter Daicos, Denis Banks, Mark Williams and Wes Fellowes and the arrivals of Ray Byrne and Craig Davis.

- Hafey was famous for his choice of coaching attire – Adidas t-shirts – which have become a part of footy folklore with his nickname 'T-Shirt Tommy'. The Hard Yakka training tops synonymous with Collingwood and Victoria Park are also a part of the game's vivid memory of the Hafey era.

- Controversy struck Victoria Park in Hafey's first season when star forward 'Fabulous' Phil Carman was suspended for striking Hawthorn's Michael Tuck in the 1977 Preliminary Final. Carman, who kicked four goals that afternoon, missed the Grand Final and the Replay through suspension.

- The Carman suspension was not the last Grand Final controversy that made Hafey's Collingwood Septembers memorable. Ross 'Twiggy' Dunne took one of the game's most famous marks in the shadows of the final siren in 1977, before coolly goaling to level the scores. The Grand Final draw was only the second in the game's history. Seven days later, Hafey's Magpies trailed by just 11 points at half time but couldn't keep up with Ron Barassi's Roos who won by 27 points.

- Two years later, Collingwood was robbed (if you listen to the supporters) when Wayne Harmes belted the ball back into the corridor during a boundary line dive during the final quarter. Harmes' action led to a Ken Sheldon goal that helped the Blues in by just five points.

- The Magpies were belted by Hafey's old Tiger mates on the last Saturday in September in 1980 but were again on the edge of Grand Final glory in 1981 when they led Carlton by nine points at three quarter time. Once again, the Blues spoiled Hafey's party, running out the game with four goals to nil in the final term.

- Ten rounds into the 1982 season, Hafey was sacked by the Collingwood board after a narrow loss to Melbourne. It left the club sharing bottom spot with Footscray, with just a single win to its name.

- Under Hafey, Collingwood recorded the greatest ever-winning margin in its history (and the game's history at that point in time, too) when it belted St Kilda by 178 points at Victoria Park in round four, 1979. Its 31.21 (207) was the club's highest ever score...until Hafey's Heroes topped that with 32.19 (211) – also against St Kilda – out at Waverley Park a tick over twelve months later. And that match in 1979? It was Peter Daicos' first senior game.

- In 1980, a film was recorded at Victoria Park. David Williamson's The Club, inspired by Collingwood's headline grabbing antics on and off the field, featured Hafey and star players Peter Daicos and Rene Kink. Hafey played a role as the team's assistant coach.

- After losing his job midway through 1982, Hafey was succeeded by Mick Irwin, who won three of his 12 games at the helm.

- Although he will be forever known as the man who led Richmond during its glory years, Hafey in fact grew up a Collingwood supporter.

- Hafey's ability to motivate and inspire his players and supporters alike was legendary. He spoke of his '4 Ds' – Desire, Dedication, Determination and Discipline, which add up to your Destiny.

"I don't subscribe to that theory about the 1977 Replay (that Hafey trained the players too hard in the lead up to the second Grand Final). I reckon without the hard training, we probably wouldn't have made it as far as those Grand Finals. I think a lot of people didn't realise how good a coach he was until he was gone," – Collingwood full back Peter McCormack on Tom Hafey, SEN Inside Football, 2014.