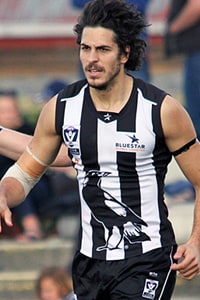 There is plenty on the line whenever Collingwood and Geelong clash, and Saturday's round eight VFL match-up was no exception.

And on a day jam-packed with Collingwood football, the VFL Magpies' 40-point win over the Cats was the perfect way to kick off proceedings.

The VFL side recorded their third win against the perennial finalists at Victoria Park in four years.

"It was a pleasing result against a quality side," development coach Tarkyn Lockyer told collingwoodfc.com.au post-match.

"Geelong is renowned for being competitive and a really strong side at both levels over the last couple of years, so we knew we were in for a pretty tough day and they certainly didn't surprise us.

"It was a really hard game early, really hot in the contest and our boys obviously did well."

After the long trip down the highway, Geelong's eagerness to attack the contest was evident as both sides traded goals in the opening stages of the match.

Kyle Martin continued his habit of getting the Magpies on the board, with his opening goal kick-starting what evolved into to a best on ground performance.

Although he has piled on the goals on numerous occasions so far this season, Martin instead handed the reins to Patrick Karnezis who steered the Magpies to victory from inside 50.

Karnezis kicked six goals, including four in a row in the second and third quarters as he displayed his strongest showing yet for his new side.

"He's looking really dangerous," Lockyer said of Karnezis.

"Considering he's been back for a few weeks now, he's starting to look more comfortable and is certainly giving us a good option up forward.

"He's got a lot of tricks."

After Saturday's performance, Karnezis' name may find itself spoken by the match committee in the weeks to come.

Karnezis' recent form aside, two other Magpies held court in the minds of the 2500-strong Victoria Park crowd.

Saturday's clash marked a major milestone for midfielder Sam Dwyer.

After being omitted from the AFL side, Dwyer found reason to celebrate as he took to the field for the 100th time in the VFL.

Despite 97 games, a best-and-fairest and a premiership medallion with Port Melbourne, Dwyer showed no divided loyalties in his Black and White jumper as he attacked each contest with typical ferocity.

Lockyer said that the while the achievement can't be overlooked, the AFL career which Dwyer has established at Collingwood should be recognised.

"Sammy's been really solid at VFL level for a number of years now and it's really pleasing that he gets his chance at AFL level. He's proved that he can be a solid AFL player," he said.

"Today is a milestone and he performed really well and more importantly we got the win. It was terrific."

As the final siren sounded Victoria Park quickly became a ghost town as the Collingwood faithful converged to either the MCG or a nearby television.

But for the VFL Magpies, the focus quickly turned to preparing for the league's bye weekend (the VFL state team will meet its SANFL equivalent at North Port next Saturday).

"It's an opportunity to rest up a little bit and let the bodies heal," said Lockyer.

"We'll be able to put into the back pocket what we've been able to achieve so far.

"We've put together some really strong performances in the last couple of weeks and we're really keen to reload and go again."

Unfortunately, small defender Ben Sinclair may required time on the sidelines.

Sinclair left the ground midway through the second quarter of Collingwood's 40-point win with a hamstring complaint.
(function() { var lb24 = document.createElement('script'); lb24.type = 'text/javascript'; lb24.id = '24lbScript'; lb24.async = true; lb24.charset="utf-8"; lb24.src = '//v.24liveblog.com/embed/24.js?id=1324884'; (document.getElementsByTagName('head')[0] || document.getElementsByTagName('body')[0]).appendChild(lb24);})();
It was 22-year-old's second game back from an earlier hamstring injury. Fortunately, he has not re-injured the leg he damaged against Sydney in round two.

"Ben hurt his hamstring, but we won't know the extent until we do the scan on Monday," Director of Football Rodney Eade told collingwoodfc.com.au.

Collingwood 5.4 10.6 14.9 19.12 (126)
Geelong 3.3 6.4 7.11 12.14 (86)

Goals – Collingwood: Karnezis 6, Armstrong 2, Martin 2, Mooney 2, Broomhead 2, Allan 2, Ferguson, Kennedy, Clarke
Geelong: Toohey 2, Kersten 2, Hollmer 2, Tudor 2, Thurlow, Banjanin, Herbison, Walker

Best – Collingwood: Martin, Ferguson, Karnezis, Broomhead, Hellier, Hudson
Geelong: Hartman, Thurlow, Maas, Lang, Kolodjashnij, Tudor

Injuries – Collingwood: Sinclair (hamstring)
Geelong: TBC

At Victoria Park


100 VFL games is a fine achievement. Hats off to @samdwyer20 + the #vflmagpies on a 40-point win pic.twitter.com/RpmlUNLblq

— Collingwood FC (@CollingwoodFC) May 24, 2014