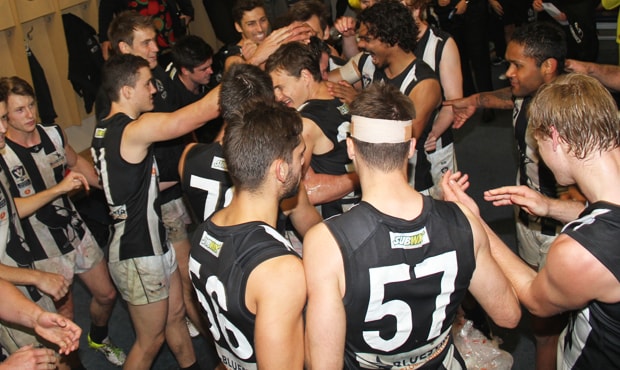 Casey Fields has not been a happy hunting ground for Collingwood in recent years.

In the four years since its last victory over the Scorpions on their home soil, the VFL Magpies have suffered losses of 42, 13 and 90 points and dealt with season ending injuries to two players (Brad Dick and Michael Hartley).

So when the Scorpions kicked 17 points clear midway through the third quarter on a wet and heavy track, all signs pointed to another miserable trip back along the South Gippsland Highway to the Westpac Centre.

But the VFL crop of 2014 doesn't wilt so easily.

"There was only a couple of points in it but we certainly weren't playing the way that we wanted to and you could sense a little bit of frustration amongst the boys because in recent weeks we've been able to get things on our terms pretty well but today was just a real grind," coach Dale Tapping explained to Collingwood Media after the game.

"The conditions were conducive for a real contest so we had to make a real mental adjustment, too, about getting back to basics and today wasn't a day for high marks of chains of possession. It was about getting yards and territory forward and keeping your eyes low and keeping your body in line with the ball.

"After half time I thought the response was fantastic. It was a really good win and against a team that was fighting pretty hard with their season, to a certain point, on the line.

"I thought our response after half time was terrific."

All eyes were on Ben Reid in his first match of any kind since the senior side's practice match against Gold Coast on 2 March.

Reid made the perfect start to his return from a calf injury, sliding on his knees to mark before kicking the first goal of the afternoon just seconds into the match.

Thing became a little tougher as the day wore on, for conditions meant all key forwards were up against it.

"He contributed really well," said Tapping.

"It was a challenging game to come back with the conditions, the ball spent a lot of time on the ground, particularly forward, so it wasn't a really great day for marking forwards and obviously that's a strength of his.

"I thought he contributed really well. He just looked dangerous throughout the course of the game."

The match was low scoring from the outset. The two sides scored just two goals apiece in the opening quarter and each finished with 11 for the game when the final siren blew.

It was a day that suited those who thrive on the contest, so it's no surprise the likes of captain Jack Hellier, Tim Broomhead, Lachlan Ferguson and SANFL import Mat Suckling, in his first game for Collingwood, led the way.

"Today was just a lot about character and I think it says a lot about our younger players who are developing into really good players and today was another step in that direction," Tapping enthused.

"I said to them after the game that they can take great benefit from today's contest.

"It wasn't pretty but you can guarantee we can refer to this.

"These conditions will happen again and at half time we're not going to be going as well as we'd hoped and all the best-laid plans can sometimes go out of the window and you need to make an adjustment.

"I think the boys can take great confidence that they can refer to the Casey game where things weren't happening for us but we realigned ourselves with aspects of the game and we turned things around and that takes a lot of effort, so full credit to them, that was a great effort."

Collingwood          2.2  3.4  8.8  11.13 (79)
Casey Scorpions    2.1  4.3  9.5  11.7 (73)

Goals – Collingwood: Allan 2, Reid 2, Suckling 2, Martin 2, Ferguson, Armstrong, Mooney
Casey Scorpions: Kent 3, Rennie 2, Barry 2, Rosier, Tapscott, Smith, Michie

Best – Collingwood: Suckling, Kennedy, J.Williams, Hellier, Hudson, Marsh
Casey Scorpions: Kent, McKenzie, Riley, Strauss, Smith, Blease

At Casey Fields.