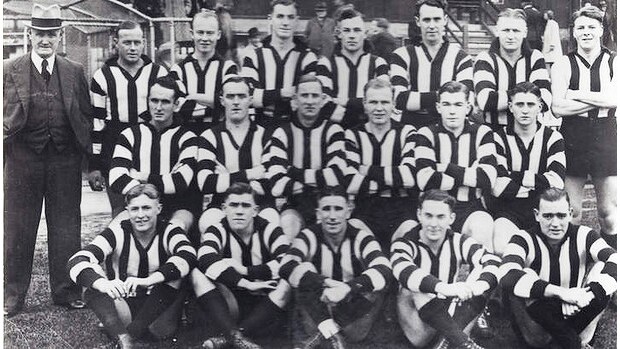 The Collingwood Football Club is deeply saddened by the passing of two of its former players.

Dan Knott (22 games; 1940-1941; 1943) and Allan Brown (16 games; 1945-1946) both passed away recently, aged 95 and 89 years respectively.

Knott played under the legendary Jock McHale, and his father-in-law Steve Vallance reports he often spoke of the respect the players had for its greatest ever coach.

He played during the war years, and as such was only available during his leave from the Army, which saw him based in the Northern Territory.

The Knott family was heavily involved in sport.

His brother, Arch, played 49 games for Fitzroy and St Kilda while another brother, George, was an Olympic athlete and the Mayor of Collingwood.

Dan ran the Yorkshire Stingo, a pub in Collingwood, for several years and according to his father-in-law spoke of the busy times after the football during the early close period.

For Allan Brown, his daughter, Roben, remembers attending Collingwood matches with him at Victoria Park after his career ended as a result of a knee injury.

Allan's knee injury was "devastating", according to Roben, who said Collingwood "was everything to him".

The story goes that Allan's first kick in senior football was a goal. While this is not listed in the AFL Record Season Guide, it might stand as a fact that needs research for future editions.

"Another thing he talked about was playing on Richmond's Jack Dyer and one of his teammates, Neil Mann, saying to him to watch his back because 'Jack wants to knock your head off, so just keep running,'" Roben laughs.

"He just loved the club and even right up until he died on the Queen's Birthday on the day Collingwood played Melbourne, he didn't miss a game on the telly and we would go through the line up every Thursday."

Allan was brought up in Abbotsford, a Gordon Coventry drop punt away from Victoria Park, and visited the ground with Roben for the final time earlier this year.

"We took him down to Victoria Park earlier this year and with his frame we walked around the ground.

"He was saying that when he was playing he was able to look at the Town Hall clock and see how much longer the game was going to go for. We were saying that with how things have been built up that you can no longer see the Town Hall from the ground.

"He thought it was great with what has happened to the ground in terms of it being accessible to people nowadays."

The thoughts of the Collingwood players, coaches and staff are with the Knott and Brown families and their loved ones during this time.

Side By Side We Stick Together.

Allan Brown
Born: 15 November 1924
Height: 183cm
Weight: 78kg
Collingwood career: 1945-1946
Debut: Collingwood v North Melbourne, Round One 1945 at Victoria Park
Games: 16
Goals: 11
Brown was the 484th player to represent Collingwood.

Dan Knott
Born: 20 June 1918
Height: 178cm
Weight: 75kg
Collingwood career: 1940-1941; 1943
Debut: Collingwood v Geelong, Round Two 1940 at Victoria Park
Games: 22 (18 for Collingwood, 4 for Richmond)
Goals: 2 (2 for Collingwood, 0 for Richmond)
Knott was the 415th player to represent Collingwood.