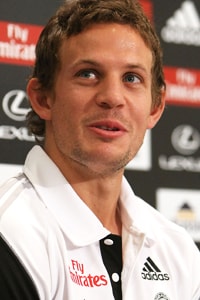 A courageous, selfless footballer, Luke Ball can be found scrapping hard beneath the packs and is always the last man to rise when the umpire calls for a ball-up.

When he arrived at Collingwood at the end of 2009, he filled the gap in the engine room left by Scott Burns and Paul Licuria, and was a key part in securing the club's 15th premiership twelve months later.

Ball was a key figure in St Kilda's rise in the mid-2000s, but found the sea change he was after at Collingwood. One of the most consistent and respected players in the game, Ball managed to fight back from a serious knee reconstruction to reclaim his place in the centre square.

To mark his retirement, collingwoodfc.com.au has charted his career, dating back to the 2001, the year he was drafted with the second selection in the 'Super Draft' that featured Luke Hodge and Chris Judd.

2001
Ball played for Sandringham U18 in the TAC Cup, and was school vice captain of Xavier College. He was famously drafted by St Kilda in the November 'Super Draft'. At pick two, he was wedged between Luke Hodge (Hawthorn) and Chris Judd (West Coast).

2002
He spent the year completing his studies at Xavier College, and sat out all bar one match (for St Kilda's then VFL affiliate Springvale) with osteitis pubis.

2003
Debuted for St Kilda in round one against the Kangaroos at the MCG, and looked at home immediately as he gathered 17 disposals and kicked the first goal of his career. He was nominated for the AFL Rising Star in round two against Adelaide (11 disposals, one goal).

Ball played 16 games for the season, peaking with 27 possessions in two matches (round five against Geelong and round 21 against the Bulldogs) and his brother Matthew (17 games) was drafted to Hawthorn.

2004
Ball played in St Kilda's pre-season premiership team, and played in all 25 matches (including three finals) as the Saints reached the penultimate week. He kicked two in the Preliminary Final loss to Port Adelaide to cap off a strong finals series.

He received eight Brownlow votes for the year, and reached the 30-disposal mark for the first time in round 15 against Melbourne. He also managed 17 goals for the season, ran second in St Kilda's Best and Fairest and represented Australia in the International Rules series.

2005
Named in the All-Australian side for the first time in his career, Ball amassed 528 disposals across 24 games. He continued to reinforce his reputation as a prolific tackler, recording 126 for the second year in succession.

He also received another nine Brownlow Medal votes, and initiated heated debate over his fearless play when he had his head split open by Port Adelaide's Aaron Shattock mid-season.

2006
Anointed St Kilda's captain (in line with then-coach Grant Thomas' controversial policy of rotating the club captaincy), Ball struggled all season with groin injuries, but still managed to lead the team in handballs and tackles. His influence in front of goal was limited, as he kicked only three for the season. He still found 25 disposals and six tackles in the Elimination Final loss to Melbourne.

2007
Severe concussion suffered following a heavy bump from Demon Matthew Whelan meant Ball began his season on a sour note. He was forced to sit out the next two weeks, and was plagued there on by osteitis pubis.

He showed he was still capable of his best form when he won 31 possessions and kicked three goals against the resurgent Hawthorn in round 16. He had adductor-release surgery at season's end to alleviate his groin troubles.

2008
Made some improvements on the previous two seasons, finishing ninth in St Kilda's best and fairest, and playing the first 18 games without a miss. He ranked second at the club for tackles and contested possessions, but missed the last seven games (including three finals) with a hamstring injury. Ball also played in St Kilda's pre-season premiership team for the second time in his career.

2009
Ball played 24 of 25 matches in the seniors, but was dropped for the first time since 2003 in round 16. He was a victim of the rapid improvement of second tier Saints such as Clint Jones and Andrew McQualter, and was squeezed out of the side due to a perceived lack of pace on the dry Docklands track.

Despite this, he was still one of St Kilda's best-performed players in the losing Grand Final side, winning 22 disposals despite only playing 46 per cent of the match in conditions tailor-made for stoppage specialists.

He sought a trade to Collingwood in October but the two clubs could not strike a deal; footy folklore records that St Kilda refused Collingwood's offer of pick 25 and a player for Ball's services.

Regardless of the truth, Ball left the club and endured a nervous month until the Magpies' Recruiting Manager Derek Hine finally called out his name with the 30th selection at the National Draft.

2010
It took just one season for Ball to vindicate his decision to cross to Collingwood.

He proved his doubters wrong with a brilliant season in the centre square, playing every match for the first time since 2005, bumping his season average disposal count back up to 21.1 and his tackle average to 6.5.

The leadership he provided to a youthful Collingwood team was not lost on his teammates, winning the Gavin Brown Award for Leading Desire Indicators, and running finished fifth in the Copeland Trophy.

His 155 tackles were a career-high, and he earned a Brownlow vote for his three goal, 20 disposal effort against Carlton in round six.

Ironically, Ball faced off with St Kilda in the two Grand Finals.

He battled to have an influence in the first Grand Final, winning only 13 disposals, but was one of the best afield in the replay when he gathered 25 disposals to cap off a controversial but ultimately fulfilling 12 months.

2011
Ball refused to rest on his laurels and turned in another stellar season in the midfield.

He joined the club's leadership group, averaging 21.5 disposals and 166 tackles in 24 matches and also returned to form in front of goal, slotting 18.3 for the season to silence those in the media who claimed he'd lost power in his legs.

He became more important as the season wore on, turning out consistent performances all year long. He grabbed the spotlight during the finals with two clutch goals to seal victory – first against West Coast in the Qualifying Final, and the second a fortnight later against Hawthorn.

Loose at a stoppage inside 50m, Ball sharked the Hawthorn hitout and snapped truly on his left out of the congestion.

He began well against Geelong in the Grand Final but tapered as the game wore on.

Ball also played in his third pre-season premiership, and won his second Gavin Brown Award in as many years.

2012
Sadly, the tough midfielder's 10th AFL season and third for Collingwood was cut dramatically short when he ruptured his right anterior cruciate ligament in round three against Carlton.

His renowned professionalism was on show when he continued to support his teammates with appearances at training and recovery while he was in rehabilitation, and was back on the track with them during the finals.

Ball fell about a month short of playing again and signed a two-year contract extension in June.

2013
Collingwood fans breathed a sigh of relief when their brave onballer finally returned from a knee reconstruction against Geelong in round eight.

Hamstring issues delayed his start to the season but once released into the VFL he wasted no time in getting his hands dirty.

He proved he had lost none of his touch when he recorded 26 possessions and eight clearances on return against Bendigo during a Friday night VFL fixture at the Queen Elizabeth Oval and was summoned to AFL ranks a fortnight later.

True to form, Ball managed to notch 28 disposals and nine tackles in his second game back against the Swans in round nine. He went on to produce a consistent season punctured by three one-week layoffs with calf complaints.

He was at his best against Essendon in round 19 when he polled three Brownlow votes owing to his seven tackles, 22 possessions and four clearances.

2014
Turning 30 in May, Ball's season began well, averaging 22.0 disposals in the first month before a nagging back injury started to hamper his progress. He was forced to spend time in the VFL as he made his return, performing well against Box Hill and Essendon in successive weeks before slotting back into the side against Brisbane in round 21.