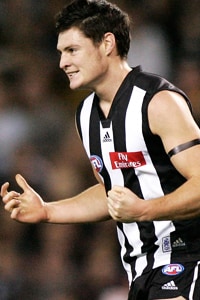 Collingwood has made three further changes to its senior and rookie lists as it prepares for the upcoming trade and draft periods.
Marty Clarke and Caolan Mooney have opted to return to Ireland and, possibly, Gaelic football while Peter Yagmoor has been informed that he will not be continuing his career at the Westpac Centre.
With veterans Nick Maxwell, Ben Hudson, Luke Ball and Quinten Lynch retiring, the departures of Clarke, Mooney and Yagmoor brings to seven the number of list changes.
Clarke will be fondly remembered after two stints with Collingwood and a career of 73 matches.
The Irishman, with his counter-attacking bent and lengthy kick, made a certain impression when he debuted in 2007.
The call of home drew the popular Clarke back to County Down at the end of the 2009 season and he was absent through the Grand Final years of 2010 and 2011, but a welcome return in 2012 saw him play a further 27 matches across the next three years. Unfortunately, due to form and injury, he was able to play just one match in 2014.
Mooney followed Clarke's lead to leave County Down for the life of a professional Australian footballer with Collingwood. With the asset of withering pace, he played four matches in 2012, his first season. Two more appearances followed in 2013 but his progress stalled this year and he was unable to add to his six match tally.
Yagmoor arrived from Queensland at a similar time to Mooney, via the 2011 rookie draft. With a smooth left-foot kick he played twice in his debut season but was unable to play another senior match across the 2013/14 seasons.
"Marty played some excellent football over his time and he can be proud of making the transition from Gaelic football to Australian Rules. At his best, he gave the side real zip and punch," Collingwood director of football, Rodney Eade, said.
"He was a very popular figure and we wish him well, as we do Caolan and Peter, who gave us all that they had in their time at the Westpac Centre."
Maxwell (ankle) and Hudson (shoulder) were forced into retirement by serious injuries mid-season while Ball and Lynch announced their exits from the game last week.
Marty Clarke played 73 games between 2007 and 2014, with a two year break between 2010 and 2011.
Caolan Mooney played six games between 2012 and 2014.
Peter Yagmoor played two games for Collingwood between 2012 and 2014.



Ben Hudson played seven games for Collingwood between 2013 and 2014.


Quinten Lynch played 18 games for Collingwood between 2013 and 2014.
Luke Ball played 81 games for Collingwood between 2010 and 2014.


Nick Maxwell played 208 games for Collingwood between 2003 and 2014.