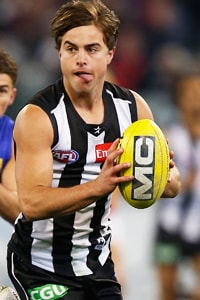 Three of Collingwood's most promising talents, Tim Broomhead, Ben Kennedy and Jonathon Marsh, have agreed to contract extensions.

Broomhead and Kennedy, both first round selections out of South Australia in the 2012 national draft, have signed deals for the 2015 and 2016 seasons.

Marsh, a fifth round pick out of Western Australia in the 2013 national draft, has extended his current deal out by two years to take in the 2016 and 2017 seasons.

The poised Broomhead made a mid-season debut this year after being stymied by glandular fever in 2013 and a broken hand in the NAB Challenge series in February.

The 20 year-old was handed his jumper in round 13 and finished the season strongly to play eight matches, kick nine goals and average 12.9 touches per match as a mid-sized forward.

Kennedy, at pick 19, preceded Broomhead in the draft by one selection - both followed fellow South Australian Brodie Grundy who was chosen with pick 18 - and was the first to earn senior selection, in 2013.

Recruited to play midfield and small forward, the 20 year-old played 12 matches in his first season and followed that with eight this year for a career total of 20.

Marsh, who will turn 19 next month, made rapid progress in the second half of the VFL season as a tall defender.

At 193cm and blessed with extraordinary pace, the native of Margaret River was in line for a senior call up until, like so many of his teammates, he was injured late in the season.

Surgery to re-attach his hamstring abruptly ended his first season at the Westpac Centre.

Collingwood Director of Football, Rodney Eade, said that with their futures settled all three could now focus on developing their games and becoming regular senior players.

"There is a lot of work ahead of Tim, Ben and Jonathon but we're confident that if they continue to apply themselves, as they have to date, then all three can have very good careers," Eade said.