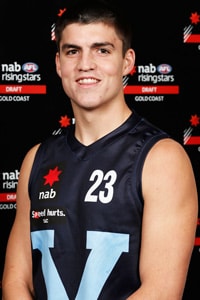 With selection No. 30 in the National Draft, Collingwood has welcomed Brayden Maynard from the Sandringham U18.

Name: Brayden Maynard
Recruited From: Sandringham U18
Age: 18
Height: 186cm
Weight: 88kg
Position: Medium defender

Profile: With his father Peter a member of Glenelg's Hall of Fame in South Australia, Maynard comes with good footy pedigree. He's a tough player who builds his game around the contested side. At 186cm he's probably best suited to a half-back role, and he needs to work on his endurance, but he does have an impact with his physicality, particularly when he moves into the midfield for bursts.

What they say
"Brayden has some traits that few others have. He has a real x-factor with his kicking being his most AFL-like attribute, as well as his physicality and competitiveness. He needs to build his tank and work on his endurance a bit and his national carnival was up and down but I think he's really cemented himself up towards the first round. His dad played nearly 200 games in the SANFL so he just missed out on being a father-son for the Crows," – Sandringham Dragons talent manager Ryan O'Connor, Inside Football, November 2014.

"Maynard's thumping left foot is his biggest weapon. His physical game style and distinctive competitiveness will also appeal strongly to the Magpies," - Herald Sun, November 2014.

Extended profile (via AFL.com.au's Callum Twomey)
Background: If not for a few more games from his dad, Brayden Maynard might have been Adelaide's first father-son draftee. Peter Maynard played eight games for Melbourne in the 1980s before shifting to Glenelg in South Australia, where he played 196 games and was inducted as a Hall of Famer. Had he played four more, his son would have been eligible to join the Crows.

After 13 games for the Sandringham Dragons last season, Maynard stepped up his tilt at the draft this year with 17 games for the club and three as part of Vic Metro's NAB AFL Under-18 squad.

Maynard's football bloodlines extend further than his dad, with his grandfather, Graham Campbell, a former coach and player at Fitzroy.

Upside: A left-footer who has a powerful and precise kick, Maynard spent most of his season as a rebounding half-back. It was there that he proved himself a big-bodied brute who can stop his opponent while giving important drive.

He likes to tackle (he averaged six a game through the season) and is ultra-competitive: he attacks the ball and contest with ferocity, and isn't afraid of body contact. He puts everything on the line, and it's easy to see how supporters will warm to him.

Late in the season that toughness was on display as a midfielder, having shifted up the ground for the Dragons in the absence of injured skipper Angus Brayshaw.

Maynard (186cm, 88kg) played the role perfectly, using his speed (he's tested 2.98 seconds over 20 metres), poise and foot skills to make a difference with the ball, and his contested ball-winning ability to rip it out of packs.

In the last two finals for the Dragons he averaged 25 disposals and 11 handball receives, showing a step up in his ability to cover the ground. Across the season for the Dragons he averaged 22 disposals.

Plays like: Positioned off half-back and with a courageous and combative attitude, Maynard has a similar style to first-year North Melbourne defender Luke McDonald.He's probably more outward in his approach than McDonald but both can move into the midfield and float forward to use their penetrating left side.

Bottom line: Maynard has a clear point of difference in the way he impacts a game. He's a tough, physical player who loves to throw his body around and anyone in the way. Competitive and with an aggressive streak, it means he's permanently involved.

More to come.