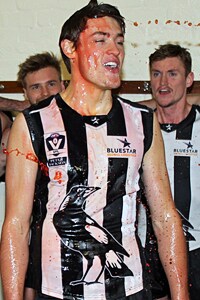 He has been one of the hottest draft prospects of season 2014, and with pick No. 9 in the National Draft, Darcy Moore finally became a Magpie. Collingwoodfc.com.au has compiled a dossier on Darcy's junior career on the day he formally joined his father's old club.

Key facts
The son of Collingwood great and two-time Brownlow medallist Peter Moore, Darcy could be developed at either end of the ground having excelled as a tall forward and key defender this year. Boasting excellent closing speed, a natural leap, strong marking ability over his head and smarts around goal, Moore stands at an imposing 199cm.

Key 2014 TAC Cup Statistics (13 games, 15 goals; averages in brackets):
Disposals: 145 (11.2) Marks: 68 (5.2) Tackles: 19 (1.5) Inside 50s: 25 (1.9) Score Assists: 14 (1.1) Marks Inside 50: 26 (2.0) Tackles Inside 50: 11 (0.8) Rebound 50s: 14 (1.1) Marks from Opposition Kicks: 16 (1.2) Contested Marks: 27 (2.1) Spoils: 29 (2.2) Bounces: 0 (0.0) Smothers: 3 (0.2)

Key 2014 VFL Statistics (1 game, 0 goals; averages in brackets):
Disposals: 8 (8.0) Marks: 1 (1.0) Tackles: 2 (2.0) Inside 50s: 2 (2.0) Score Assists: 0 (0.0) Marks Inside 50: 0 (0.0) Tackles Inside 50: 0 (0.0) Rebound 50s: 2 (2.0) Contested Marks: 0 (0.0) Spoils: 5 (5.0) Bounces: 0 (0.0) Smothers: 1 (1.0)

What they say about Darcy Moore
"There is no doubt he's got leadership written all over him and I think you will see he will end up being an AFL captain one day, for sure.  When you compare him against the boys that they talking about (as potential No. 1 picks) in (Patrick) McCartin and (Peter) Wright and so forth, in my eyes from what I have seen in the TAC Cup this year, I think he is better than those guys. If it was my choice in a pick of those guys, I'd certainly be picking Darcy Moore every day," – Mark Smart, Oakleigh Chargers regional manager, Herald Sun, 6 October 2014.

"He is just a very competitive player and I think he is very proud of his performances and there is no doubt he reads the ball very well in flight, where he has able to defend strongly or mark the ball. His athleticism enables him to get back on to the ball quickly and get involved in the next contest. He's got exceptional leg speed for his height and athleticism so he can play in both areas of the ground. It will be interesting to see where he forges his career because he is very capable at playing either end," – Mark Smart, Oakleigh Chargers regional manager, Herald Sun, 6 October 2014.

"Here are a few things you might not know about Darcy Moore. He was school captain at Carey Grammar last year, and is a few subjects into a commerce degree. He has no idea what he would like to do in the future but can imagine himself working for a not-for-profit organisation. He likes literature, the arts, he's just become an uncle and he spent eight weeks in the United States at the end of last year, staying with a sister-in-law at Venice Beach, skiing with his father in Colorado and spending Christmas in New York with one of his three sisters," – Emma Quayle, The Age, 5 October 2014.

"You'd have to be impressed by what you see. He captained the Oakleigh Chargers that won the (2014) TAC Cup Grand Final and played at centre-half forward – the toughest place out on the ground. You can't find guys of that size, that athleticism (and have) the clean hands, the lovely kick. He can play both ends of the ground, he's a fine young leader, I think he's got all the attributes to be a star down the track," – AFL draft expert Kevin Sheehan, SEN 1116, 30 September 2014.

"He's a really mature guy but he's also got the ability to be one of the lads as well. He finds that balance really well. He's been one that's led from the front in terms of putting the team first. He's got a great ability to put that stuff aside and focus in on the team and the job, which is a credit to him," Oakleigh Chargers coach Mick Stinear, The Age, 21 September 2014.

"You can see the (Jack) Viney situation at Melbourne where he's been able to come in and work and do bits and pieces and play, and he's in year 12. The fact that Darcy will be out of year 12, if he's coming under strong consideration by that period of time, will be massively beneficial, particularly given his size," – Collingwood General Manager of List Management Derek Hine, collingwoodfc.com.au, 12 September 2012.

What he says
"I've got a certain degree of certainty, and a lot of teammates who have to wait another six or seven weeks to find out what's going to happen to them. I need to keep reminding myself that I'm privileged to be in this position. That's the way I've looked at it in the last month-and-a-half, and I'll always be looking at it that way," – The Age, 5 October 2014.

"We don't play favourites, but there's one particular jumper I'd love to wear and it would be pretty romantic, but we'll just see what happens. The drawn Grand Final (in 2010), I was getting as excited as anyone else when they won that premiership. Certainly it still flows through my veins and goes through my head," – AFL Media, 2 October 2014.

"Being a lifelong supporter of the club, to be able to represent it for the first time doing what I love to do was obviously a huge thing. There are a few things going on inside my head but above all I just wanted to compete and have a win, which felt great. It's weird now; I didn't really think about it that much. A few people were getting sentimental, you know, being on the old man's stomping ground – the hallowed turf, as he likes to call it. It's huge now, it's something I'll never forget, running on this field, how romantic, the first time playing for Collingwood on this field where it all began," – The Club, 8 August 2014.

"I'm more comfortable up forward, just because I've done it since I was a little kid. But I love the challenge of centre-half back or full back and flipping around the situation," – AFL Media, 20 January 2013.

"Playing AFL, however, making a conscious effort to shift my thinking from 'how can I be successful?' to 'how can I serve?' Any sort of fame will only be used to make a difference to those less fortunate and towards a cause I am truly passionate about. I will be travelling lots and getting lost," – Darcy Moore forecasts where he will be in 10 years time in an interview with The Weekly Review on 25 February 2013.