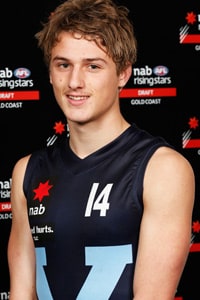 With selection No. 48 in the National Draft, Collingwood has welcomed Matthew Goodyear from the Calder Cannons.

Name: Matthew Goodyear
Recruited From: Calder U18
Age: 18
Height: 185cm
Weight: 77kg
Position: Midfielder

Profile: Extremely athletic medium midfielder with elite speed and endurance. Prolific ball winner at the Cannons and had a taste of the NAB AFL Under-18 Championships playing in three matches, averaging 13 disposals in limited game time. His drive and rebound from half-back as well as through the midfield often breaks the game open.

What they say
"Matt's last three or four games of the year and finals put him back in genuine draft contention. He is an inside midfielder who can play outside, but he tried to go outside a bit more at Vic Metro. He can break out of a pack but his kicking needs a bit of improvement. If he can start to win the ball in tight and feed it out, or burst away, he might go late," – Calder Cannons talent manager Ian Kyte, Inside Football, November 2014.

"Watching Matt Goodyear play, you would not be surprised if the Calder Cannons midfielder slept with a football cradled in his arms. Goodyear, from Mt Macedon, was one of Calder's most consistent - and prolific - midfielders across the TAC Cup season. The 18-year-old was named in the club's best players 10 times in 15 matches, averaging 21.6 disposals per game.Goodyear's contested-possession work in the centre of Highgate Reserve has not gone unnoticed, with 12 AFL clubs interviewing him throughout the year. He hopes every tackle, smother and contested possession he performed in 2014 will amount to selection at the AFL national draft on November 27. One of the highlights of Calder's loss to Oakleigh at Etihad Stadium was Goodyear's goosestep out of a crowd of players before he calmly slotted home from 55m on the quarter-time siren. It was a move reminiscent of a player the Essendon supporter grew up admiring, James Hird, " - Tim Mitchell, Sunbury Leader, November 2014.

More to come.