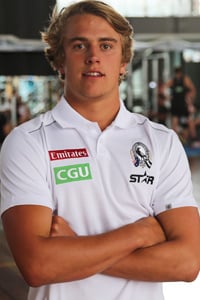 Seven of the 22 players who formed a part of Collingwood's premiership team of 2010 started out on an AFL rookie list.
That stat is enough to give any new rookie a glimmer of hope when they walk in the doors of the Westpac Centre for the first time.
Just ask Michael Manteit, the 18-year-old Sandringham Dragon who became a Magpie with the eighth overall selection in Wednesday's Rookie Draft.
"Collingwood is an outstanding club to go to," Manteit told
collingwoodfc.com.au
.
PROFILE: Michael Manteit.
"I mean, the recruiters were saying almost 50 per cent of their 2010 premiership players were all rookies so they develop their rookies very, very well so that holds me in great stead."
Known for his ability to read the play at half back, Manteit averaged 20.1 disposals and 4.2 rebounds across his 14 TAC Cup games in 2014.
He represented Vic Metro at the National Under 18 Championships and was high up in Collingwood's thinking heading into the National Draft, according to General Manager of List Management Derek Hine.
"Michael's a player who has played mostly at half back and through the midfield as well," Hine explained.
"He's a nice user of the ball and he's had a really consistent TAC Cup season.
HIGHLIGHTS: Manteit's TAC Cup season.
"He was one of the last players left on our list post the National Draft, so we were really pleased to be able to bring him in."
Originally hailing from Phillip Island, Manteit studied at Melbourne High, graduating in 2013.
A natural sportsman, Manteit spent 2014 working part-time and studying a double degree in business and sport and recreation management at Victoria Uni.
Naturally disappointed to be overlooked in the National Draft, Manteit spent the last week back home with friends in an attempt to keep his mind occupied.
"I went down to my mate Tim's house and went surfing and spearfishing and just got my mind away from footy," he said.
"I'm still trying to keep fit so I was going running down at Phillip Island.
"I came back up on Tuesday night and was back in today, so I just tried to get away as much as possible and get away from the footy environment.
"I'm originally from Phillip Island so I love surfing and triathlons. I love doing all that stuff and seeing my mates and just enjoying life."
VIDEO: Inside the War Room at the Rookie Draft.
Within two hours of having his name read out during the Rookie Draft, Manteit found himself at the Westpac Centre with a new number (No. 39) and a locker that already bore his name.
"As a footballer, I think that I'm a competitor," he says of the attributes he hopes to add to the Black and White mix.
"I can be a good leader and I've got a good endurance base for running.
"I think I've got a really good on and off field character. I can have a laugh and get serious, so I'm just a good competitor, I think that's the main thing in terms of my footy characteristics.
"In 2015 I just want to be training as hard as I can and pushing myself and proving myself to the playing group, staying humble and really working hard and trying to earn the respect of the players."
Which people have helped you on your football journey?
"I'd love to thank a guy named Warren Fall. He's the President of the Melbourne High School Old Boys Football Club. He helped me out in so many different ways and I really appreciate his support. Melbourne High and the Melbourne High School Old Boys Football Club have given me immense support and I appreciate everything they've done for me throughout the years. I'd also like to thank my family, my parents Meredith and Mark, and everyone else around me and all my good mates who support me. The Roos family, Tyler Roos, my mate Tim and everyone else that has supported me, and my friend Ben Steiner. I'd just like to say thanks to all my mates and everyone who's got me this far on my journey. It starts now."