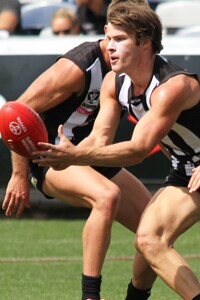 For Ben Reid and Jarrod Witts, the VFL Practice Match against Geelong acted as their chance to successfully return from injury.

For the 15 debutants, it was a chance to prove that they belong in the black and white.

And for everyone else, today was about putting the long, tough preseason behind them and taking the field for the first time in 2015.

Of course Geelong had the same agenda, and playing on their home ground at Simmonds Stadium they looked comfortable as they defeated the Magpies 16.7.103 to 9.9.63.

While Reid, Witts and midfielder Nathan Freeman proved familiar faces for the fans in attendance, it was the young names whose performances impressed coach Dale Tapping.

"I think we had 15 first gamers, AFL and VFL, that were representing Collingwood in some way shape or form for the first time," Tapping told collingwoodfc.com.au.

"For the players, today was about finding their feet against a pretty formidable outfit with plenty of AFL experience."

That AFL experience came largely in the form of Steve Johnson and Hamish MacIntosh who both lined up for the Cats.

As expected, Johnson proved dangerous up forward and through the midfield.

He kicked an early goal and failed to be contained by the Collingwood defence as he helped establish a 20-point Geelong lead at quarter time.

More intriguing was the battle between Witts and MacIntosh in the ruck.

"Wittsy probably did a little bit more in the ruck than we anticipated," Tapping said.

"He made some really good progression. I thought he gave our mids plenty of good opportunities around the stoppages."

Witts was named in the best, alongside Freeman, Reid and pick No. 30 in the draft, Brayden Maynard.

Fresh off the 1990 premiership team's induction into the Collingwood Hall of Fame, Ben Monkhorst, son of Damian, kicked two goals in a strong showing up forward.

Fellow debutant Adrian Indovino kicked another two, while Freeman, Ash Close, Gus Borthwick, Will Knight and Scott Greenhough added singles.

They signalled the intent of a young Magpie brigade eager to stake their claim for a more permanent place in the team.

"The intent was terrific for a bunch of young boys, Tapping said.

"We had seven eighteen-year-olds playing and it was positive stuff.

"While a near-full strength Geelong outfit proved too much on the day, the optimism from the Collingwood coach is clear.

"We're formulating quite a strong squad in terms of VFL depth. It's by far the strongest it's been since I've been here."

They will have a chance to get even stronger in the coming weeks, with a range of familiar names set to be included as the 2015 season draws nearer.

Collingwood 9.9 (63)
Geelong 16.7 (103)

Goals - Collingwood: Monkhorst 2, Indovino 2, Close, Freeman, Borthwick, Knight, Greenhough

Recap the match in collingwoodfc.com.au's live chat in the module below.


window.cilAsyncInit = function() {cilEmbedManager.init()};(function() {if (window.cilVwRand === undefined) { window.cilVwRand = Math.floor(Math.random()*10000000); }var e = document.createElement('script');e.async = true;var domain = (document.location.protocol == 'http:' || document.location.protocol == 'file:') ? 'http://cdnsl.coveritlive.com' : 'https://cdnslssl.coveritlive.com';e.src = domain + '/vw.js?v=' + window.cilVwRand;e.id = 'cilScript-53a94690f3';document.getElementById('cil-root-stream-53a94690f3').appendChild(e);}());