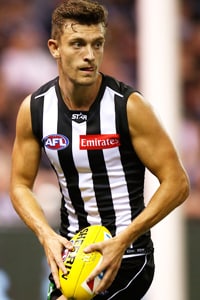 In one game of football, Adam Oxley established career-highs in nearly every statistical category.

That feat becomes easier to understand when you remember he was involved as a substitute in each of his first three senior games.

But Oxley's 33-disposal performance in Saturday's loss to Adelaide served notice of what he might be capable of as the year progresses.

Oxley's performance in detail
The 22-year-old won a total of 33 disposals from 88 per cent game time. It's the most game time he has been afforded at senior level, up on the 57 per cent he played against Brisbane in round one.

Oxley provided 12 rebounds out of the defensive 50 – the equal most rebound 50s recorded in a single game by a Collingwood player in the past 10 years.

It ranks him the equal of 2010 premiership hero Heath Shaw, who achieved this feat twice (against Carlton in round 17, 2009, and again against Geelong in round 16, 2012), and dual Copeland Trophy winner James Clement (who recorded 12 rebound 50s against Port Adelaide in the 2002 Qualifying Final and repeated the dose against Richmond in round eight, 2005).
Did Oxley earn your vote in the Magpie Army Player of the Year Award?

Maybe we shouldn't be surprised. Oxley led the VFL Magpies for defensive rebounds in 2013 with 68. He also ranked equal first for marks (a high of 16 in just his second game) and second for disposals. As a result, he finished second in the Joseph Wren Memorial Trophy (Collingwood's VFL best-and-fairest).

Despite using the ball on 33 occasions, Oxley achieved a disposal efficiency of 78.8 per cent – the fourth best of any Magpie on Saturday.

What's his background?
Oxley represented Queensland at Under-18 level in 2010 and 2011 and was identified as a potential draftee after kicking seven goals against Mt. Gravatt in 2012.

"A creative half back who pushes forward and delivers into the forward line with a nice, penetrating kick and doesn't mind to take a few contested marks, so a silky smooth user of the footy, I guess," Oxley told Collingwood Media when asked to describe himself as a footballer on the day he was rookie listed on 11 December 2012.
The Ox leads the way - http://t.co/JjHr14LrOW Fourth gamer @oxy_4 led the way on the stat sheet against the Crows pic.twitter.com/k7An9vLCWS

— Collingwood FC (@CollingwoodFC) April 12, 2015
 
"I don't have a big frame or anything so I have to work around to my advantages. I modelled myself a bit on Michael Barlow, I suppose, because I really liked the way he went about his footy and where he came from was also the way that I'd gone through in my pathway in footy.

"Not getting picked up as an 18-year-old, I just had to work harder once I missed the opportunity."

"He's an elite kick, he's a right footer, so that complements our group in terms of the depth of his kicking and his ability to use the football," recruiting boss Derek Hine told Collingwood Media.

"The really pleasing thing is he's able to play on both talls and smaller players, so that was a real focus for us and he's already 193cm which gives him an ability to play on both smalls and talls."

What did he do during his first two years at the club?
Oxley burst out of the blocks in his first year as a Magpie, playing 16 VFL games and finishing runner up in the VFL best-and-fairest.

His best moment of the season arose in a crunch situation against Geelong in round eight, when he took several courageous contested marks, often throwing his frame in front of the oncoming Geelong forwards.

Promoted onto the senior list, he broke through for two AFL games as a substitute midway through the year.

In profile: Learn more about Adam Oxley.

Rewarded with a permanent spot on the senior list at the end of the year, Oxley's momentum was halted when he sustained a bad break to his ankle during an intra-club match in February.

He could manage only three games mid-season before he was shipped off for surgery and an early start to the 2015 pre-season.

Anything else we should know?
The Queenslander has history on his side.

Or on his back, to be more precise.

He was handed the No. 43 jumper upon joining the club, a number that has been a good luck charm for Collingwood's rookies since the turn of the century.

Since its introduction in 1997, six of the eight rookies to have been assigned the number have played senior football and carved out a regular position at AFL level.

Premiership skipper Nick Maxwell debuted in the No. 43 jumper in 2004 after wearing No. 41 in his first season at the club.

He played 10 senior games in the number and played in six of Collingwood's eight wins before graduating to No. 27 (2005-2007) and finally Nathan Buckley's No. 5 (2008-2013).

When Maxwell moved up to No. 27, Heritier Lumumba was chosen to replace him in the No. 43.

Lumumba played 13 games in the number in his two years as a rookie (2005-2006) before wearing No. 30 for a season (2007). When James Clement retired at the end of '07, he chose Lumumba as his successor in No. 8.

Many also forget that Marty Clarke wore No. 43 in his first season on the rookie list in 2007.

The Irishman debuted as a 19-year-old in round 12 and missed only two more games for the remainder of the season.

He crowned his debut year with a near best afield display against Geelong in the Preliminary Final.