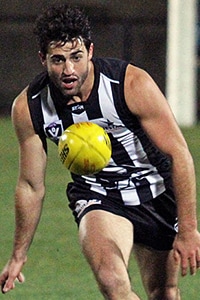 A five goal final quarter has seen Collingwood walk away victorious from its trip to Queen Elizabeth Oval in Bendigo on Saturday night.

The VFL Magpies broke open a hard-fought game in the final term to beat the previously undefeated Geelong by nine points.

Five points down and with his side's back to the wall, Collingwood VFL coach Dale Tapping let the players do the talking at the final break.

"I just let them talk," Tapping told Collingwood Media post game.

"They felt at three quarter time that they could run over the top of them. They felt really positive about where they were in the game. That was great to see."

What Tapping describes as a "fabulous" final quarter followed.

Michael Still kicked his third goal of the night within 30 seconds of the quarter starting before Jack Blair and Ben Kennedy added another two to give the Magpies a convincing lead.

Still kicked his fourth and Alex Fasolo took a fantastic mark directly in front of goal before calmly kicking the sealer and his third for the night.

Playing in his fourth game in the VFL after being dropped, Tapping continues to be impressed by Fasolo's ability to adapt to new challenges.

"His last two weeks with us he's played really well within the team," Tapping said.
"They (Geelong) put a bit of work into him and he maintained really good discipline and kept working at it. He had a real influence late in the game."

Drizzling rain and a slippery ball at times effected the quality of the game as both sides turned over the ball at key stages.

However after playing three out of their four games in the wet in 2015, Tapping believed his team was comfortable in the conditions at the neutral venue.

"The surface was fantastic and the lighting is really good so as a venue it's great to play at," he said.

"We adapted really well tonight. The rain came late in the last six or seven minutes which was good because it slowed them up a little bit."

The nature of Collingwood's squad in Bendigo drew parallels to the side's last game at the venue in 2014.

Injuries and AFL call-ups meant a total of 12 VFL-listed players were called upon to stand up against a highly rated Geelong team.

Tapping stated that after two early season losses, the side is beginning to find its composure.
"There's a lot of young kids coming in. We're four weeks into the season now and they're starting to learn what the requirements are.

"Young boys are coming in and playing the way we need them to play."

The next challenge for Tapping and his side await wearing yellow and black. The VFL Magpies will take on Richmond at Punt Road Oval next Sunday.

Collingwood 4.3 5.4 9.8 14.8 (92)
Geelong 4.3 8.5 10.7 12.11 (83)

Goalkickers – Still 4, Fasolo 3, Gault 2, Kennedy 2, Abbott, Hellier, Blair
Best – Wallace, De Goey, Cox, Marsh, Still, Fasolo